After attending a Story Massage Training Day, Caroline Brown was so enthused that she immediately demonstrated the benefits of Story Massage at a children's hospice to her team at Shooting Stars CHASE in Hampton where she works as Complementary Therapies Co-ordinator.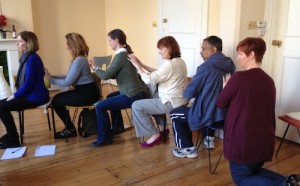 Benefits of Story Massage
During discussions everyone agreed that Story Massage at a children's hospice can bring many potential benefits, not only working one-to-one with the children approaching the end of their young lives, but also with parents, grandparents and siblings. And inspired by the work of Angela Garrett on a Siblings Day, Caroline began by organising a Story Massage session for siblings to give them special attention at such a difficult time.
The children loved the concept and quickly grasped the idea of the strokes and creating their own massage stories. We are so pleased that Caroline agreed to share one of the massage stories written and enjoyed by the children during the day. The story features six of the ten basic Story Massage strokes from our Story Massage book.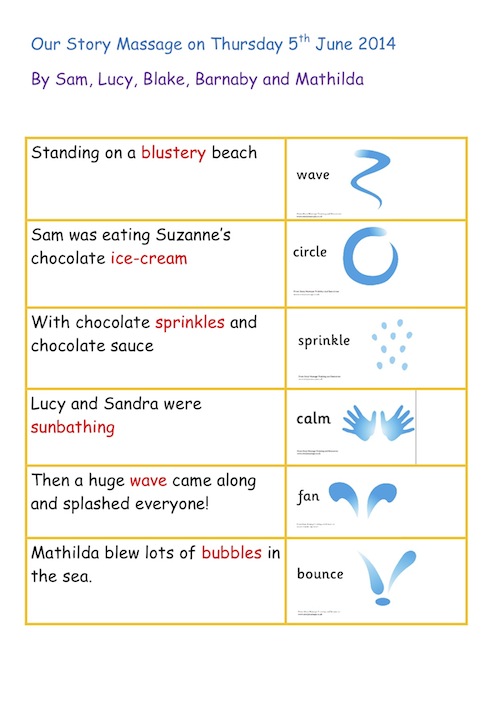 More about Story Massage
Story Massage combines the benefits of positive touch with the creativity of storytelling. Ten simple massage strokes form the basis of Story Massage. These strokes have a child friendly name, such as The Circle or The Sprinkle, and an easy to recognise symbol making it fully accessible for all ages and abilities.
If you would like to introduce Story Massage in your home or work, then we hold a one day training course that is held around the country for individuals and groups. On these days we teach the Story Massage strokes and then work with you to adapt familiar stories and even create some sensory stories of your own. Ideal for Early Years Practitioners and those working in Hospices and Special Schools. We also offer in-house training options. All the information is here: Story Massage Training
Centre of Excellence
Shooting Star Chase Children's Hospice were awarded our Story Massage Centre of Excellence in September 2016 for introducing innovative ways of using Story Massage at a children's hospice. Five members of staff are trained in Story Massage and it is used regularly with children and their families.