It's always wonderful to have positive feedback from Story Massage training sessions. And an enthusiastic email from holistic therapist, Ali Marson, really made our day. Ali attended the Story Massage training day and says she put her new found Story Massage skills straight to work the very next day at a day centre for people with learning disabilities.
Story Massage in the Sensory Room
Ali, a regular massage therapist at the day centre, worked on a one-to-one basis with her clients sharing Story Massage in the sensory room at the centre. Here is her powerful feedback – all the names have been changed for confidentiality:
Two ladies were hoisted out of their wheelchairs and were lying on the floor. Sally was sleepy and relaxed as I gave her a Story Massage on her back. Sheila was laughing and really enjoyed The Squeeze and The Bounce Story Massage strokes on her legs and feet.
Tom practically sat on my lap as soon as I sat down and he was totally still throughout. He simply loved all the moves. He was my fantastic volunteer so that I could show everyone what it was all about.
Jamie was the best surprise of all. He is having real problems sleeping and yet he was so relaxed that he fell asleep in the chair whilst enjoying Story Massage. All very calm.
The carers at the day centre were so interested when they saw the positive response from the clients and wanted to know more. I showed them some of the story massage moves and we had a lovely time making up stories and working on the clients together.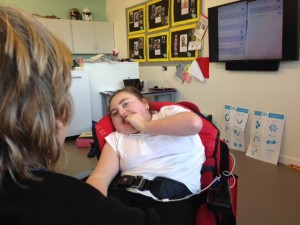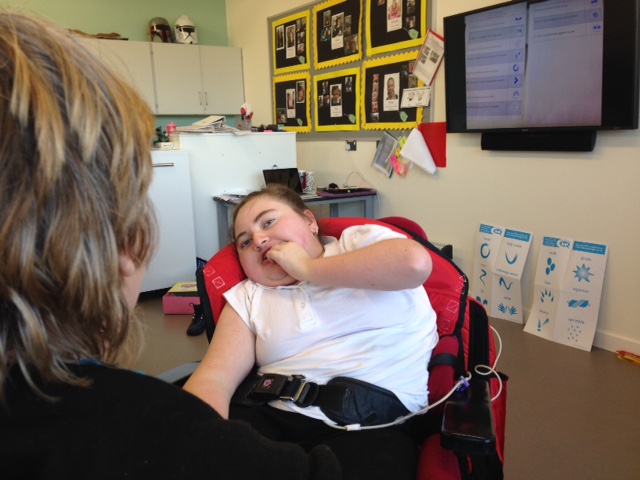 What is Story Massage?
Story Massage combines the benefits of positive touch with the creativity of storytelling. Ten simple massage strokes form the basis of Story Massage. These strokes have a child friendly name, such as The Circle or The Sprinkle, and an easy to recognise symbol making it fully accessible for all ages and abilities.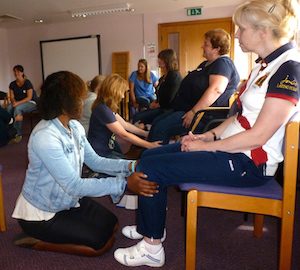 If you would like to introduce Story Massage in your home or work, then we hold a one day training course that is held around the country for individuals and groups. On these days we teach the Story Massage strokes and then work with you to adapt familiar stories and even create some sensory stories of your own. Ideal for Early Years Practitioners and those working in Special Schools. We also offer in-house training options. All the information is here: Story Massage Training