Mary Atkinson (left) and Sandra Hooper have collaborated since 2007 to help promote positive touch activities in the home, school and wider community. They launched the Story Massage project in 2013 using their varied experience to create a highly regarded accredited training programme with resources including a book, ebook and DVD: Once upon a touch…story massage for children.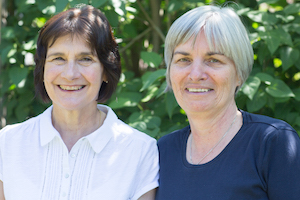 Mary Atkinson is an award-winning complementary therapist and author of four books on massage including Healing Touch for Children (Gaia, 2009). She regularly talks at conferences and writes articles for national magazines on the power of positive touch for children in the family home. In April 2012, Mary worked with Cocoro Charity to introduce a Story Massage Project to the children, parents and teachers living in the aftermath of the tsunami in Japan. This proved so effective and popular that the local people are continuing the project.
Sandra Hooper is an experienced primary school teacher and massage therapist, combining both of these skills in her work with the Massage in Schools Programme. Sandra has worked with teachers and health professionals both in the UK and abroad, at school and in the home, to bring the benefits of safe and positive touch to children of all ages. Sandra has also worked successfully with national parenting programmes whose main goal is to increase the knowledge, skills and confidence of parents.