A personalised Story Massage is the perfect way of showing how much you care, not only on Mother's Day but all year round. It's fun, free and suitable for everyone. Adults enjoy Story Massage just as much as children –  your mum will love it, whatever her age!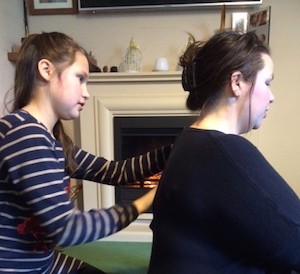 This massage story was written by Charlotte Brown, aged 11, for her mother, Leanne (pictured above). They have kindly agreed to share it with us in the hope that it might spark some ideas for you. They've even created a video to show the story massage in action.
My Super Mum by Charlotte Brown, aged 11
My mum is like Super Mum, (The Circle)
always there when I need her. (The Circle)
She appears like a ninja all ready to help, (The Upwards Fan)
and swoops into save me when I'm feeling lost. (The Downwards Fan)
My mum is a Super Mum, a Super Mum she is (The Circle)
She sorts out my problems and listens to me (The Calm)
She shows me she cares, she makes me so happy (The Squeeze)
I feel all warm and fuzzy inside. (The Squeeze)
But sometimes I am naughty (The Drum)
Super Mum can shout – very loud (The Drum)
She tells me to be good, to be kind. (The Calm)
I want to grow up to be just like my Super Mum (The Circle)
My Super Mum brings magic and excitement (the Bounce)
I know how much she cares, she shows me everyday (The Circle)
So I wrote this for you, Mum (The Circle)
To show you how much I care. (The Calm)
Mother's Day Story Massage Video
Story Massage Strokes
Story Massage is a combination of ten simple and fun massage strokes used in combination with engaging words. The strokes, in brackets in Charlotte's story above, form the basis of our Story Massage book Once Upon a Touch…Story Massage for Children (Singing Dragon, £11.99) and our training days. Story Massage Training. The book includes easy to follow instructions for learning the strokes at home and a choice of over 25 different massage stories to share.
Story Massage Sessions with Leanne
Leanne attended one of our training days last year and finds it a helpful positive touch activity within her own family. Leanne now runs sessions for parents wishing to introduce the benefits of Story Massage to their own children. She can be contacted here: Marsham Holistic Therapy.