This Story Massage was written on a training day as part of this year's Anti-Bullying Week (Nov 14th – 18th) activities. Anti-Bullying Week shines a spotlight on bullying and encourages all children, teachers and parents to take action against bullying throughout the year.
Anti-Bullying Week Massage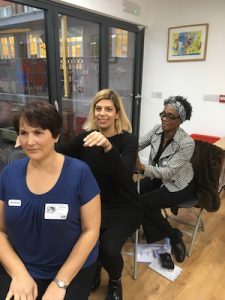 Above you can see Susana, Farrah and Lythnia creating their anti-bullying story written to promote discussion and action against bullying in a safe and supportive way. Their massage story is called When James Makes a Change. We encourage you to share their story at home and at work – not just this week but whenever the time feels right.
When James Makes a Change – written for Anti-Bullying Week
It's Monday again. The school bells rings. (The Drum)
James feels sad. He has no friends to play with. (Downards Semi-Circle)
No smiling faces (Upwards semi-circle)
I am on my own again. (The Circle)
Tuesday, the bell rings again. (The Drum)
James feels sad, eating lunch alone again. (The Calm)
Wednesday, the bell rings. (The Drum)
James talks to Mrs Clarke. (The Bounce)
"No more bullying will be tolerated", says Mrs Clark. (The Claw)
Thursday, the bell rings. (The Drum)
James knows that Mrs Clark is looking out for him. (The Squeeze)
Friday, the bell rings and James walks into school feeling happier. (The Walk)
I am on not on my own. (The Circle)
More about Story Massage
Ten simple massage strokes form the basis of Story Massage. These strokes have a child friendly name, such as The Walk or The Bounce, and an easy to recognise symbol. These positive touch stokes can be applied to any part of the body that is appropriate making it accessible for all ages and abilities. Our Story Massage book contains instructions with illustrations for the strokes and over 25 massage stories. It is available from the resources page of our website. Story Massage Book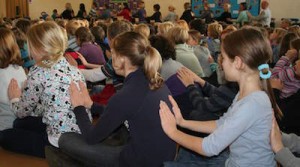 If you would like to introduce Story Massage in your home or work, then we hold a one day training course that is held around the country for individuals. We also offer in-house training for groups. On these days we teach the Story Massage strokes and then work with you to adapt familiar stories and even create some massage stories of your own, such as this anti-bullying massage. Story Massage Training