A key benefit of Story Massage is calming and relaxing children. And many teachers are now using a simple peer massage activity to promote readiness for learning at difficult times during the school day. Below is a Story Massage created to help calm pupils after lunchtime play. You can adapt the words to suit the situation.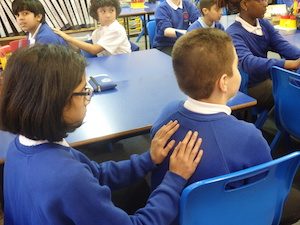 Calmness and Concentration
The idea for this Story Massage came from Alex Berger, a Year 1 teacher, during a training day in Brighton. "It is helpful to encourage children to remember the positive aspects of lunchtime play and to wipe away any troubles so they can settle down to good learning," he explains, "Story Massage is a simple and effective way of calming children and promoting readiness for learning so can focus and  concentrate."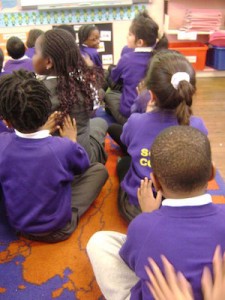 After Lunch Story Massage
Here is Alex Berger demonstrating the After Lunch Story Massage created as part of a group exercise on a Story Massage training day.
Lunchtime is a time to eat healthy food that is good for the whole body. (The Circle)
A time for playing with friends, running around and sharing laughs. (The Sprinkle)
Now we need to wipe away any lunchtime problems. (The Wave)
Be ready to learn and hold on to new ideas. (The Squeeze)
Remember your responsibilities, be kind, gentle and calm. (The Calm)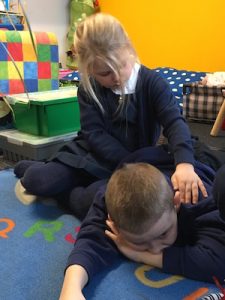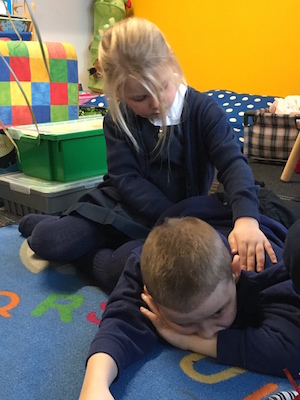 What is Story Massage?
Story Massage combines the benefits of positive touch with the creativity of story telling. Ten simple massage strokes form the basis of our Story Massage book, resources and training. These strokes have a child friendly name, such as The Circle or The Sprinkle, and an easy to recognise symbol making it fully accessible for all ages and abilities.
If you would like to introduce Story Massage in your home or work, then we hold a one day training course that is held around the country for individuals and groups. On these days we teach the Story Massage strokes and then work with you to adapt familiar stories and even create some sensory stories of your own. Ideal for anyone interested in sharing peer massage and positive touch ideas for children and adults of all ages and abilities. We also offer in-house training options. All the information is here: Story Massage Training
"A very effective training day to connect with the essence of Story Massage and why all primary schools should be doing it!" Alex Berger, Year 1 Teacher, St Luke's Primary School, Brighton