Welcome to our regular blog post highlighting the benefits and uses of Story Massage. We're delighted to introduce you to Sirpa Kaajakari, a Certified Massage Therapist and Certified Pediatric Massage Therapist who runs Story Massage classes for families in the Los Angeles area. Here she is photographed doing story massage with her son Miio. (photo credit: Erin Scabuzzo, Hello Pinecone Photography)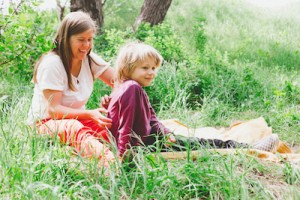 What prompted you to use Story Massage?
My previous career in Finland was in communications. I was a head of communications for a political party. After having kids and moving to United States I decided not to return to my job after my maternity leave. I went to massage school as I wanted to help other people heal and feel better. I worked as a massage therapist for a while and saw the positive effects of touch. I took a class in prenatal and infant massage and started massaging my own children. They loved it.
I felt like I want to start focusing on helping families so I trained as a Certified Pediatric Massage Therapist. The class was taught by Tina Allen in California in early 2014. My favourite part of the class was the massage stories. I started to use them in my practice with private pediatric clients and found the stories combined with nurturing touch to be really beneficial for everyone. I also realized that instead of me massaging the children, I would like to teach the parents to massage their children as it is their contact and presence the children really crave.
I started looking online for more stories that I could use and teach with pediatric massage and found the Story Massage website. I was thrilled to discover that there was already an established story massage movement going on with a book, DVD and accredited training!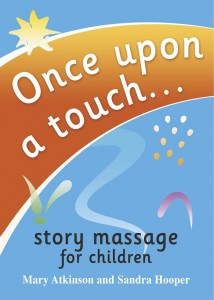 I also found a company from Finland that teaches fairy tale touch for childcare professionals to use in their work. I speak Swedish too and found even more massage stories from Swedish websites. Story Massage became my new focus. I trained in Finland recently to learn about the technique called Fairy Tale Touch developed by Sanna Tuovinen.
Where do you currently use story massage?
I use story massage with my own children and I teach story massage to parents in Los Angeles area.
Story massage is a great tool for parents to use with their children to connect with them, be present with them and to help them with life changes or to process their feelings. It is so much more than just the physical massage which has in itself many great health benefits.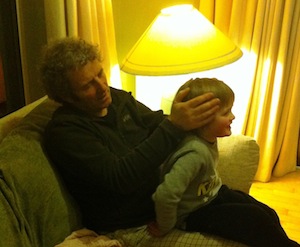 Describe one time when you feel that story massage has really made a difference?
My three year old was having a really hard time one day. I was having hard time too and we weren't connecting but were getting more and more angry and frustrated, both of us. We couldn't find a way out and my child was in tears (I was almost too).
Suddenly I had a thought and I whispered: "Would you like me to do the Caterpillar massage to you?" With a sigh of relief, my three year old son took my offer and replied: "Yes." He was familiar with this massage story from Tina Allen's book A Modern Day Guide to Massage for Children which we had modified to our own use. He lied down to be the caterpillar in his chrysalis and I told him the story, stroking him gently. In the end, he spread his wings and flew away as a beautiful butterfly, happy as can be. We did it over and over again and finally he said that the baby butterfly was very tired and wanted the mommy butterfly to hold him. He fell asleep in my arms.
What tips would you like to share with others who are planning to use story massage at home or part of their work?
Sometimes it is nice to let the children come up with stories themselves. You can then draw their stories on their backs. Or they might like to massage you. If they feel safe in your mindful presence they might even talk about things that worry them – through the story they share or otherwise.
What is your favourite massage story for children?
My favourite is The Smiling Flowers, the story written by Mary Atkinson and Sandra Hooper for the children affected by the tsunami in Japan. You can download a free copy of this story when you subscribe to their regular Story Massage newsletter. The Smiling Flowers.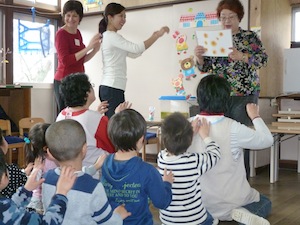 How are you planning to use story massage in the future?
I plan to continue to massage my own children and teach story massage to parents in Los Angeles area. I would also like to help bring story massage to American schools when they are ready.