The best way to explain the benefits of Story Massage for children with PMLD is to see it in action. So here are five video clips showing children engaging with the fun and interaction that can be enjoyed during a Story Massage session.
Story Massage in a Sensory Room
This video shows how Rebecca and Chelsea, two learners with cerebral palsy are really engaging with the story and benefiting from the massage strokes in a school sensory room. Just look at the smiling faces – of both learners and staff!
Relaxing Story Massage for Maisie after physiotherapy
Physiotherapy sessions can be demanding for children with PMLD so Sophie gives her daughter a gentle sensory story to help calm and soothe her afterwards. "Story Massage has been such a huge benefit to my severely disabled daughter," says Sophie, "It is now part of our daily activities. Even my six year old has learnt how to do it on her sister and it is a very special thing to see."
Group Story Massage at Ysgol Y Deri Special School
Story Massage is part of the sensory curriculum for children with PMLD at Ysgol Y Deri Special School. Staff have recorded increased engagement and communication. "It is very rare to find an activity that can engage all learners no matter what their needs, age or disabilities," says Lisa Lawrence, Sensory Learning Leader, "Story Massage offers flexibility to develop your own stories and make it unique to your setting."
Finn wants more and more….
"Finn loves Story Massage, especially The Grand Old Duke of York," says his mother, Harley. "As you can see from this video, he doesn't want it to stop. He gets excited and keeps asking for more. This clip only shows half of our session together!"
Adapting Sensory Stories at Wood Bank Special School
"Every child is so different and we love the flexibility of the Story Massage programme of ten strokes," says Cheryl Bailey, teaching assistant, who is filmed below during a group session at the school. "In this video you can see how I am able to personalise the massage session for Mary using her favourite strokes and just the right pressure."
More about Story Massage for Children with PMLD
Story Massage combines the benefits of positive, respectful touch with the creativity and engagement of storytelling making it the ideal interaction for children with PMLD. Ten simple massage strokes form the basis of the Story Massage programme. These strokes have a child friendly name, such as The Circle or The Sprinkle, and an easy to recognise symbol making it accessible for all. It is a fully inclusive activity, no clothing is removed and no oil is used. Stories can be taken from our Story Massage book, adapted from favourite stories or songs. or you can even create your own stories.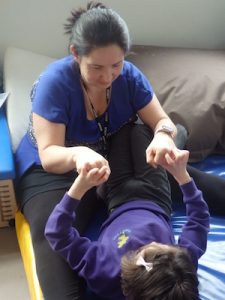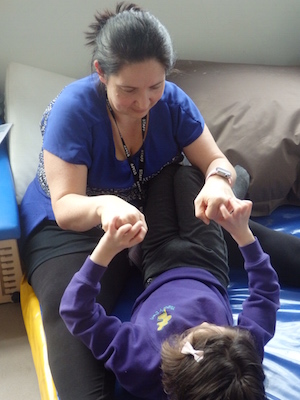 Would you like to train in Story Massage?
Are you inspired by the way that sensory stories are being used with children with PMLD? Would you like to train to use Story Massage in your work or home? We run a one day accredited training courses held around the country for individuals and groups. These days can also be organised as in-house training sessions.  And we also have a new online training option.