One of the joys of Story Massage is that it is so adaptable and easy to use for people of all ages and abilities. And we were thrilled to hear from Angela Philpott and her daughter, Louise Stewart, about the benefits of Story Massage for adults with learning difficulties.
Angela and Louise attended a Story Massage training day at Strode Park Foundation and throughout the day they were buzzing with ideas of how to share positive touch activities at home and work.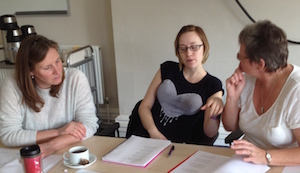 Adapting Story Massage for Learning Difficulties
Angela and Louise were particularly pleased that we spent time on the day course looking at ways of adapting Story Massage for adults and children with learning difficulties. As many of Angela and Louise's clients also have physical disabilities, they were delighted to find that all the strokes can be applied to different areas of the body such as hands, feet, face or legs. And it is just as effective if the person is sitting or lying down.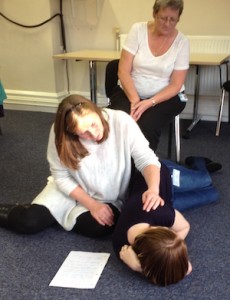 "Everyone loves it. I have used it with family and friends showing them how to use the Story Massage moves on their children as well as using it on some of students with physical and learning disabilities at work. Once you have learnt the ten basic Story Massage strokes, it's so simple and beneficial in many different ways." Angela Philpott
Princess Story Massage
Angela told us that one of the young ladies in her care made up her own story about being a princess. Angela put a few simple Story Massage moves to the words and now the young lady often asks for HER story massage.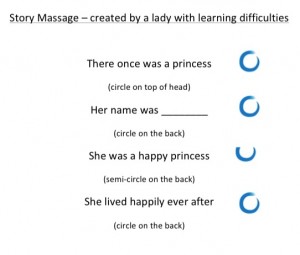 The Hungry Bird Story Massage
Angela has also written a Story Massage for a young man with learning difficulties. It's about a bird that flies high in the sky and then gets very hungry!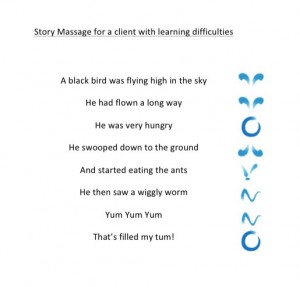 Training in Story Massage
If you'd like to know more about the benefits and possibilities of Story Massage then do take a look at our webpage: Training Opportunities in Story Massage. We've also published a Story Massage book and DVD: Once upon a touch…story massage for children.