Today's Story Massage was written by a nature-loving grandmother who attended a training day. She feels that creating and writing massage stories is a fun and interactive way of introducing some of the marvels of the natural world to her screen-addicted grandchildren. Among her favourite nature inspired stories is one about the life cycle of a butterfly.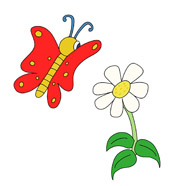 From Caterpillar to Butterfly
A butterfly begins as a tiny little egg (The Circle)
When the egg hatches … (The Fan)
a hairy caterpillar emerges. (The Fan)
The hairy caterpillar eats and eats and eats .. everything it can see…(The Squeeze)
When the hairy caterpillar is completely full, it forms a chrysalis (or pupa) and stays very still (The Calm)
Inside the chrysalis wonderful things are happening. (The Sprinkle)
The caterpillar is transforming into a butterfly. (The Walk)
Soon the butterfly breaks free from the chrysalis. (The Drum)
It rests quietly for a few hours. (The Calm)
Then the butterfly opens its beautiful wings and flies to find a mate. (The Fan)
The female butterfly lays tiny eggs on a leaf … (The Circle)
and the whole cycle of a butterfly begins again. (The Circle)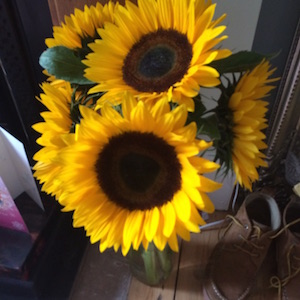 Wednesday's Top Tip
Story Massage can be a fun and effective way of helping a child to learn about a subject. Add key words to your massage story to help your child remember them.
More about Story Massage
Ten simple massage strokes form the basis of Story Massage. These strokes have a child friendly name, such as The Wave or The Bounce, and an easy to recognise symbol making it accessible for all ages and abilities. Our Story Massage book, which contains instructions with illustrations for the strokes and over 25 massage stories, is available from the resources page of our website. Story Massage Book
If you would like to introduce Story Massage in your home or work, then we hold training days around the country for individuals and groups. On these days we teach these Story Massage strokes and then work with you to adapt familiar stories and even create some massage stories of your own. This will help build your confidence with using story massage in the way that most suits you – at work or at home. During the training there will be plenty of opportunity to ask questions and share ideas with others. Story Massage Training