We've had several requests from people wishing to know more about the content of our FHT accredited Story Massage training day. So here is a 'fly on the wall' view of some of our recent training days.
Who attends the Story Massage courses?
One of the joys of a Story Massage training days is the wonderful mix of people who attend because they feel that Story Massage could make a real difference to the children or adults in their lives – whether at home, school or in the wider community. Sharing information, ideas and support is an integral part of the day. Past attendees have included: holistic therapists, teachers, teaching assistants, physiotherapists, baby massage instructors, MISP instructors, drama teachers, learning mentors, occupational therapists, parents, foster parents – to name a few.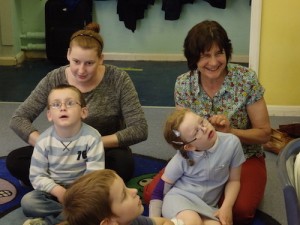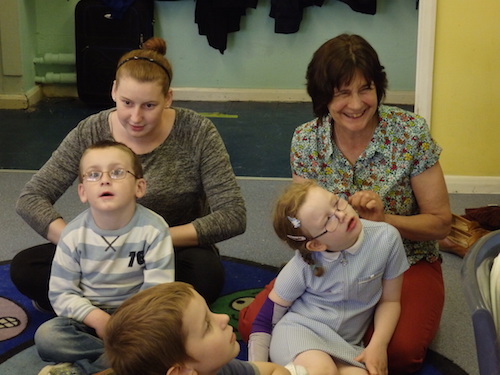 Introduction to Story Massage
The day begins with a demonstration of Story Massage so that everyone can fully grasp the concept. We then look at ways in which it has been embraced and used by other people attending the course. It has, for example, become a popular way of communicating at a children's hospice, been taken out to a charity school in a township in Cape Town and even been included as part of a care plan for a child with co-ordination and communication difficulties. It is very popular in Special Schools and for people with dementia.
For some attendees it is now a regular activity at their mother and toddler sessions and yoga activities. Others have introduced it at school assemblies, in the classroom as part of a curriculum-related activity and as a one-to-one positive touch activity with children and adults with additional learning needs.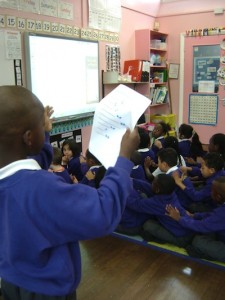 The Ten Basic Strokes
For ease of sharing Story Massage with others, we have devised ten simple massage strokes which form the basis of all our story massages and our Story Massage book and resources. We spend time discussing and working with these strokes on each other. There is much lively debate as we consider how the strokes could be incorporated into a massage story to depict an object or activity. The Circle, for example, could represent the sun, the earth, a pond, dancing or completion. These strokes are all accompanied by a simple symbol which helps when working with story massage, and creating your own.
Benefits and Cautions for Story Massage
We allow plenty of time for sharing the many benefits of positive touch in different situations and suggest ways in which you could introduce the concept to others. Safe and respectful touch is at the very foundation of our work, and so working within appropriate guidelines and cautions is essential to good practice. We discuss suggested guidelines for working within your own particular setting.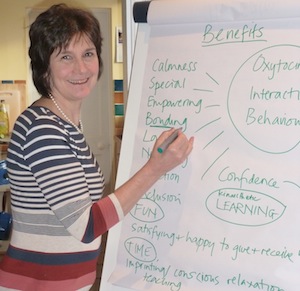 Creating Your Massage Stories
And now you begin to put everything together to form your own massage stories. Working in groups we encourage and support you in creating massage stories either from favourite stories, nursery rhymes or traditional tales, or from your own ideas. Some attendees have made stories for a group of Brownies, a child with additional learning needs, an introduction to the first day at school, or as a birthday surprise for a grandchild. We use our experience and expertise to help you shape your story.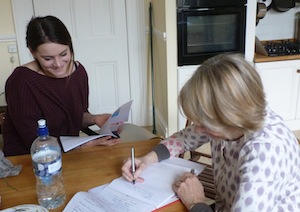 Presenting Your Massage Stories
Your group then 'takes to the stage' to present your massage story to the others in the course and to share the rewards and challenges of the actual hands-on process of creating the story. This also gives you a valuable opportunity to practice introducing story massage to others. As you can imagine, this part of the day is always accompanied by much appreciation and encouragement from others as we work together to help instil confidence in the practicalities of running a story massage session.
Certificates and On-Going Support
The day ends with sharing your feedback on the Story Massage Training Day so that we can build on our strengths and work with any suggested improvements. It is also a time for presenting certificates and offering support or further resources for your continued work with Story Massage. We will keep you informed of any news and events with a regular newsletter, and we really do love to hear ways in which our attendees are working with Story Massage. Sign up for the newsletter here: Story Massage Newsletter
And if you'd like to hear some feedback from our training courses then please look here: Fantastic Feedback for Story Massage Training Day.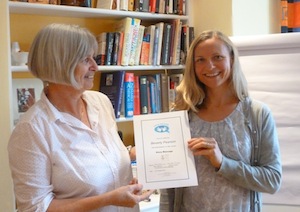 Story Massage Dates and Venues
For a full list of our training dates please visit Story Massage Training. We look forward to working with you to help spread the wonders of Story Massage. Please do contact us if you have any further questions or visit our page of Frequently Asked Questions.