Everyone's talking about the fun and benefits of Story Massage… so what is it? This short Story Massage webinar explains how you learn how introduce Story Massage into your home and work. Story Massage is flexible and accessible for everyone, whether you work in a school, hospice, children's centre or run a mother and toddler group. Anyone who had an interest in positive touch activities for children will find it a valuable resource.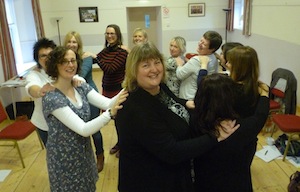 Story Massage Webinar
With the encouragement and support of Teresa Rich from Reflexology UK, we presented a really successful Webinar to explain more about the benefits and applications of Story Massage, and to answer questions from participants. So if you'd like to find out more, then do catch up with our 45 minute Story Massage webinar in the comfort of your own home.
Watch the Webinar

Story Massage Resources
We're so keen to share the benefits of Story Massage with everyone – both children and adults – that we've written an eBook on Story Massage and we run regular FHT Accredited training courses around the country. You can find out more about training in Story Massage here: Story Massage Training.