We're celebrating the popular World Nursery Rhyme Week (13th – 17th November 2017) with Story Massage activities for the five different nursery rhymes – one for every day of the week.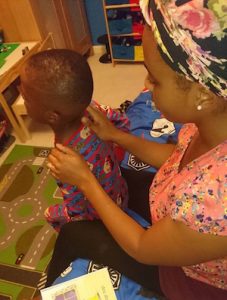 Story Massage and World Nursery Rhyme Week
World Nursery Rhyme Week is a free initiative sponsored by Music Bugs (sensory music classes for children) and supported by music downloads and worksheets from Piccolo Music. The aim is to promote the important role that nursery rhymes play in early childhood by helping children master key skills such as language and communication and social, physical and emotional skills.

Each day throughout the week, there is a chosen nursery rhyme with free themed resources for sharing with children. Find out more here: World Nursery Rhyme Week.
Story Massage is fun and interactive
Story Massage is a programme of ten simple massage strokes combining the benefits of positive touch with the creativity of story telling. Nursery rhymes are perfect for sharing Story Massage when they are appropriate for the age and stage of children. Below we have given some ideas for the Story Massage strokes that could be used for the five different nursery rhymes. But remember, Story Massage is all about fun, interaction and relaxation so do change the strokes to suit you and your child/children.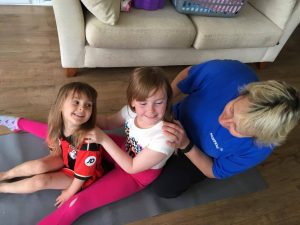 "I always say to the people that there is no right or wrong way to sing a song or nursery rhyme. We just give ideas and hope that you will join in and adapt the way that is best for you. And that's what I love about story massage. There is no right or wrong stroke to use to interpret a story or song. Individuals can use their own creativity. And this is explored to the full on a training day." Abi Cotton, Owner of Piccolo Music and Story Massage Instructor.

"Learning to share Story Massage has shown me the importance of giving children some attention time and to listen to their worries. I am using Story Massage with my granddaughter at present and she is sleeping so much better. But I can also see the potential benefits for play schools, libraries and NCT groups." Jacqui Torah, Reflexologist and Baby Reflexology Instructor
Monday – Bobby Shafto
Tuesday – Lavender's Blue
Wednesday – Hickory Dickory Dock
Thursday – Wind the Bobbin Up
Friday – Old King Cole
More about Story Massage
Ten simple massage strokes form the basis of Story Massage. These strokes have a child friendly name, such as The Wave or The Bounce, and an easy to recognise symbol making it accessible for all ages and abilities. These symbols are used for the nursery rhymes above.
You can find out more about the strokes in our Story Massage book called Once upon a touch…story massage for children by Mary Atkinson and Sandra Hooper. The book is pictured below in the library at the Scottish Storytelling Centre. It contains instructions with illustrations for the strokes and over 25 massage stories and nursery rhymes. You can buy it from the resources page of our website. Story Massage Book.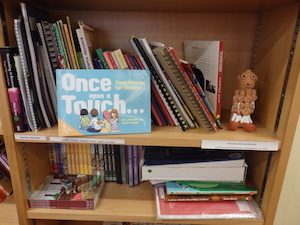 Training in Story Massage
We also hold popular courses to learn more about introducing Story Massage in your home or work. The course is available as a one day training at different venues around the country or as an online course. We also offer in-housing and group training session. On our courses, you will learn the Story Massage strokes and how to adapt familiar stories and even create some sensory stories of your own. This will help build your confidence with using Story Massage in the way that most suits you – at work or at home.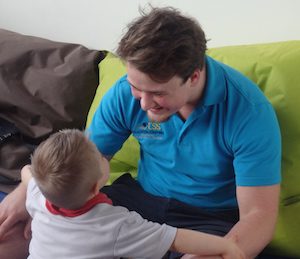 The training is ideal for teachers, SEN staff, support staff, therapists, Early Years practitioners,  those working with people with additional needs, Baby Massage Instructors, Relax Kids Coaches… everyone with an interest in sharing positive touch activities with children. Find out more here: Story Massage Training