Story Massage is proving helpful for adoptive parents. A recent training day was attended by ten parents with adopted children ranging in age from 18 months to 15 years. Some parents were new to adoption, others had many years experience. However, everyone felt excited by the benefits and possibilities of this simple and adaptable way of engaging with children in a nurturing and respectful way.
---
The Power of Positive Touch
'A very inspiring day. There was a sense of safety which allowed participants to explore and experiment and learn new skills to use with their children.' Social work Resource Officer

'A wonderful course with potential for immediate benefit for my child. I can get going with it straightaway.' Mother of adopted daughter, aged 5.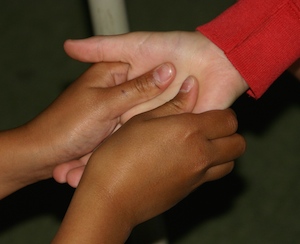 During the day we practised our ten basic Story Massage strokes and enjoyed a lively discussion of how these strokes could be associated with words, actions and emotions within a story. Many of the participants commented that this acted as a vital reminder of the positive nature of touch, and how sensitive touch can have an immediate impact on sense of well-being.
"It reminded me of the value and importance of respectful touch, especially for bonding and attachment issues. The ten strokes are easy to learn and it was good to have time to practice them on each other.' Mother of adopted daughter, aged 5.

'I think gentle and nurturing touch through Story Massage will help tremendously with our son who has bad night terrors. It will help to soothe and ease him back to sleep. I feel the course has opened my mind to further possibilities.' Mother of adopted son, aged 5.
---
Story Massage for Adopted Children
The group were invited to spend some time talking about issues specific to adopted and fostered children. This prompted an open and helpful exchange of views and experiences. Clearly, every child is an individual and has their own particular needs, just as every family will face the challenges and rewards of adoption in their own way. However, some issues were shared among the adoptive parents who felt that Story Massage could be particularly helpful with raising confidence and self-esteem, building trust, calming down, easing anxiety, forming attachments and managing issues around control.
'My daughter can be very controlling as she has not been able to control things in her life in the past. Story Massage enables me to give her a massage, but also she gets to do it for me and take control/ charge in a manageable way.' Mother of adopted daughter, aged 8.

"I would recommend Story Massage to all parents but think it has particular value for adoptive parents offering a simple and beautiful way to nurture, play and support attachment." Mother of adopted daughter, aged 11.
---
Expressing Feelings in a Safe Environment
The adoptive parents could also see the benefits of Story Massage as a way of helping a child to tap into and talk about his/her feelings. One adoptive mother has been using our ten Story Massage strokes with her daughter to encourage her to share how she is feeling on that particular day. And she encourages her daughter to tell her story/express her feelings through massage so there is no temptation to put words into her mouth. Others suggested that:
'Story Massage can be a way of addressing issues that may go unspoken. I wish that I had known these techniques in the early days of our adoption. It would have been a great help with attachment. A great tool to have in your box.' Mother of adopted son, aged 6, and adopted daughter, aged 3.

'I think Story Massage is a great way to address issues with children who feel uncomfortable with face to face conversations. It can be used for many different situations and problems.' Mother of adopted daughter, aged 7 and adopted son, aged 6.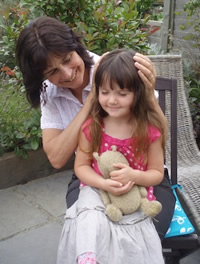 ---
Creating Massage Stories
During the afternoon we worked together to create four very different stories with varying themes. These included getting children to sleep at night, easing the transition from foster home to adoptive home, calming excitability and need for control, and addressing the fear of trying new experiences away from the security of their new family.
The adoptive parents have kindly agreed for us to publish one of these stories, Bob the Dog. This massage story was created to encourage children to explore new ventures with the comforting knowledge that they can return to the safety of their forever home.
---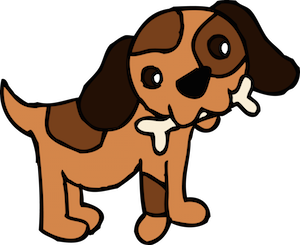 Bob the Dog
Bob the dog woke up and had a big stretch.    (The Fan)
The sun was shining outside and the birds were singing.   (The Circle)
And Bob played with his bouncy ball on his cosy blanket.  (The Bounce)
Mum said "Let's go to the park!" but Bob wanted to stay at home.
(The Downwards Fan)
Bob had butterflies – he didn't want to lose his favourite ball in the park.   (The Sprinkle)
But Mum gave him a hug and off they went. (The Squeeze)
The park looked big and he couldn't see anyone he knew. (The Drum)
Then he saw Billy and they ran and jumped and played with Bob's bouncy ball. (The Sideways Wave)
Soon it was time to go home. (The Walk)
And the sun was still shining and the birds were still singing and Bob fell asleep on his cosy blanket. (The Circle)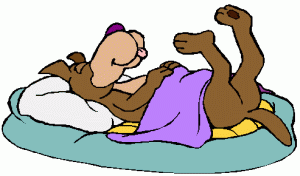 ---
Life Story Book
One of the joys of Story Massage is that it is so simple to learn and adaptable to use. The parents on the course all shared wonderful ideas for using Story Massage techniques with their children and looked forward to one-to-one time with their sons and daughters. An interesting idea that arose on a previous training session is to use Story Massage to share an adopted child's Life Story Book.
'The Life Book tells my daughter's story in its true form without any fantasies about circumstances or adoption. Although she likes to read the book, it can be upsetting at times and Story Massage offers comfort and reassurance to help her talk through any issues arising when we read the book together.' Mother of adopted daughter, aged 8.
---
Inspired to Learn Story Massage?
Our Story Massage book has instructions for our ten Story Massage strokes, many of which are used in Bob the Dog. More information here: Story Massage Book.
We also have an online training course which is ideal for therapists, teachers, SEN staff, support staff, Early Years practitioners, parents, those working with people with additional needs, Baby Massage Instructors, Relax Kids Coaches… everyone with an interest in sharing sensory stories and positive touch activities with children and adults. All the information is here: Story Massage Online Training.