Staff at a day service in South Staffordshire say that adults with PMLD are benefitting from Story Massage activities.  Louise Molineux and Nikki Millward, pictured below, have both received our Best Practice Award for their imaginative and inspiring work with adults with complex needs.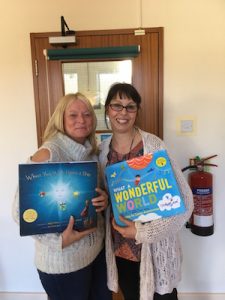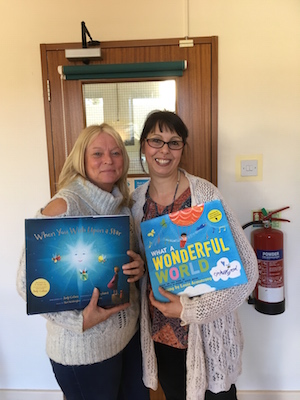 ---
Sensory Activities for Adults with PMLD
"Story Massage techniques can easily be shared on hands, legs and arms, anywhere that is appropriate and acceptable, to meet the needs of everyone including wheelchair users," says Louise, above left, "It is ideal for our adults with PMLD at the day centre. We began by introducing a sensory massage song to accompany What a Wonderful World by Louis Armstrong. The feedback and responses was so very positive we have adapted many more Story Massage sensory songs!"
Indeed, Louise and Nikki have just developed a sensory Story Massage activity involving a rhythmic jungle massage story accompanied by a djembe drum. "This adds to the story's ambience and rhythm," says Louise, "You can see how this gentleman really engages with sensory stories. As we interacted with him he was reaching out to participate in the story telling. It was wonderful to be part of his real enjoyment of the activity."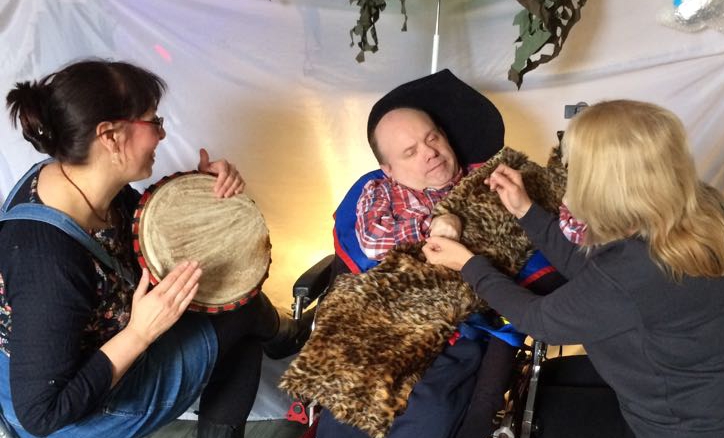 ---
Jungle Massage Story
Louise and Nikki have kindly agreed to share their massage story in the hope that you will enjoy using it with others. Story Massage is not just for children. And it is not just for adults with PMLD. It a fun and flexible programme that can be adapted to suit all ages and abilities.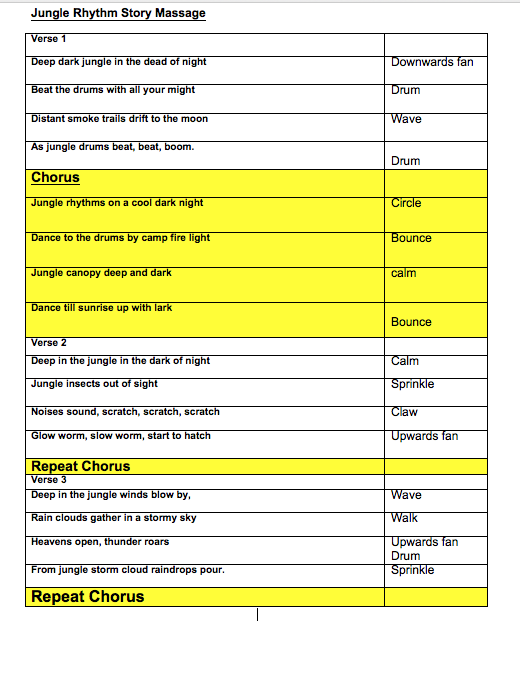 ---
More about Story Massage
Story Massage combines the benefits of positive, respectful touch with the creativity and engagement of storytelling. Ten simple massage strokes form the basis of the Story Massage programme. These strokes have a child friendly name, such as The Circle or The Sprinkle, and an easy to recognise symbol making it accessible for all. It is a fully inclusive activity, no clothing is removed and no oil is used. Stories can be taken from our Story Massage book, adapted from favourite stories or songs such as What a Wonderful World.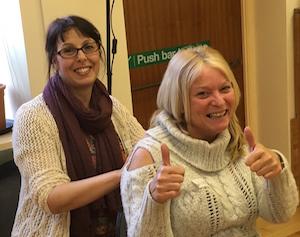 ---
Would you like to train in Story Massage?
Are you inspired by the way that Louise and Nikki are doing with adults with PMLD?  Would you like to train to use Story Massage in your work or home? We run a one day accredited training course held around the country for individuals and groups. These days can also be organised as in-house training sessions.  And we have a new online training option.
We teach you how to share the ten Story Massage strokes and work with you to adapt familiar stories and even create some sensory stories of your own. Ideal for teachers, SEN staff, support staff, therapists, Early Years practitioners, Baby Massage Instructors, Relax Kids Coaches… everyone with an interest in sharing positive touch activities with children. All the information is here: Story Massage Training