As part of Anti-Bullying Week, a therapist and a retired teacher worked together to create a Story Massage based on their own difficult and painful experiences. We were all so moved by this message of hope through caring and respectful touch, that we wanted to share it with you.

---
Creating a Story Massage
The Anti-Bullying Story Massage was written by Sue Burford, a holistic therapist who is qualified to use reflexology with children with special needs, and Sandra Colvin, a retired teacher who has now retrained as a holistic therapist. Sue had suffered bullying as a child and Sandra had witnessed the despair of bullying during her work in schools. Both Sue and Sandra were keen to use their experiences to help others through the gentle and nurturing power of Story Massage.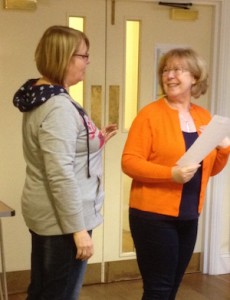 Sue and Sandra discussed ideas for their massage story, then put some of our ten basic Story Massage strokes to the words and practised on each other. They found it helpful to use the Story Massage stickers and templates to produce their story. The strokes and symbols form the basis of our training, book and resources. Story Massage Resources.
---
Massage Story for Anti-Bullying Week
I walk along (Walk)
The dark, winding path (Wave)
That leads to nowhere. (Fan)
I'm lost, alone. (Bounce)
This is wrong, it's not my fault. (Squeeze)
I climb, I climb. (Walk)
Then the sun comes out. I grow warm and strong. (Circle)
The sun fades and the stars come out. (Sprinkle)
I'm here. It's now. (Calm)
My universe will never be the same. (Circle)
I'm glad you came. I'm glad you came. (Calm)
---
Story Massage Training
If you would like to train to share the benefits of Story Massage with others at your work, home or in the wider community, then please check out our Story Massage Training page for details of our accredited day course and in-house training options. We also offer a popular and flexible online course. Story Massage Training Options.