Here are three massage stories written especially for those children starting back to school. Parents can share Story Massage with children at home to help ease any nerves and encourage sharing feelings about transition to a new class.  Teachers will find them helpful as a positive touch activity for children in the classroom at the beginning of the new term.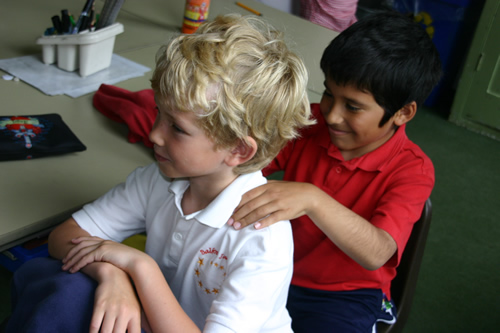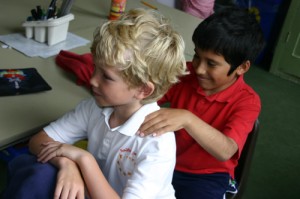 This first Back to School massage story is taken from our Story Massage book which is available to purchase from our website. 
---
First Day at Forest School
The animals are all getting ready for their first day at Forest School. (The Walk)
Owl is looking forward to learning new things. (The Circle)
Deer is feeling shy. Will he look different with his very long legs? (The Fan)
Squirrel is excited about playtime, especially showing her favourite game, hide and seek, to her friends.  (The Bounce)
Badger is tired and grumpy because he didn't sleep well last night. (The Claw)
Fox is happy and feels very proud of his shiny new lunch box. (The half Circle)
Hedgehog is nervous and curls up into a little ball. (The Circle)
When the others see Hedgehog, they say "WOW, that's a great trick!  (The Drum)
And Hedgehog stops feeling nervous. She feels calm and ready. (The Calm)
The bell rings for the start of the day. (The Squeeze)
They all walk in to Forest School thinking 'This is going to be a good day!' (The Walk)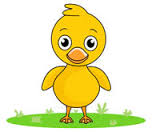 ---
Affirmative Massage Story for Older Children
Written especially for a nine year old girl with anxiety issues, this story was created by Danica Thorne, a complementary therapist at Pure Intentions Therapy who attended one of our training days last year. She uses story massage alongside her other therapies and self-help techniques. We are very pleased that Danica kindly agreed to share her massage story and hope it will help others in the transition to a new school.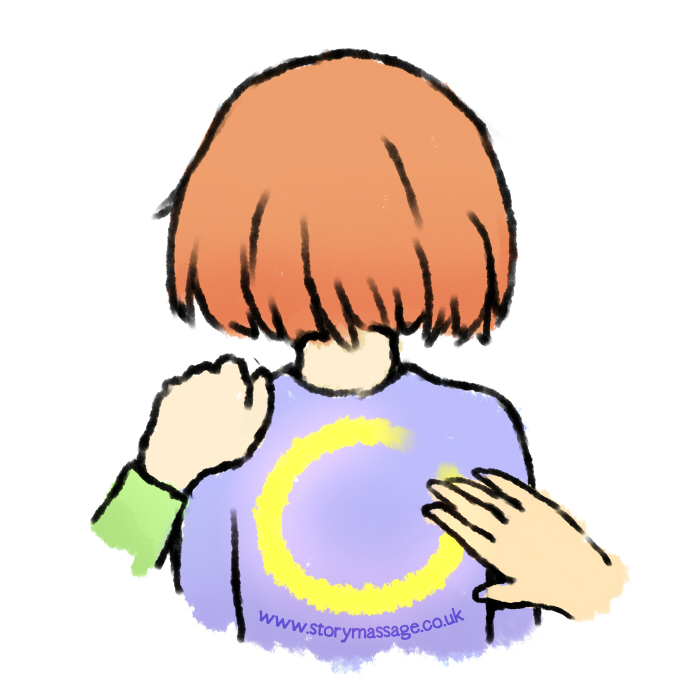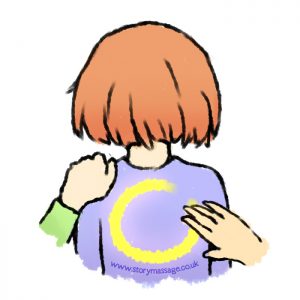 New Beginnings
I've done so well, and come so far. (The Circle)
I have everything I need to move up to Middle School (The Squeeze)
Although it's fine to have a wobble at times. (The Wave)
I will be learning new things and meeting new friends. (The Bounce)
If it gets too much ….(The Drum)
I know I can 'breathe' and feel calm. (The Calm)
I am confident. (The Circle)
I am focussed. (The Circle)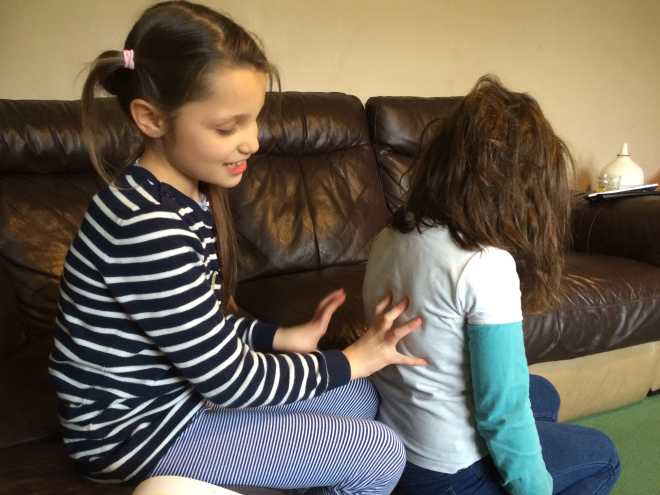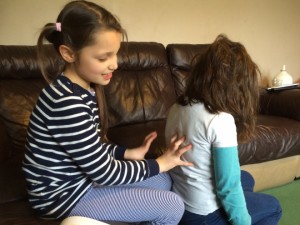 ---
Sensory Story for Children with Autism
This massage story was written by staff on a training day at a nursery school in Reading. It is especially created for young children with autism who may find it challenging to start a new class away from home and familiar people and surroundings.
Welcome to the Snowflake Centre
This is the Snowflake Room. (The Sprinkle)
This is where Mummy/Daddy/Other will drop you off. (The Fan)
Jackie, Megan and Esna will be there to say hello to you. (The Half Circle -Smile)
Outside the Snowflake Room it can be very noisy. (The Drum)
We have children in the Sunshine Group. (The Circle)
And we have children in the Rainbow Group. (The Half Circle – rainbow)
At playtime we go in the garden and we all play together. (The Walk)
---
Would you like to know more about Story Massage?
You can find out more about our online training course here: Online Course.