"Story Massage helps create family well-being and calmness in a fun and interactive way," says Romella Jones, Best Practice Award winner. Romella is a busy mum and therapist running her own business, Create Family Calm, sharing tools to support frazzled parents. As part of her mission to help promote family well-being, she organises regular Story Massage workshops. We talk to Romella about her work with Story Massage.
---
When did you train in Story Massage?
I did the Story Massage training in 2015.  I'm in the photo below, bottom right. I was a Relax Kids coach and my favourite element was the massage towards the end of the class. The children loved it and so did I. The children were also encouraged to massage their parents too (resulting in a few messy hair styles!). I was so excited to find out about Story Massage training which creates a programme of ten strokes so it is simple to learn and share with families.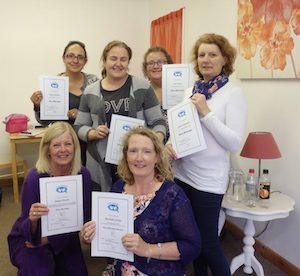 ---
Do you use Story Massage with your own children?
Definitely! We share Story Massage just for fun, but also to help with emotional issues. My son, aged 8, struggles with going to school in the morning so I created a special massage story for him. It was based on his favourite app game Dragon Mania Legends, where dragons hatch and you have to look after them and then visit other islands. I did the massage on his back and adapted it for his hands so we could do it in the school playground before going in. It worked really well with him to make the school run a lot easier. He loved it because it was personal to him and his own story and he still asks for it.
My daughter, aged 5, also has her own story massage to support her understanding of the flow of a school day and separation worries. Each move covers a different element of the day from brushing hair and teeth, to concentration, playtime, lunch and walking home to cuddles! She loves it.
Here is a video featuring my children!
---
How does Story Massage create family well-being?
As a holistic therapist I love sharing tools with parents and Story Massage is always popular as a way of creating family well-being and calm. It is such a simple and effective positive touch activity. Feedback from my Story Massage workshops shows that the key benefits of Story Massage for families are:
A useful tool for calming and reassuring your child
Children love the simple one-to-one time with Story Massage
Presence and fun for your family
Creating your own story massages
Useful at bedtime to calm after busy days and calm busy minds!
Creating some special memories
Creating some new customs when used at different times of the year such as Easter, Christmas or birthdays.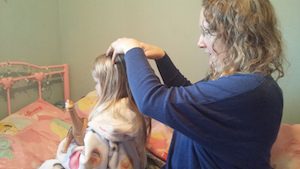 ---
What do you think makes Story Massage so effective?
I think the really special thing about Story Massage is that massage stories can be written individually for the child. So you can include their favourite items or actions, plus support any concerns they have in a fun and interactive way. By making it personal to them it can be a really positive, confidence building experience for them. My children love giving me a Story Massage too, which is very special!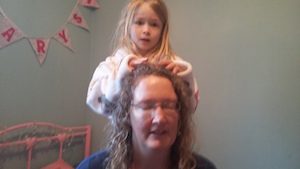 ---
More about Story Massage
Story Massage combines the benefits of positive touch with the creativity of storytelling. Ten massage strokes form the basis of the Story Massage programme. These strokes have a simple name, such as The Circle or The Sprinkle, and an easy to recognise symbol making it fully accessible for all ages and abilities.
Would you like to train in Story Massage?
Have you been inspired by Romella's work with Story Massage and family well-being? Would you like to train to use Story Massage in your work?  There is a one day FHT accredited training course that is held around the country for individuals and groups. On these days we teach you how to share the ten Story Massage strokes and work with you to adapt familiar stories and create some sensory stories of your own. Ideal for Therapists, Early Years Practitioners and those working in Special Schools. We also offer in-house training options and an online course. All the information is here: Story Massage Training