It was thumbs up for Story Massage at a recent creative writing day for children, Story Factory Chichester.  The event was attended by 32 children from 17 primary schools right across West Sussex. They were invited to release their imaginations by exploring  writing, storytelling, art, music and, of course, Story Massage as a wonderful creative activity for children! 
---
Charlie and the Chocolate Factory Massage Story
The theme of the day, organised by Chichester Copywriter's Katy Lassetter and writer and PR consultant, Vicky Edwards, was Hold the Front Page…Chock Shock. With chocolate as a prompt, we created a massage story based on the Roald Dahl classic Charlie and the Chocolate Factory.  All the children were familiar with this favourite story and were keen to share it as a positive touch and creative activity with their friends.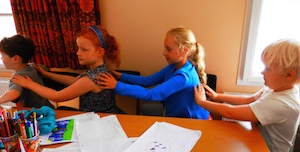 Indeed parents were especially delighted when the children took it home to share in the family home. One mother told us:
"Chocolicious day! Jonah had a smashing time and even demonstrated his Story Massage skills on my shoulders later in the day. I call that a fine outcome!"
---
Story Massage Fun with Friends
One of the joys of story massage is that everyone can join in – whatever their age or ability. And this young lady was not going to miss out! She asked her friend to give her a Story Massage on the floor so that she could experience the chocolately benefits more fully.
Story Massage Resources
Story Factory Chichester was also the ideal opportunity to showcase our new resources – Stickers and Wallcharts. The wall charts proved ideal for explaining the strokes and introducing the symbols. And the concentration on these faces (below) shows the stickers added an extra dimension to the whole creative experience. Children put a sticker to the story to display the stroke that matches the words.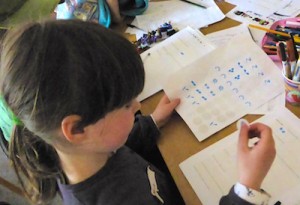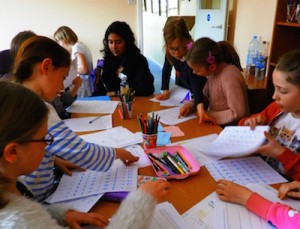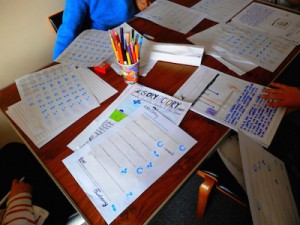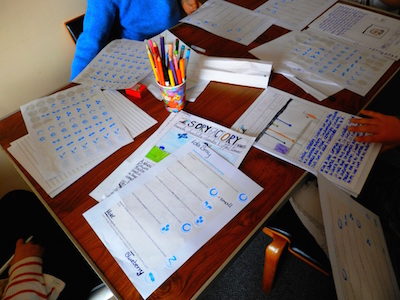 ---
Creating Massage Stories
We have since heard that children have been enjoying using the stickers to create their own massage stories on a range of themes and favourite books. If you'd like to learn more about Story Massage then do take a look at our Story Massage You Tube Channel. And if you feel that Story Massage could be a valuable activity within your home or work then do check our Story Massage courses which are held all around the country. Story Massage Training.