Like many people with sensory issues, 10 year old Hugh Murphy used to hate having his hair cut. During lockdown, his mother, Emma, found it especially hard to manage the upset and anxiety of haircuts at home. Then she tried using the Story Massage Programme and found it helped calm and reassure him. Emma explains more…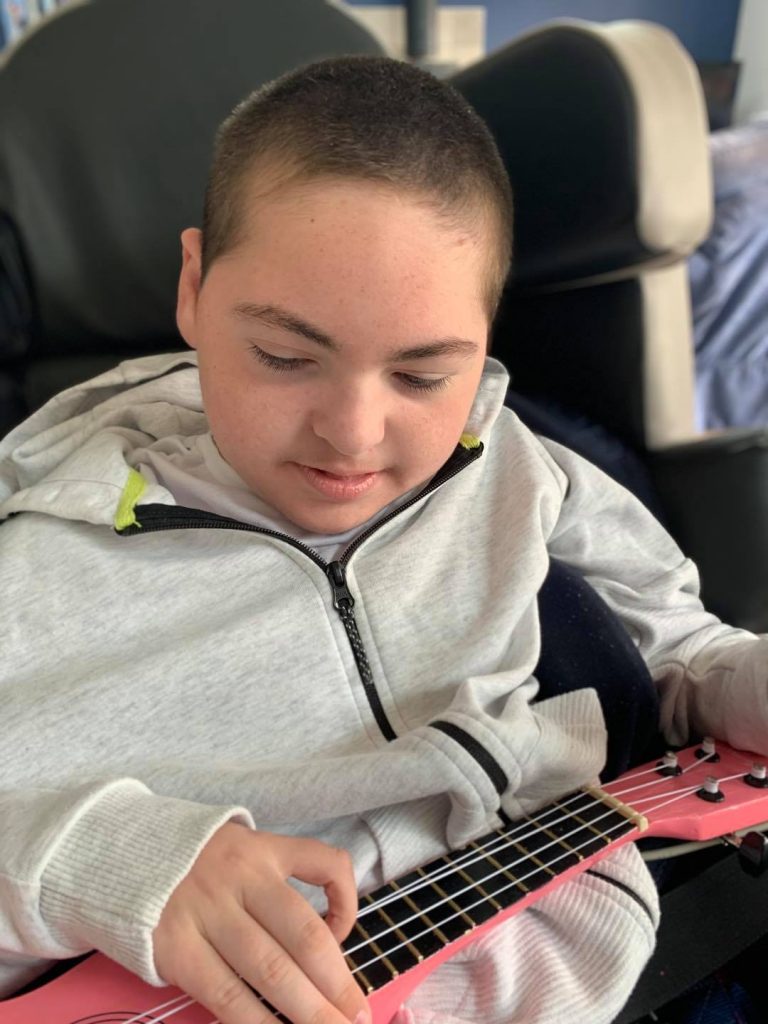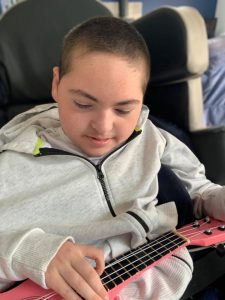 ---
Coping with the Anxiety of Haircuts
"Hugh has a rare genetic condition called FOXG1 syndrome which has caused severe epilepsy and PMLD (amongst other things). We've tried many things over the years to help him cope with the anxiety of haircuts and the Story Massage Programme has been a bit of a breakthrough. I've cut his hair three times now and he is getting progressively better at accepting it. There are no real tears and certainly no vomiting or breath holding that haircuts used to induce.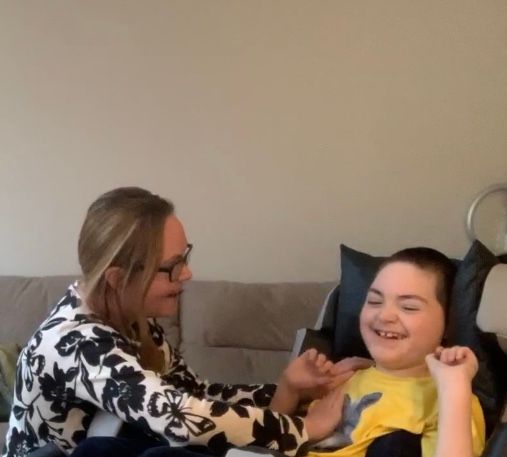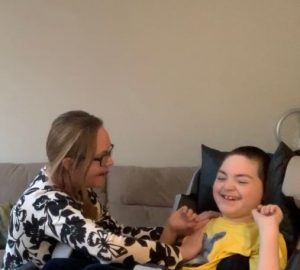 Hugh now smiles during the Story Massage parts of the haircut so I thought I'd write this blog in the hope that it will help anyone else struggling with hair cutting at home.
---
Creating a Simple Massage Story
I wrote a simple massage story to explain what was going to happen and shared it with Hugh at the start of the haircut. I used rhyme and repetition (Hugh responds really well to rhyming stories) and paused often throughout the haircut to repeat the story. There's a 'now' and 'next' element so I can highlight to him what's happening (like a simple timetable) and there's the reward of the bath at the end. Through simple, repeated words and the linked massage strokes, I feel Hugh gets a sense of what is happening and what is going to happen next.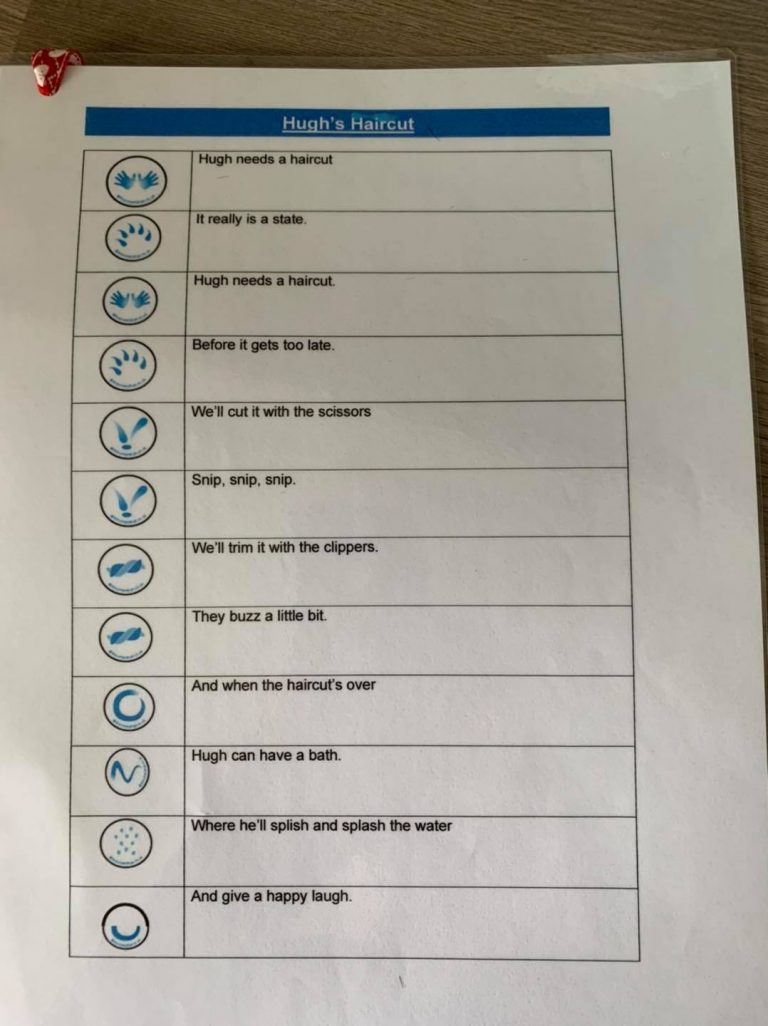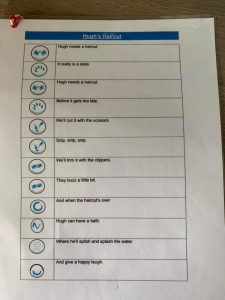 You can download a copy of the massage story here: Hugh's Haircut.
---
Linking with other Strategies
I love that the Story Massage Programme doesn't have to be used in isolation but can be linked to other strategies. For example, I use objects of reference for the haircut (the clippers) and the bath (a rubber duck). I cue him into the cutting with the clippers (the bit he hates the most) with a 'ready, steady… go'. I use the clippers in short bursts and sing silly made-up songs while I'm doing it.
Adapting Pressure
I choose massage strokes that he enjoys and use deep pressure touch to help with his proprioception (something his OT suggested would help calm him during stressful activities).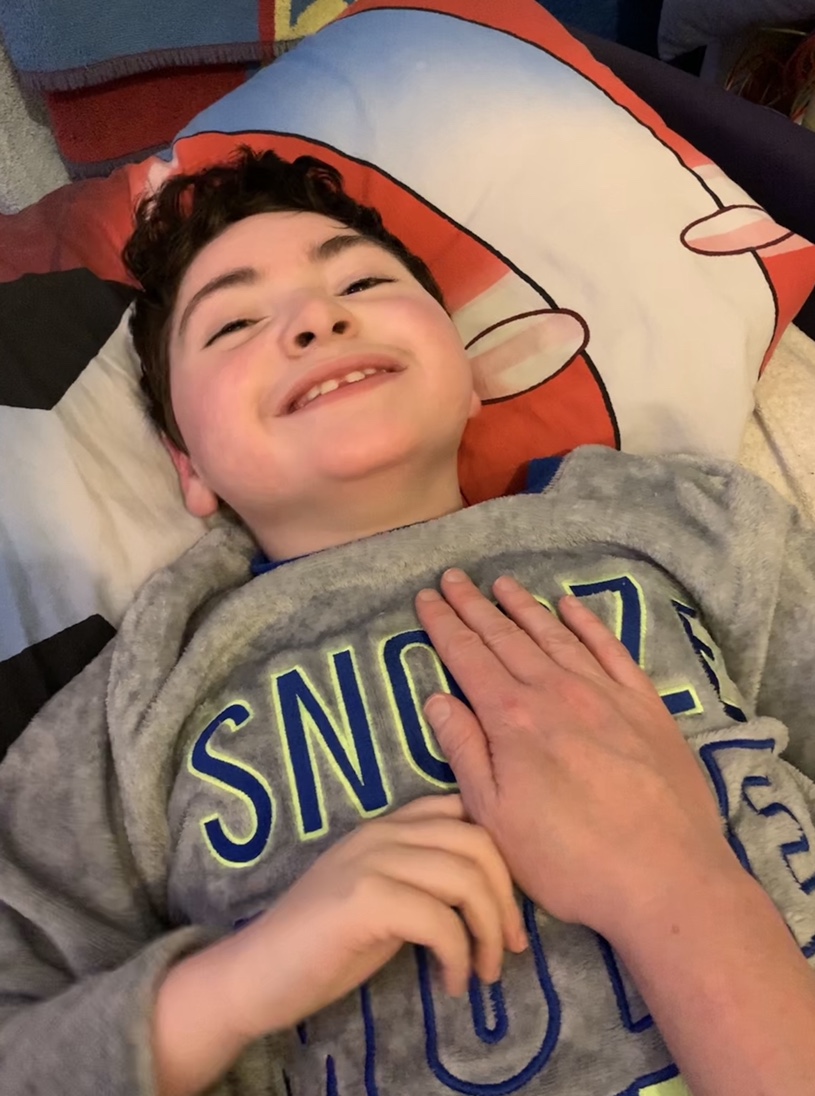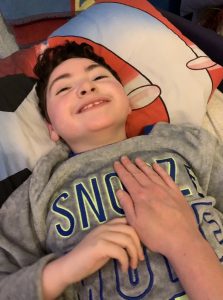 ---
Communication and Connection
We also share massage stories at bedtime some evenings. And Hugh enjoys a massage story on his play mats or in his chair. We often use stories from the Story Massage book. I love that it is so flexible and adaptable. With a bit of thought and imagination, a massage story can be created for anything – whether it's a favourite bedtime story or to explain a routine. Scent or other sensory elements can also be used to make a simple massage story into a more comprehensive sensory story.  For Hugh, whose main way of understanding the world is through his senses rather than language, a good massage story is a great tool for communication and a valuable way to be able to connect with him.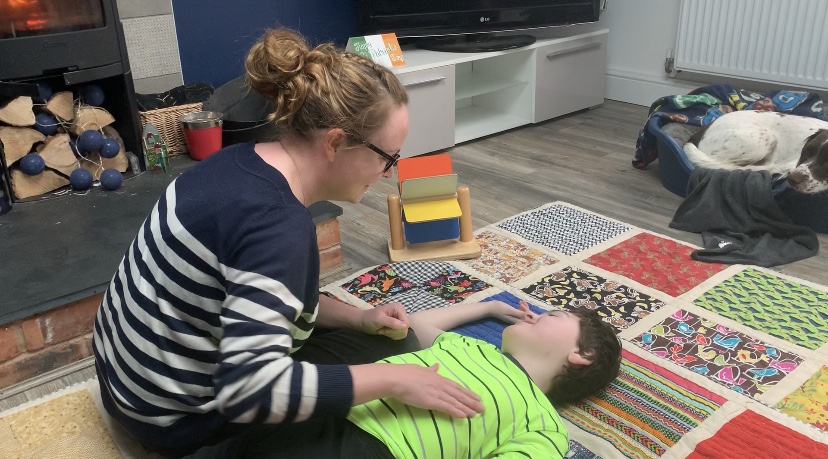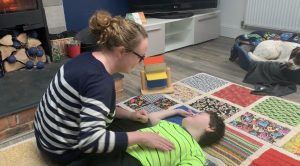 ---
More about the Story Massage Programme
The Story Massage Programme combines the fun and reassurance of story with the benefits of positive, respectful touch. It is enjoyed by all ages and abilities. Ten simple massage strokes form the basis of the programme. These strokes have a name, such as The Circle or The Sprinkle, and an easy to recognise symbol (as shown in Emma's massage story) making it accessible for all.
It is a fully inclusive activity, no clothing is removed and no oil is used. The online training is ideal for therapists, teachers, SEN staff, support staff, Early Years practitioners, those working with people with additional needs, Baby Massage Instructors, Relax Kids Coaches… everyone with an interest in sharing sensory stories and positive touch activities with children and adults. All the information is here: Story Massage Online Training