The end of the school year can bring mixed emotions for many pupils. These feelings are expressed in a positive and affirming Story Massage written by pupils and staff at The Early Focus Project and St James Primary School, Dublin 8. We hope you find it helpful. 

---
Making a Transition to a New School
We are all part of the family of St. James School. (The Circle)
We enjoy growing and learning together with our friends and our class. (The Fan)
Soon we will come to the end of the school year and change to a new class/school. (The Wave)
When we walk into a new class/school we might feel worried, nervous or a mix of emotions. (The Walk)
But changes can bring us lots of new adventures with our friends in school. (The Bounce)
We have to remember how our caterpillars grow and change and go into their chrysalis. (The Fan)
But they change and emerge into beautiful butterflies and fly in our garden. (The Sprinkle)
We will all grow and change together with our friends (The Circle)
as we look forward to new, exciting experiences…. (The Calm)
---
Two pupils demonstrate the End of School Year Massage Story
---
Benefits of Story Massage
Story Massage has become part of regular activities at the Early Focus Project and St James Primary School following an in-house training day. "The children respond very well to Story Massage," says Una Curran, one of our latest Best Practice Winners, "They find it very relaxing and calming. We use it every day to help them settle for more quiet and concentrated work. It also teaches the children about kind hands – they ask each other if they want a massage when they are playing in the yard."
"Story Massage is among the therapies that I provide within my work as a mindfulness and well-being teacher at different schools and venues," adds Una, "It is so helpful for relaxation and also for expressing and exploring difficult feelings such as those at the end of the school year. It helps children to feel safe and secure within themselves."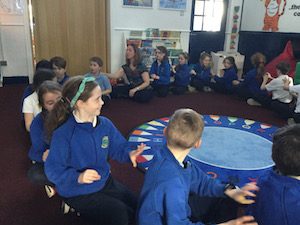 ---
More about Story Massage
Story Massage combines the benefits of positive, respectful touch with the creativity and engagement of storytelling. Ten simple massage strokes form the basis of the Story Massage programme. These strokes have a child friendly name, such as The Circle or The Sprinkle, and an easy to recognise symbol making it accessible for all. It is a fully inclusive activity, no clothing is removed and no oil is used.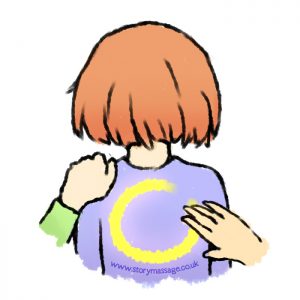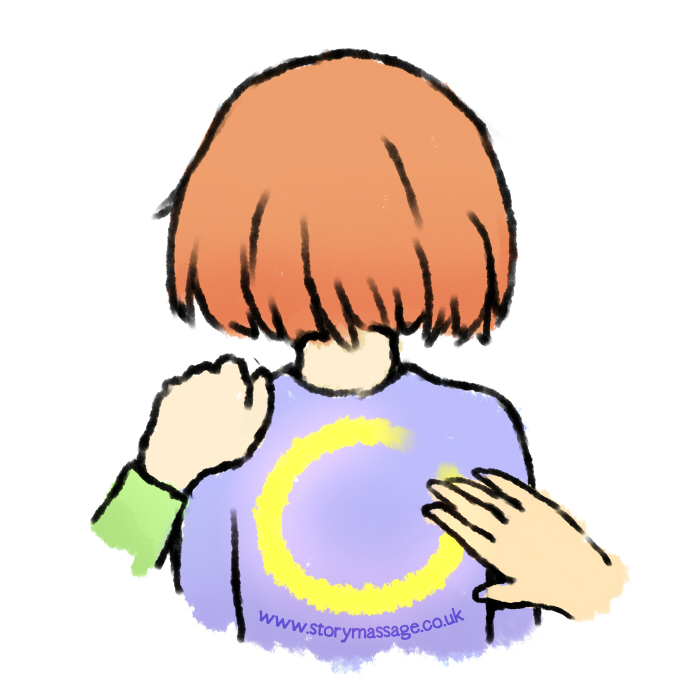 ---
Would you like to train in Story Massage?
Are you inspired by the way that staff at the Early Focus Project and St James Primary School are using Story Massage to promote positive mental health?  Would you like to train to use Story Massage in your work or home? We run one day accredited training courses that is held around the country for individuals and groups. These days can also be organised as in-house training sessions. We teach you how to share the ten Story Massage strokes and work with you to adapt familiar stories and even create some sensory stories of your own. Ideal for teachers, SEN staff, support staff, therapists, Early Years practitioners,  those working with people with additional needs, Baby Massage Instructors, Relax Kids Coaches… everyone with an interest in sharing positive touch activities with children. All the information is here: Story Massage Training