Here is some feedback for Story Massage training from people who are sharing Story Massage in the home, school and wider community.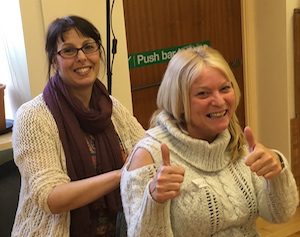 ---
I found the training day and the whole concept simple but extremely effective. The ability to have ten strokes to cover so many objects, feelings and actions allows me to see how it can be used in a variety of settings.  The content of the day was perfectly pitched for pace and understanding with a good mix of listening and interaction.  Carla Malkett, Rachel House Children's Hospice, Glasgow.

Thanks for such a great day yesterday. When I got home I tried lots of stories out on my four-year-old boy and at the end he said: 'why have you stopped? I want more mummy!' He then went on to ask me to do Toy Story, Fireman Sam, Bob the builder and so on so I had to do a bit of thinking on my feet. … Helen Fulcher, Mother and Holistic Therapist.

Enthusiastic and passionate trainers who bring their varying experiences to the course. Wonderful, hands-on, interactive training that will add a new dimension to my baby massage courses. Natalie Leunder, Baby Massage and Baby Yoga instructor.

"I have just completed my Story Massage training, wow, really love this training as it so easy to fit into my Relax Kids Classes. My 4 year-old and 7 year-old have absolutely taken to it, every night of my online training I was practicing with them. My daughter is now going into School tomorrow with her very own story massage for show and tell. I like how I can incorporate this into bedtime routines to help children feel safe at bedtime/in the night and look forward to rolling it out as part of my bedtime toolkit in my Sleep Practice." Nadia Edwards, Relax Kids Coach and Sleep Consultant.

Lovely day. Relaxed and informative. I liked the freedom to create my own stories within a safe and supportive environment. We worked as a team to share ideas and input. Amy Ellis, Massage in Schools Instructor, well being Class facilitor.

A training day that can really be used on a day to day basis and adapted appropriately for each individual child. Anne Steven, Rachel House Children's Hospice, Glasgow.

"The benefits of positive touch activities through Story Massage have been amazing. It is one of the best training days I have ever attended. Story Massage is an invaluable tool, quite literally at your fingertips, that can bring so many benefits for children. Story Massage gives children an opportunity to show they care for each other and to work on their co-operation skills which for many children in the nurture room can be very difficult." Charlene Craig, Nurture Teacher, Quarry Brae Primary School, Glasgow. 
The course was everything I wanted and more! Your delivery was superb, encouraging us all in every way. You have developed a lovely healing experience for children of all ages and levels of understanding, thank you for passing on your ideas and skills. Caroline Prudames, Holistic Therapist.
I work in a special needs early years setting with children who have profound and multiple learning disabilities and also some with sensory processing disorders and some with challenging behaviour. We have trialled a few of your massage rhymes and stories. Some children showed real enjoyment and relaxed into the sessions, others stilled and briefly calmed down, others nuzzled into staff showing pleasure as they had their massage. For other children it was another alternative idea for them to get used to "touch" and they tolerated and preferred some strokes more than others, again, that is positive in itself. As it has been so successful we are now going to extend it into our time table on a regular basis. Helen Edgar, Special Needs Teacher, Birmingham.
I taught Story Massage to the whole school – reception through to 6th form. What was really lovely was some of the sixth form were spotted doing the massage with pupils at break time.  Otter Class (year 5 to year 9) are practising it in their class time so they can help out in my class when we are doing Story Massage.  Holding a book can be a distraction in our setting so I work with powerpoint – a visual focus for the children but hands free for the staff.  Nicky Morris, Special Needs Teacher, Hereford.

What a lovely day we all had learning Story Massage today with Mary Atkinson and Sandra Hooper. It is SO adaptable. We can do it with our own family members, children, grandchildren and friends.It can also be used with children in a group setting for peer massage in schools etc as well as with special needs clients, disabled clients, dementia clients..The opportunity for use is endless and SO easy and fun to do. Please please take a look at the website www.storymassage.co.uk. Angela Philpott, holistic therapist and Baby Reflex practitioner, Kent.
I have some fantastic news to share with you. Last Thursday during my relaxation session I had unexpected visit from senior management. 15 mins before the end of the lesson I decided to give Story Massage a go, just to see my pupils reaction. Well… Children absolutely loved it and I received absolutely amazing feedback from the management saying, that they enjoyed it very much and felt moved listening to the story and watching pupils interacting and being so gentle to each other. Olga Bac, PE teacher, Developmental Movement Therapist.

When I came home from the inspiring training day, I looked on your website and read your blog posts. It was so good to read all the success stories. I believe you learn so much from everyone's stories and how they have they implemented Story Massage to suit their circumstances. It is very helpful and encouraging. Do keep the blog going. Linda Brown, Family Massage Practitioner. 

---
Would you like to train in Story Massage?
Has this feedback for Story Massage training inspired you? To find out more about our accredited courses, in-house training and flexible online course please visit our webpage: Story Massage Training.