Grandparents love Story Massage too! That's the message from Sue Burford, a Story Massage Instructor, who is on a mission to introduce more positive touch activities to children and adults of all ages and abilities. Sue has been awarded with our Story Massage Best Practice Award for her work in using Story Massage in a creative and inclusive way.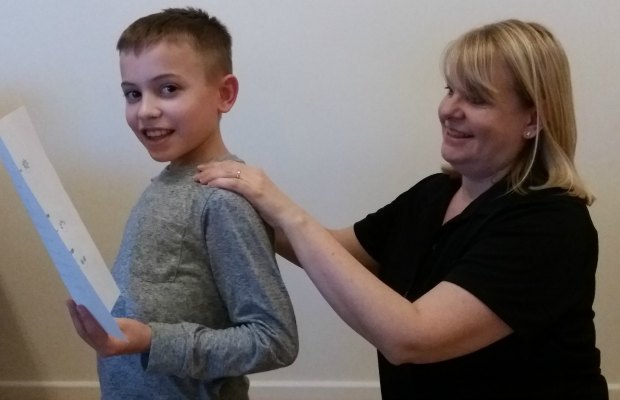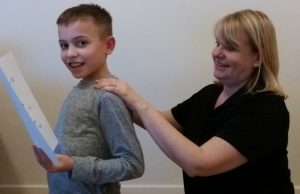 ---
The Power of Positive Touch
"I love the inclusive nature of Story Massage," says Sue, a holistic therapist from Lichfield, "It is an activity that can be enjoyed by everyone – whatever their age."
"I really find Story Massage to be a great way of communicating, bonding and soothing children,"says Sue, who runs regular Story Massage sessions for parents, grandparents and children, "The power of positive touch is immense and it is great to be able to share the technique locally. It isn't something that I feel many people are aware of still and it has such positive benefits for families that I am keen to raise awareness."
---
Grandparents of Children with Learning Difficulties
"I was recently asked by Staffordshire County Council to run a session for grandparents of children with learning difficulties," says Sue, "It was wonderful to see them all laughing and joining in. They thought it was so simple and yet so effective, and could see exactly how it could be adapted for every child."
The Grandparents' Group meets every week in Stafford and includes a mixture of men and women who come together to share experiences and support each other. "They were a bit hesitant at first," says Sue, "But once I'd shown a demonstration of Story Massage they all got the concept really quickly. There were 8 grandparents in the group. I taught them the ten basic strokes, and then invited them to create their own massage story. I found the Story Massage wall charts and stickers really helpful."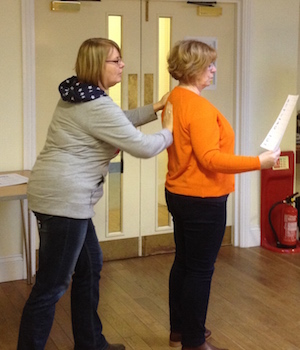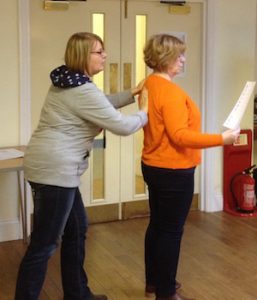 ---
Creating a Massage Story as a Group Activity
The grandparents worked together to choose a theme for their massage story and chose the idea of going on a picnic, a topic that all their grandchildren could relate to. Sue has kindly agreed to share their massage story:
Going for a Walk by the River
We came across a field of sunflowers (The Circle)
We saw a kingfisher dive in (The Downward Fan)
All the fish swam away (The Sideways Wave)
We went under a willow tree (The Fan)
We were all smiling happily (The Upward Semi-Circle)
Squirrels were bouncing everywhere (The Bounce)
Climbing up very fast (The Claw)
A boat went softly past (The Wave)
We reached the picnic bench (The Squeeze)
Hurray! (The Calm)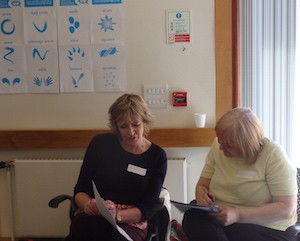 ---
Parents of Children with Special Educational Needs
The session with grandparents proved such a success that Sue was asked by Staffordshire County Council to run a morning event for parents whose children attend a local Special School. "It was a bit of a challenge because the children are different ages, and no-one knew each other," says Sue, "But Story Massage seems to bring people together in a really positive way."
Sue split the morning into two sessions. In the first half, she did a demonstration and showed the ten strokes. Then after coffee, she divided the parents into groups and they had a lot of fun making up and sharing up their own stories.
"The parents all felt that Story Massage would be most helpful when the children come home from school," says Sue, "They can be quite hyped up when they get in, and Story Massage helps calm them down and encourage an easier transition into home life."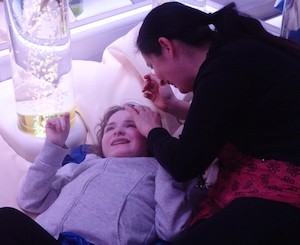 ---
Creative Ideas for Children
Sue is so keen on the benefits of Story Massage in school and home life, that has also taken it, on a voluntary basis, into Year 4 at the mainstream school where her son is a pupil. The feedback from teachers is so positive that she is hoping it will become a regular paid activity.
"The teachers are particularly impressed by the way that it has helped to raise the confidence of some of the children who are usually hesitant to join in creative writing and activities," says Sue, "The symbols give a structure that aids storytelling. I have recommended the Story Massage book to lots of people. It is such a wonderful idea."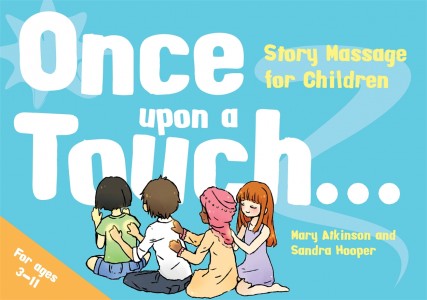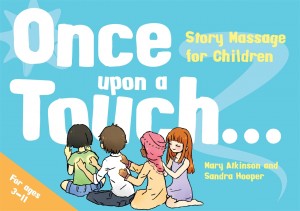 ---
About Sue Burford
Sue Burford is an experienced holistic therapist with her own private practice in Lichfield, Staffordshire. She is also teaches mothers the art of baby massage, and provides workshops in Functional Reflex Therapy techniques for parents and carers of adults and children with learning disabilities.
---
More about the Story Massage Programme
The Story Massage Programme combines the fun and reassurance of story with the benefits of positive, respectful touch. It is enjoyed by all ages and abilities. Ten simple massage strokes form the basis of the programme. These strokes have a name, such as The Circle or The Sprinkle, and an easy to recognise symbol making it accessible for all.
The online training is ideal for therapists, teachers, SEN staff, support staff, Early Years practitioners, parents, those working with people with additional needs, Baby Massage Instructors, Relax Kids Coaches… everyone with an interest in sharing sensory stories and positive touch activities with children and adults. All the information is here: Story Massage Online Training.