Did you get involved with National Massage Day 2018? And are you excited about this year's event? Or did you promise to be more prepared for 2019? Well, here is advance warning so you have plenty of time to plan! National Massage Day will be held on 1st October 2019 with Pro-Touch Awareness Month running for the whole of October.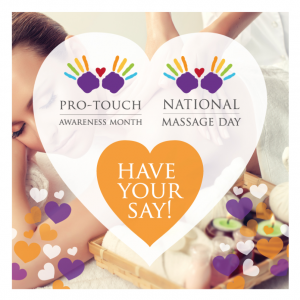 ---
A snapshot of the success of last year
National Massage Day was re-launched by incoming co-ordinator Lizzie Badger on October 1st 2018 – alongside a new initiative, Pro-Touch Awareness Month. The new sponsors and co-ordinators are the Therapist Business Club, where Lizzie is a co-founder. Over 1100 therapists and members of the public joined in from all over the UK with events to promote the power of positive touch.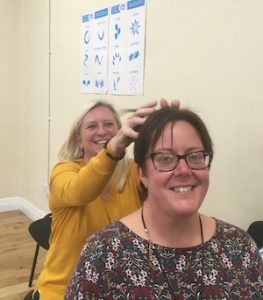 We got involved with fun Story Massage events around the country and we invited Lizzie Badger on a training day in Manchester so she could share the benefits with others.
---
Free online platform
A free online platform (open to the public and therapists alike) was launched to highlight a wide range of the different hands-on therapies and positive touch activities. This is still very active with a growing library of articles, videos, client testimonials and lists of the multiple benefits … and more contributions and experts are called for.
Over 1000 people are now members of the National Massage Day And Pro-Touch Month Facebook group – sharing their events, ideas, competitions, and articles of interest and arranging get-togethers and swaps.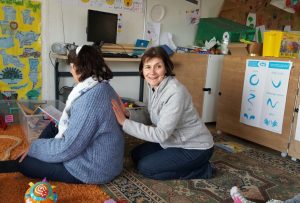 ---
Working together to promote positive touch
Lizzie and the team are now looking for feedback, ideas and involvement from across the whole wellness sector globally for October 2019 – from individuals to publications, radio stations, awarding and membership bodies, MPs, colleges and any "mover shaker" who wants to champion the power of touch and connection in our modern society.
"The enthusiasm, co-operation and the need for such an event has simply blown me away! Organisations and therapists that might normally compete in the same market place have dropped barriers and jumped straight in. It's been fantastic – business as a force for good – which is exactly what it should be. We encourage you to plan for and engage with the 2019 celebrations!" Lizzie Badger

"Happy National Massage Day! I will be teaching foster carers and adopters some positive touch and massage with children's teddies to help me! It is so great that Lizzie has taken up the reins for moving National Massage Day forward. Huge thanks Liz and I can't wait to hear how it all goes!" Gill Tree, original founder of National Massage Day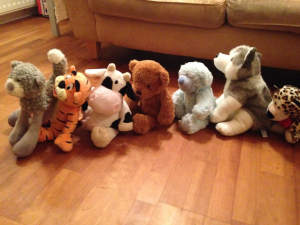 ---
How to get involved
Here are three ways that you can start preparing for October 2019.
1. Join the Facebook Group to connect with like-minded people and gain inspiration and ideas: Facebook Page 
2.  Take part in the Survey to give feedback and/or get involved: Survey
3. Check out Lizzie's Blog to find out more: Lizzie's Blog
---
More about Lizzie Badger
Lizzie Badger is co-founder of the Therapist Business Club and award-winning owner of a UK-wide massage training school www.face-the-world.co.uk, holding a patent for choreographed massage. She created the UK Volunteer Therapist Hub and is the new owner and founder of National Massage Day and Pro-Touch Awareness Month. Lizzie is passionate about bringing the healing power of touch back into everyday society – especially to those who need it the most.