We occasionally present special young people with our Junior Best Practice Award – and today we are delighted to give the award to 11 year old Luella Perkins. She is only the third winner of this prestigious award. A real fan of the Story Massage Programme, Luella shares massage stories with her friends, family and even her pet rabbit!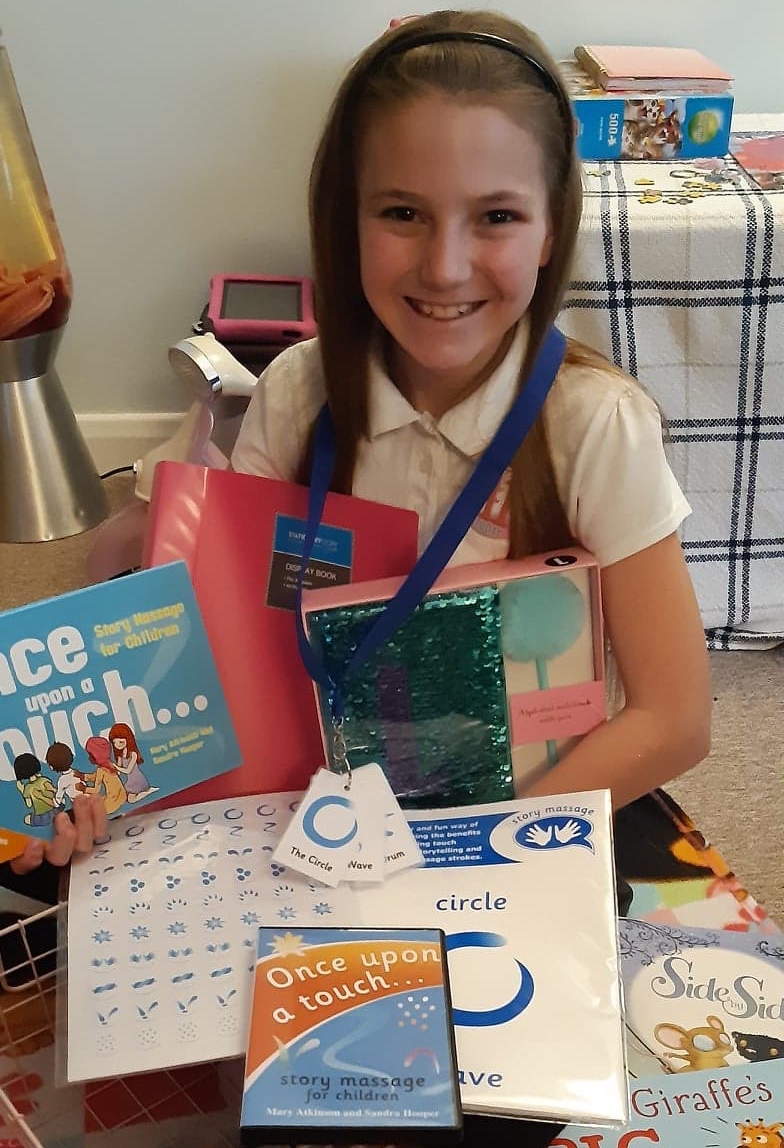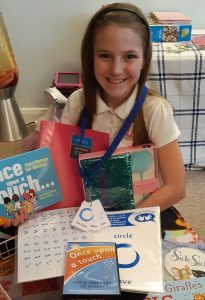 ---
Happy Birthday Luella!
Luella celebrated her birthday recently and one of her favourite presents was a Story Massage Programme set – with a book, DVD, wallchart and stickers. This was a present from her aunt, Sophie Kidd-Munnery, a trained Story Massage Instructor, who knows just how much Luella loves sharing massage stories. "I love my set, especially the big posters," says Luella, "Using these posters, I have already been showing other people (including my dad) all the different strokes.  I love making up stories in general and it makes it even more fun with strokes to go with the words too."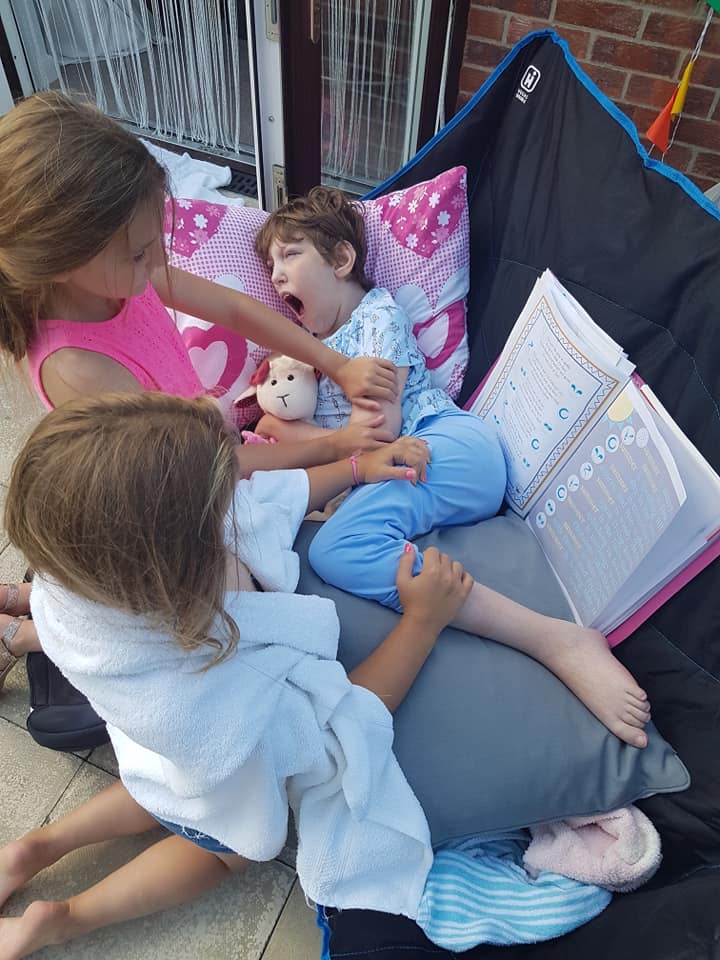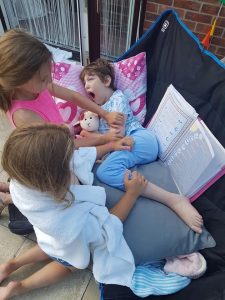 Luella's cousin, Maisy, who is several disabled, enjoys receiving massages – and so Luella and Poppy (Maisy's sister) often give a joint massage to make her smile. You can them in the photo above. "I love doing massages on Maisy and Poppy and on my friends too, but especially my rabbit Dotty,' says Luella. "It definitely helps everyone relax."
---
Story Massage for Pets
And here is a video of Luella sharing a massage poem with Dotty. Luella wrote the words herself as a way of showing Dotty how much she is loved. We think it is fab – and clearly Dotty does too!
---
Congratulations Luella!
We hope you enjoy your award and continue to enjoy and share the Story Massage Programme.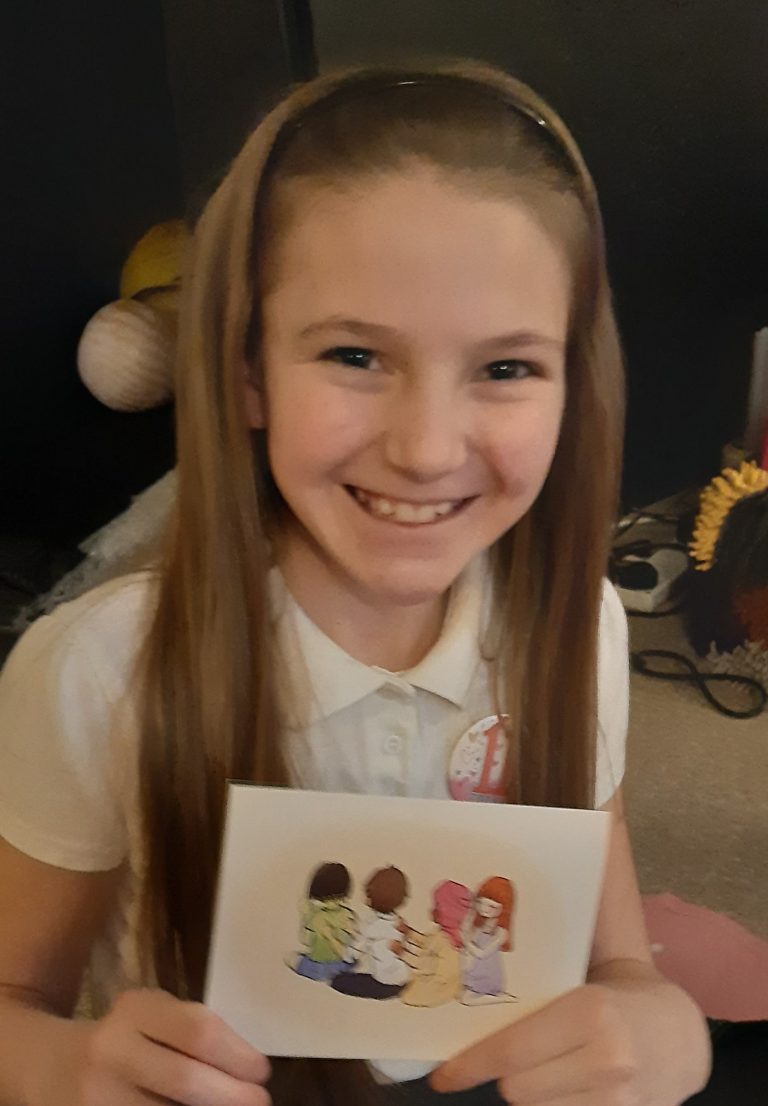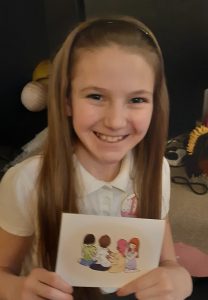 ---
More about the Story Massage Programme
The Story Massage Programme combines positive touch with the fun and creativity of storytelling. Ten simple massage strokes form the basis of the programme. These ten strokes each have a name, such as The Circle or The Sprinkle, and an easy to recognise symbol making it accessible for all. It is a fully inclusive activity. No clothing is removed and no oil is used. You can enjoy it anywhere at anytime – even like Luella and her family – in the rain!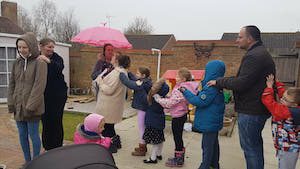 ---
Would you like to train in the Story Massage Programme?
Are you inspired by Luella's enjoyment of massage stories? Could the programme bring benefits for your family or your workplace? Our online training is open to everyone with an interest in sharing positive touch activities with adults or children. All the information is here: Story Massage Online Training