For one teacher from a school in Manchester, Story Massage proved helpful in coping with the devastating news on Monday 22nd May 2017 where so many young people tragically lost their lives in the bomb attack. We share how Story Massage helped to build a school community.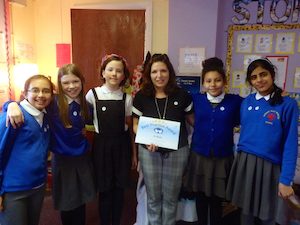 ---
Using Story Massage to Build a Community
Jo Heald, photographed above with her Best Practice Award, is Well-Being Co-ordinator at Bower Vale Primary School in Manchester. She has written a massage story that focuses on love, hope and strength. "After such tragedy, I felt inspired to write a massage about our school community and the wider community," she says, "I hope it will help children to talk about their feelings and reach out to each other. There is such an outpouring of love and warmth by everyone in Manchester."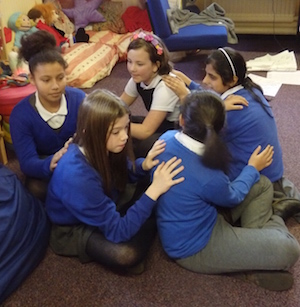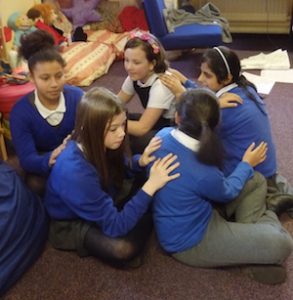 Our Manchester Community
Our Manchester is standing proud   (The Fan)
The city unites in love and warmth   (The Circle)
We are strong           (The Claw)
Our Manchester       (The Calm)
This is our school in our Manchester     (The Walk)
Our colourful community                   (The Sprinkle)
Of warmth and love                    (The Circle)
We stand proud and strong       (The Squeeze)
Together we are linked by who we are … (The Wave)
Manchester people with hearts of gold.   (The Circle)
Our Manchester!!   (The Calm)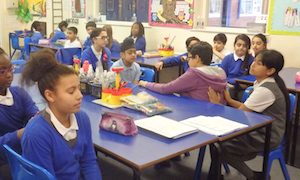 ---
More about the Story Massage Programme
The Story Massage Programme combines the fun and reassurance of story with the benefits of positive, respectful touch. It is enjoyed by all ages and abilities. Ten simple massage strokes form the basis of the programme. These strokes have a name, such as The Circle or The Sprinkle, and an easy to recognise symbol making it accessible for all.
The online training is ideal for therapists, teachers, SEN staff, support staff, Early Years practitioners, those working with people with additional needs, Baby Massage Instructors, Relax Kids Coaches… everyone with an interest in sharing sensory stories and positive touch activities with children and adults. All the information is here: Story Massage Online Training.