Story Massage is proving beneficial for children and adults in palliative care. We have trained many therapists and care workers who now use Story Massage regularly in their work with children and adults in hospice settings. 
You'll find are some of the key messages below. But first, a video of two therapists talking about how they use Story Massage for children in palliative care.
---
Siblings Groups at a Children's Hospice
Story Massage is a positive touch activity that can help children share their feelings in a safe and confidential atmosphere. Children are free to express how they are feeling at that particular time, and to know that it is okay to have these difficult emotions. Story massage can help them recognise they are not alone in feeling guilty, angry, sad, confused – others are feeling the same. They have often lost the attention of their parents and their playmate too. It is a period of bereavement before the sibling dies. Sharing a story massage can encourage the children to express their emotions, and also to laugh and play, and develop friendships within the group.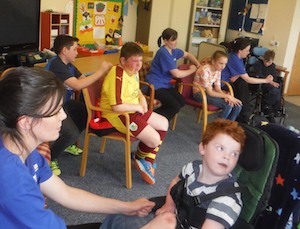 Siblings can be invited to share pre-written Story Massages from our book Once upon a touch… story massage for children and to create their own using our ten basic story massage strokes. Most popular stories are those that have a happy and hopeful ending. "It's important that siblings feel safe at such a confusing and complicated time in their lives," says Angela Garrett, complementary therapies co-ordinator at Christopher's, Shooting Star Chase Children's Hospice. "We choose stories that give a sense of holding their hands through it all."
Siblings may also choose to share massage stories with others in the family. A therapist told us about a 10 year old who decided to give her mother a Story Massage whilst they were sitting in her sister's room at the hospice. It gave her something helpful to do and encouraged a positive connection with her mother.
---
Grandparent Groups
Story Massage can be a bonding and supportive activity for grandparents of children under the care of the hospice. At one such group, the grandparents were invited to write a simple Story Massage about their grandchild and to share this with others on the day. Everyone listened and respected each other, and joined in with the massages creating a special moment for everyone. The massage story could then be shared with the rest of the family, and kept as a memory too.
---
One to One Story Massage for Children in Palliative Care
Short and simple Story Massages are best with children who are in the last months, weeks and days of their lives. The gentle touch combined with a story can act as a distraction from any pain and offer something comforting to look forward to. It can be calming and soothing, helping a child to relax and sleep. Story massages can be adapted around age appropriate stories or nursery rhymes, and written specifically for an individual child. If the child is well enough, then it can be a wonderful positive touch activity in a sensory room.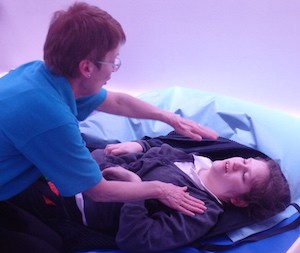 The therapist working with massage for children in palliative care should be flexible and work on areas such as the tummy or the side, if the child is in bed. And you obviously need to be careful around and drips, drains and tubes. Parents can also be taught simple Story Massage so they can share these with their children.
---
Coping with Bereavement
We have had letters from parents who have found The Smiling Flower massage story offered great comfort to the whole family. Several parents have also used our ten basic story massage strokes to help the children write their own stories and share them as a massage. Massage stories can also be adapted from books such as Are you Sad, Little Bear?, I'll Always Love You and Badger's Parting Gifts.
You may also find this massage story written by a mother for her daughter helpful.  Please feel free to use and adapt this for your children of those in your care. Story Massage for Bereavement.
---
More about Story Massage
Ten simple massage strokes form the basis of our Story Massage book, resources and training. These strokes have a child friendly name, such as The Drum or The Circle, and an easy to recognise symbol making it fully accessible for all ages and abilities.
If you would like to introduce Story Massage in your home or work, then we hold a one day training course that is held around the country for individuals and groups. On these days we teach the Story Massage strokes and then work with you to adapt familiar stories and even create some sensory stories of your own. Ideal for anyone interested in sharing peer massage and positive touch ideas for children and adults of all ages and abilities. We also offer in-house training options. All the information is here: Story Massage Training