Story Massage is bringing the benefits of positive touch activities in palliative care. Our training courses have been attended by staff and volunteers at hospices all over the country. If you're currently working or volunteering in a hospice then read on to find out why Story Massage plays such a valuable part in therapeutic interactions in palliative care.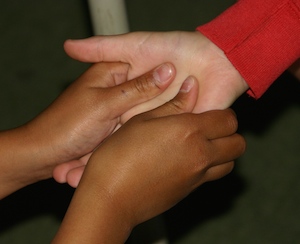 ---
What is Story Massage?
Story Massage involves the use of simple massage movements (through clothes), which are associated with spoken words to build up an engaging story. Tracing a large circle on a child's back, for example, can depict the sun, while raking with the fingers can represent lion's claws. Storylines and massage moves can be adapted easily to suit the individual needs of different children. Story Massage is so accessible, with no preparation necessary, that it can be shared wherever and whenever the time feels right. And it can take as little as a couple of minutes or last as long as you wish.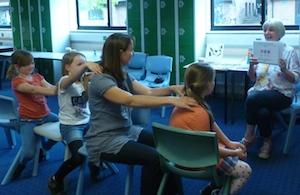 ---
Story Massage at a Children's Hospice
Angela Garrett, Complementary Therapies Co-ordinator with Shooting Star Chase, a group of children's hospices in Surrey, attended one of our first story massage training days. She immediately began working one-to-one with Story Massage for children approaching the end of their lives, and found it brought a beautiful sense of calm and peace. She then introduced the idea to parents and grandparents, encouraging them to work with the children's favourite stories, or even creating their own massage stories especially written for the child.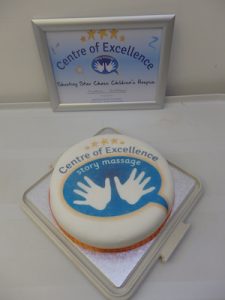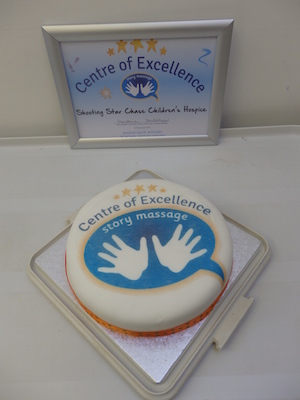 Shooting Star Chase Children's Hospice were awarded our Story Massage Centre of Excellence in September 2016. Five members of staff are now trained in Story Massage and it is used regularly with children and their families. They celebrated their success with a special cake!
You can see a video of Angela talking about the benefits of Story Massage at a Children's Hospice:
---
Story Massage at an Adult Hospice
Story massage is not just for children. We've been working with staff at care homes, hospitals and hospices to introduce ways of adapting and using story massage with people with dementia. The familiarity of stories combined with the gentle nurturing power of touch can bring comfort, ease restlessness and maybe even prompt some happy memories.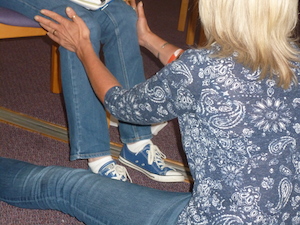 We've received this moving feedback from Denise James, a complementary therapist in Scotland.
'I have been privileged to work with a lady in her 30s who has primary school age children. She is a palliative patient. The storytelling massage has given her something positive to share with her daughter; she is so excited. They are going to write a story together based on their favourite story and create a picture storybook with massage movements to share with each other. She plans to keep this in her daughter's memory box so that in years to come she can have a very positive memory of how she helped her mummy.'
---
Story Massage Training and Resources
Do visit our Story Massage Training page to find out more about our FHT accredited and in-house training days. We also offer a popular online training course. And you can purchase our Story Massage book and resources from the Story Massage Resources page.