"Story Massage is the best training I've ever done," says Karen Horner, a Specialist Autistic Practitioner in a nurture unit in a school in Northumberland. "It is so versatile and can be used alongside my sensory sessions and also my Relax Kids classes." Karen, pictured below, left, shares her caring approach to introducing positive touch activities for children with autism.

---
Story Massage in a Nurture Unit
Karen has created a collection of different massage stories that can be used at different times to suit the occasion. These range from a simple harvest song adapted as a massage story for nursery age children to those written especially for individual children to address particular issues or anxieties. "The children all respond so well to Story Massage," she says, "It can take time for them to become used to touch but Story Massage seems to help them bond with each other and accept touch. Here's a photo of children who are part of a group of ten. They have come a long way in five weeks and I am very proud of them."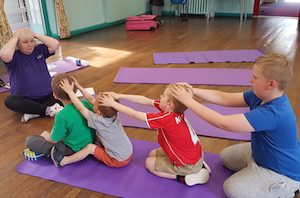 News of terrorist attacks has been particularly challenging for autistic children in the nurture unit, and Karen has used Story Massage to help reduce anxiety about facing the outside world. "One young boy, in particular, was extremely anxious and frightened about going out," says Karen, "I wrote a Story Massage to help him understand that whilst bad things happen, there are many people who love him and keep the world a safe and happy place for him. We also gave him a worry doll and a dream catcher. He kept going back to them all because they made him feel safe."
---
Massage Story – The World is a Happy Place
The world is a beautiful place.  (The Circle)
With flowers, trees, sunshine and lots of lovely pleasures. (The Fan)
You have lots of people to help keep you safe and make your world a happy place.  (The Squeeze)
Most people are friendly and helpful and your world is a safe place to be.  (The Calm)
Sometimes bad things can happen and the world might seem cold and dark.  (The Drum)
Some people who are not so friendly can do horrible things.   (The Wave – fast)
People get hurt and it makes you feel scared.  (The Bounce)
But always remember that you have lots of people to help keep you safe and make your world happy.  (The Squeeze)
So try not to worry. Smile, play and be happy.   (The Bounce)
And as the day turns into night, keep your worry doll beside you.  (The Half Circle)
When morning comes and the day begins. (The Circle)
Be happy, run and play as children do each and everyday.  (The Calm)
Always remember that you have lots of people to help keep you safe and make your world happy.  (The Squeeze)
---
Fun and Flexible Positive Touch Activity
Karen finds that many children in the nurture unit prefer firmer touch and she chooses Story Massage strokes to suit their needs. "Deep pressure helps release 'feel good' hormones in brain acting with the parasympathetic system and this helps calm the nervous system," she says, "This is why Story Massage  can be really beneficial for children with autism and sensory processing disorder. It is so flexible that you can choose lighter or firmer strokes for individual preferences and needs. Children relax and have fun!"
More about the Story Massage Programme
Story Massage combines the benefits of positive, respectful touch with the creativity and engagement of storytelling. Ten massage strokes form the basis of the Story Massage Programme. These strokes have a simple name, such as The Circle or The Sprinkle, and an easy to recognise symbol making it accessible for all. It is a fully inclusive activity, no clothing is removed and no oil is used. Stories can be taken from our Story Massage book, adapted from favourite stories or songs. or you can even create your own stories like The World is a Happy Place.
It is a fully inclusive activity, no clothing is removed and no oil is used. The online training is ideal for therapists, teachers, SEN staff, support staff, Early Years practitioners, those working with people with additional needs, Baby Massage Instructors, Relax Kids Coaches… everyone with an interest in sharing sensory stories and positive touch activities with children and adults. All the information is here: Story Massage Online Training