Are you involved in transition planning at the moment? It can be a difficult time, especially for children with additional needs. Story Massage adds an extra dimension to social stories by bringing the words alive and encouraging children to fully engage with the narrative.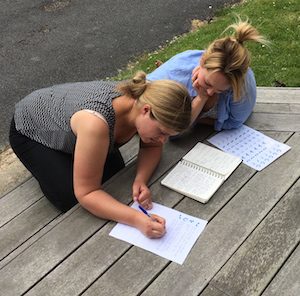 ---
Chichester Downs Syndrome Support Group
We recently ran a training day with the Chichester Downs Syndrome Support Group and everyone welcomed Story Massage as a fun and interactive way of helping prepare for transition. Here is a massage story written by Amber and Jess (pictured above) for their children who are both about to start a new school. The story can be easily adapted to make it personal for your child or children.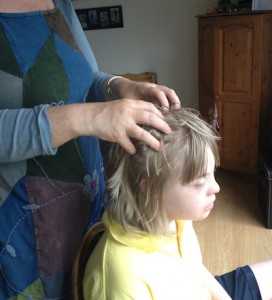 Story Massage for Transition
You are all dressed and ready for school. Pick up your bags. Let's go! (The Fan)
We walk to school and through the gate. (The Walk)
Say Hello to Miss Holden and your friends. Wave goodbye to Mummy. (The Circle)
Mummy will be back at the end of the day to give you a hug. (The Squeeze)
Into the classroom and find a peg for your bag. Sit with your friends on the carpet. (The Fan)
Wait for your name … Lucas. " I'm here," you'll say. (The Calm)
Mummy will be back at the end of the day to give you a hug. (The Squeeze)
Now it's time to play and learn. Phonics, counting and music too. (The Bounce)
Ready for lunch, stand in line. Sit and eat nicely with your friends. (The Wave)
Run in the playground, ride a bike, kick a ball. (The Drum)
Mummy will be back at the end of the day to give you a hug. (The Squeeze)
Water, sand, painting too. All your favourite things to do. (The Sprinkle)
It's 3 'o' clock, time to go home. Say Goodbye to everyone, you'll see them again tomorrow. (The Calm)
Mummy is here for a great big hug. (The Squeeze)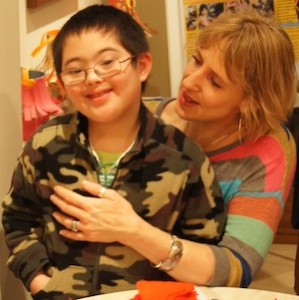 ---
More about Story Massage
Story Massage combines the benefits of positive touch with the creativity of storytelling. Ten simple massage strokes form the basis of the Story Massage programme. These strokes have a child friendly name, such as The Circle or The Sprinkle, and an easy to recognise symbol making it accessible for all. It is a fully inclusive activity, no clothing is removed and no oil is used.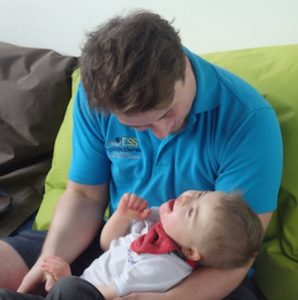 Would you like to train in Story Massage?
Would you like to train to use Story Massage in your work or home? We run a popular one day FHT accredited training course that is held around the country for individuals and groups. On these days we teach you how to share the ten Story Massage strokes and work with you to adapt familiar stories and even create some sensory stories of your own. Ideal for therapists, Early Years practitioners, teachers, those working with people with additional needs, Relax Kids coaches… everyone with an interest in sharing positive touch activities with children. We also offer in-house training options. All the information is here: Story Massage Training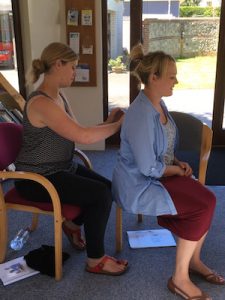 ---
More ideas for transition planning
You can read more massage stories written to help children with started a new school here: Transition Planning for Children with Autism and Back to School with Story Massage. We hope you find these useful.