We've been getting excellent feedback from Relax Kids Coaches who have taken our Story Massage training. Two Relax Kids coaches – Helen Morris and Kerry Parkinson – recently won our Best Practice Award so we spoke to them about their inspiring work with Story Massage for children.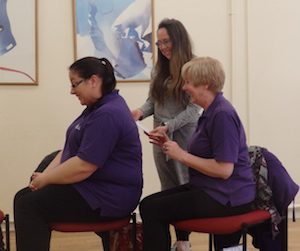 ---
Story Massage and Relax Kids Sessions
Helen and Kerry are currently activity workers at a Children's Centre in Southport, mainly working with children aged 0-11 and their parents/carers. As part of their job they deliver Relax Kids sessions within the school environment. They work with five schools and see around 70 children a week.
"Relax Kids is a seven step programme aimed at improving children's mental health and wellbeing," says Helen, "Step 4 of the programme is called 'Feel' or 'Massage' and this is where we use Story Massage techniques to enhance the programme."
Below you can see a video of Helen and Kerry with other Relax Kids Coaches during a Story Massage training session in Manchester. They worked together to create a massage story based on the seven steps of the Relax Kids Programme to help children relax and prepare for exams.
---
Engaging with Positive Touch
Since introducing Story Massage in their sessions, Kerry and Helen have noticed that certain children, especially the older boys and those on the autistic spectrum, are more willing to take part. "Some of them find it really hard to engage with positive touch" says Kerry, "and they can be reluctant to massage each other's backs. By using Story Massage we have managed to overcome this. They enjoy it now, and often ask to do peer massage."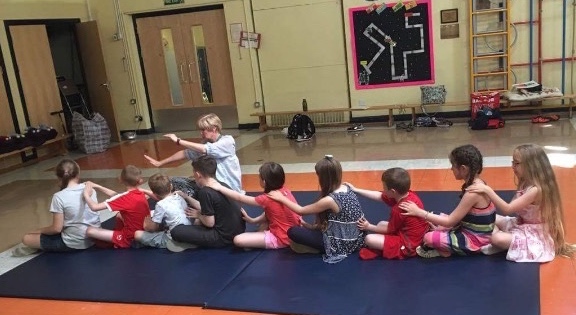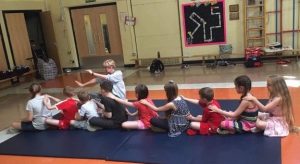 Story Massage can also be an effective way of evaluation of Relax Kids sessions. "We ask each child to say what they liked about the session and then they choose their favourite massage stroke to accompany it." says Helen, "They find this really empowering and you can see the excitement and anticipation on their faces as they wait for their comment to be read out, followed by sharing of their chosen Story Massage stroke."
---
Story Massage for Younger Children
Story Massage is an ideal activity for one-off events in libraries or community centres. Kerry and Helen worked together to run an hour long session for five nursery schools in a local Arts Centre. With 30 children, aged between three to five years, and 10 members of staff attending, it was a really lively event.
"On arrival, we asked the children to draw around their Story Massage hands," explains Kerry, "Then we did some warm up Story Massage songs and nursery rhymes to teach the strokes to the children. Then we finished by projecting the pages of two story books – Dinosaur Roar! and Busy Bear onto a big screen. We stood on the stage and showed them the moves. Every child had a copy of Busy Bear to take home, and we've heard that they are still sharing it in nursery and at home."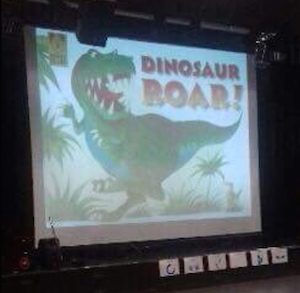 Kerry is also trained as a Baby Mindful coach and finds the Story Massage techniques have enriched the positive touch aspect of her sessions with parents and their babies.
---
Story Massage for Saffie's Class
For Helen, one of the most moving events since training in Story Massage, was working with the children in the class where Saffie Rousoss, the youngest victim of the Manchester bombing, had attended. Working with another Relax Kids coach, Helen delivered a session about happiness and wrote a massage story with the children about what they liked about school. "We felt it was important that the children had the opportunity, if only for a short time, to be happy and have fun during this upsetting time," explains Helen, "All 27 children massaged each other. It was a powerful, unifying moment."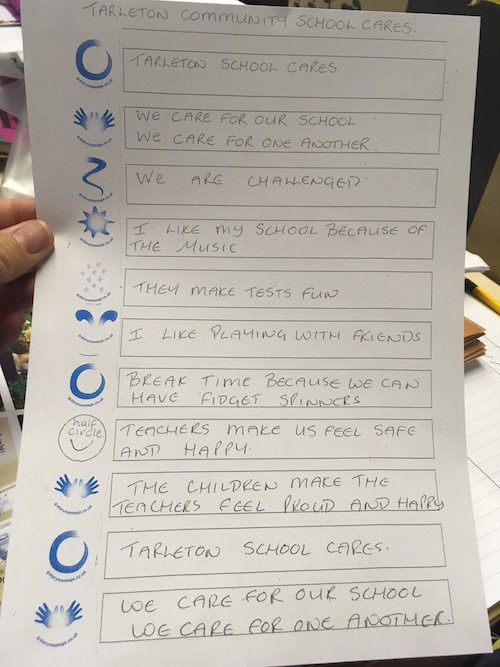 Each child was given a copy of the story to keep in their trays, a copy was put up in the classroom and a copy was sent home. The class teacher observed children sharing Story Massage at different times and remarked on the positive impact on everyone. "The children used the Story Massage as part of their healing process," says Helen, "A truly amazing testament to the power of nurturing touch and of children helping each other in such a positive way."
---
More about the Story Massage Programme
The Story Massage Programme combines the benefits of positive, respectful touch with the creativity and engagement of storytelling. Ten simple massage strokes form the basis of the programme. These strokes have a child friendly name, such as The Circle or The Sprinkle, and an easy to recognise symbol making it accessible for all. It is a fully inclusive activity, no clothing is removed and no oil is used. Stories can be taken from our Story Massage book, adapted from favourite stories or songs or you can create your own massage stories.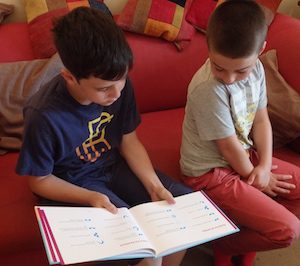 ---
Would you like to train in the Story Massage Programme?
If you would like to use the programme at home or work then you will love our flexible online course. All the information is here: Online Training Course.
You will learn how to share the ten Story Massage strokes, adapt familiar stories and even create some sensory stories of your own. Ideal for well-being coaches, therapists, teachers, SEN staff, support staff, Early Years practitioners, those working with people with additional needs, everyone with an interest in sharing positive touch activities with adults or children.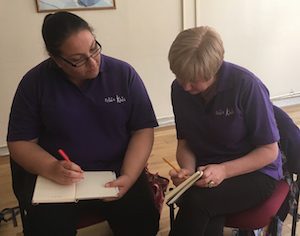 ---
Feedback from other Relax Kids Coaches
"I have just completed my Story Massage training, wow, really love this training as it so easy to fit into my Relax Kids Classes. My 4 year-old and 7 year-old have absolutely taken to it, every night of my online training I was practicing with them. My daughter is now going into School tomorrow with her very own story massage for show and tell. I like how I can incorporate this into bedtime routines to help children feel safe at bedtime/in the night and look forward to rolling it out as part of my bedtime toolkit in my Sleep Practice." Nadia Edwards, Relax Kids Coach and Sleep Consultant

"I work with groups of teenagers who present as angry and uncooperative at the first session. As soon as we start doing massage to favourite pop songs, they begin to engage. After six weeks, the change can be amazing, and they enjoy giving and receiving positive touch." Mandy Worsley, Relax Kids Coach.

"I worked with a group of year 6 boys who were preparing for SATS and transition to secondary school. Initially, they were reluctant to try peer massage, so I started with self-massage. They were soon writing their own massage stories to share with the others.  The class teacher and SENCO were so impressed with the impact of the sessions that a 6 week block was extended to 5 months!" Angela Scott, Relax Kids Coach

"Sometimes children can be a bit apprehensive about massage at first. But Story Massage is a wonderful way of introducing the FEEL section. I love to see children 'melt' as they begin to see how wonderful the experience is." Serena Wilson, Relax Kids and Mindfulness Coach

"The creative/literacy benefits for the children are limitless. We can easily link Story Massage into our topic and curriculum as a whole school approach. Giving a child the option to write a massage story also takes away any possible exclusion from the session if the child does not want to be touched either through peer massage or self-massage." Hazel Cunningham, Relax Kids Coach and Independent Nurture Practitioner