Self-massage on hands and arms is being introduced into many schools and colleges as a way of continuing the benefits of the Story Massage Programme whilst social distancing is in place. This blog shows how it can be applied in practice. It is inspired by the work of Becky Drury, a teacher at Springside Primary School working with learners who have PMLD. She is pictured below with her son, Dexter, a great fan of the Story Massage Programme!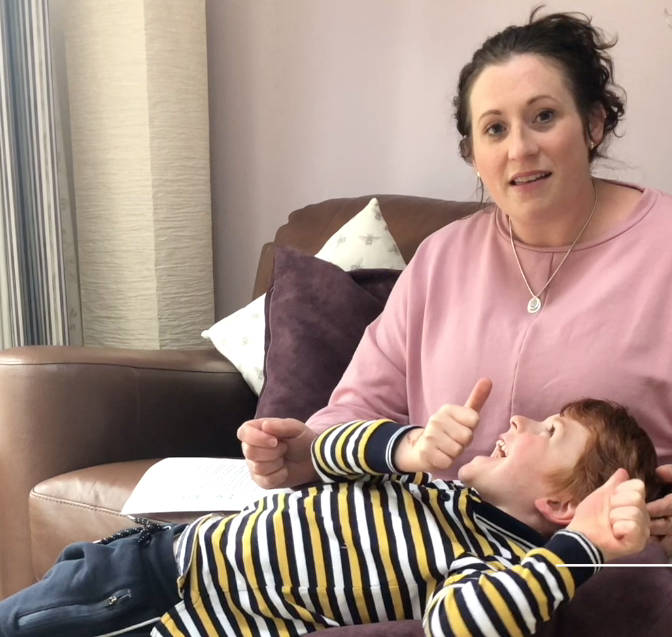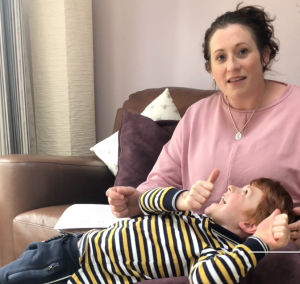 ---
Self-Massage on hands as part of 'recovery curriculum'
Becky has been working alongside a local psychology service to devise a 'recovery curriculum' or 'recovery pathway' for the whole school community. The team recognise the therapeutic benefits of massage for emotional regulation by activating the parasympathetic nervous system. However, the current climate of social distancing no longer lends itself to peer massage.
Self-massage on hands and arms provides a group activity that can be self-soothing and also continue the enjoyment of the Story Massage Programme. Children or adults using the programme apply a pressure that feels most beneficial for them at the time.
Asking permission and then saying 'thank you' at the end of a Story Massage session is integral to the programme. We suggest continuing this respectful practice especially when sharing self-massage on hands as a group activity.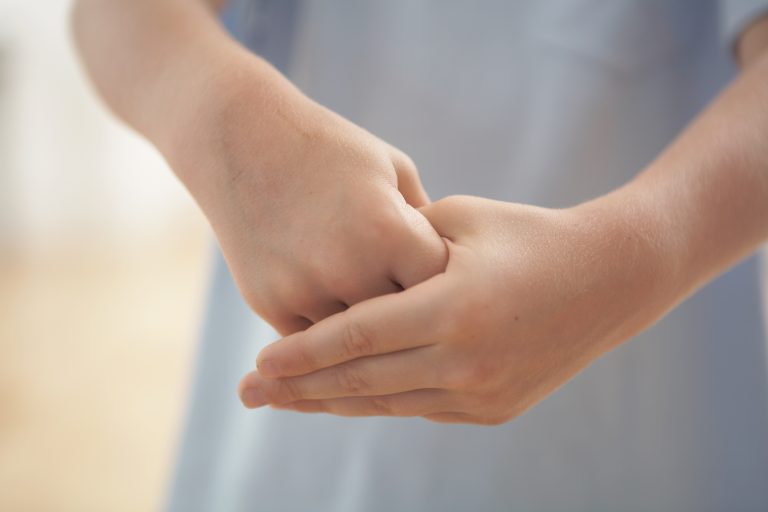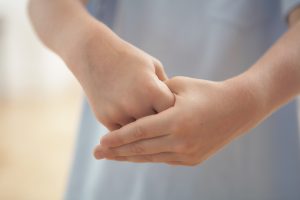 ---
Fox Feels Confused – a massage story for returning to school
Here, Mary Atkinson, co-founder of the Story Massage Programme, shares a video of a massage story written to help children understand the importance of talking about their changing emotions around returning to school. You can see how the ten Story Massage strokes are easily adapted for self-massage on hands and arms.
The words of the massage story can be downloaded here: Fox Feels Confused – Returning to School Massage Story.
---
Online Course – Open to All
The Story Massage Programme combines positive touch with the fun and creativity of story, song and rhyme.  Ten simple massage strokes form the basis of the programme. These ten strokes each have a name, such as The Circle or The Sprinkle, and an easy to recognise symbol making it accessible for all. It is a fully inclusive activity. No clothing is removed and no oil is used.
If you are interested in training in the Story Massage Programme to use at work or at home, then do check out our Online Training Option. We teach you how to share the ten Story Massage strokes and show you how to adapt familiar stories and even create some sensory stories of your own. Ideal for teachers, parents, well-being coaches, therapists, SEN staff, support staff, Early Years practitioners, those working with people with additional needs, everyone with an interest in sharing positive touch activities with adults or children.