Story Massage is now part of the sensory curriculum for children with Severe and Profound and Multiple Learning Disabilities in the Early Years at The Orchard School in Birmingham. Their teacher, Helen Edgar, has just won our Best Practice Award for her innovative work with sensory stories. We interviewed Helen to find out more about her exciting ideas and experiences.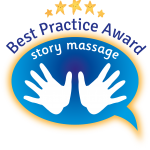 ---
When did you first learn about Story Massage?
I began by buying the book Once Upon a Touch…Story Massage for Children as our children enjoy sensory stories – and this adds a new dimension. We trialled a few of the Story Massage rhymes and stories and the children generally responded really well. As it was so successful, I decided to attend a Story Massage training day in Birmingham a couple of years ago. I found it such an inspiring and practical course. It gave me the confidence that I needed to share Story Massage with my colleagues and also families within our Early Years setting and to set up a Story Massage playgroup.
---
What are the benefits of Story Massage for children in Special Education?
It is a fully inclusive activity. We have used Story Massage with our children with profound and multiple learning disabilities and also some with sensory processing disorders and some with challenging behaviour.
Some children show real enjoyment and relax into the sessions, others still and briefly calm down. Some nuzzle into staff showing pleasure as they have their massage. For other children sensory stories through Story Massage is an alternative idea for them to get used to "touch" and they tend to tolerate and prefer some strokes more than others, again, that is positive in itself. Some lift up their tops by themselves during the session to get skin-on-skin contact.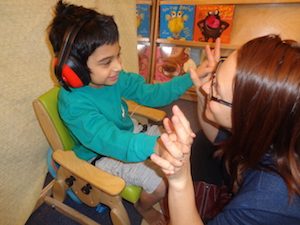 I personally found that some children gained more when experiencing it face to face with their key worker. You can see a photo of Gaurav above. He is a Year 1 pupil who engages fully with story Massage. Face to face activity helps to develop a strong trusting relationship, gain eye contact and develop early communication skills as they vocalise or use body gestures and smiles to show which different massage techniques they like best or are more responsive to.
---
Can you adapt Story Massage for the individual needs of each child?
Due to the complex needs of our children we have adapted some of the massage techniques to meet their needs.  For some children Story Massage is experienced whilst they are lying down, others who are in wheelchairs experience it on their front or on specific body parts such as just arms or legs. For others we adapt it so they can experience it whilst they are in their standing frames.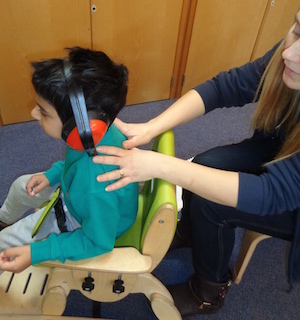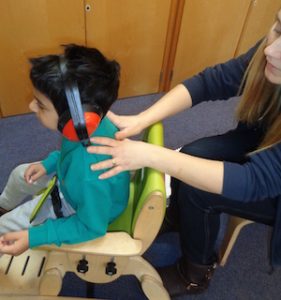 We observe their personal responses to develop stories for the next session, for example if they respond best to the light 'sprinkle' technique we incorporate more of this into our next session. We repeat the stories a few times to see if their responses are the same each time. I have written some of my own stories to reflect the individual needs of the children, and also their personal interests.
---
Have you involved the families in Story Massage too?
I am just starting a home learning project to Raise Early Attainment in Literacy and planning on delivering some 1:1 training with certain families in the New Year. I think some children would really benefit from sharing Story Massage in the home setting too, very exciting!
---
Tell us about your work with the local mainstream school
Children from a mainstream nursery joined us for some of our story massage sessions last year which was amazing to observe and be a part of. They took it in turns to massage each other and even made up their own rhymes and stories to do with the children from our setting. It was a wonderfully inclusive session and lovely to see all the children playing and involved together.
---
Do you have some examples of Sensory Stories that you have written?
The techniques are so simple to remember and use which makes it easy to write your own short sensory stories. Here is one that I wrote for Gaurav about a windy day.
Gaurav's Windy Day
Gaurav went to the park with his mummy. (The Walk)
It was a very windy day. (The Wave)
The trees were blowing in the wind. (The Wave)
His hair was blowing in the wind. (The Wave)
Gaurav looked up and saw a beautiful kite flying high in the sky. (The Fan)
The kite was red and yellow. (The Fan)
The kite had beautiful rainbow ribbons, Gaurav watch the kite fly up and up. (The Fan)
As the wind blew stronger the kite flew higher (The Circle) and higher (The Circle) and higher. (The Circle)
The wind slowly calmed and the kite floated down (The Calm) and down (The Calm) and down. (The Calm)
Gaurav went back home with his mummy. (The Walk)
He fell asleep and had a beautiful dream about a kite. (The Calm)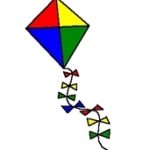 ---
Adam's Eid
As a department we aim to reflect our topic work or children's personal interests into the stories so it has more meaning for them. Here is one that I wrote for Adam.
It was finally Eid !  (The Circle)
Adam was very excited the house was decorated with stars and crescent moons. (The Sprinkle)
Adam's family came to join the party. (The Walk)
They gave each other their shiny Eid Cards with a star and crescent moon on. (The Fan)
Everyone hugged and said 'Eid Mubarak!' (The Squeeze) (repeat this if he respond wells – eg say Eid Mubarak to mum, to dad, to brother etc)
The food was delicious, it was warm, sweet and spicy. (The Wave)
The music was great and everyone had a dance. (The Bounce)
Soon it was bedtime and Adam went to sleep it had been a brilliant Eid! (The Calm)
---
More about the Story Massage Programme
The Story Massage Programme combines the fun and reassurance of story with the benefits of positive, respectful touch. It is enjoyed by all ages and abilities. Ten simple massage strokes form the basis of the programme. These strokes have a name, such as The Circle or The Sprinkle, and an easy to recognise symbol making it accessible for all.
The online training is ideal for therapists, teachers, SEN staff, support staff, Early Years practitioners, parents, those working with people with additional needs, Baby Massage Instructors, Relax Kids Coaches… everyone with an interest in sharing sensory stories and positive touch activities with children and adults. All the information is here: Story Massage Online Training.