Favourite stories, songs and nursery rhymes are ideal for creating Sensory Story Massage activities for children and adults. Our Story Massage Book and DVD show how Story Massage strokes can be used for positive touch activities based on traditional tales such as Cinderella and Little Red Riding Hood. And here are some more tried-and-tested ideas from professionals using Sensory Story Massage in different settings.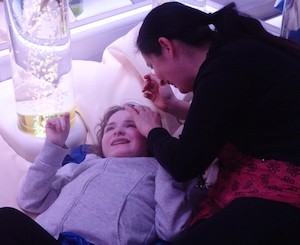 ---
My Many Coloured Days at a Special School
This rhyming story by Dr Seuss is already a popular way for parents and teachers to talk with children about their feelings. Each day is described as a colour, and linked to emotions.  At Ysgol Y Deri Special School in South Wales, it has been developed further with a Sensory Story Massage using our ten basic story massage strokes. Lisa Lawrence, Sensory Learning Leader at the school, and her team attended a Story Massage training day and decided to use My Many Coloured Days to create a truly sensory experience for the learners.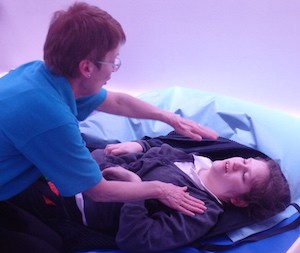 "The reaction is so positive," says Lisa, "We have a powerpoint, changing coloured lights and carefully chosen music to accompany the story and massage. It works really well. Everyone enjoys it, children and staff. We get lots of eye contact, smiles and verbal communication. Story Massage is now an important part of our sensory curriculum."
To help with your planning, here is a YouTube version My Many Coloured Days:

---
What a Wonderful World for Adults with PMLD
This beautiful song by Louis Armstrong is now a favourite Story Massage for adults who have complex needs, PMLD, at a day service based in South Staffordshire. We heard from Louise Molineux (pictured below, left), a senior day service officer, who says that staff adapted Story Massage to meet the needs of wheelchair users. This then inspired one of the team to create a Sensory Story Massage to accompany What a Wonderful World both in song form and as the spoken story.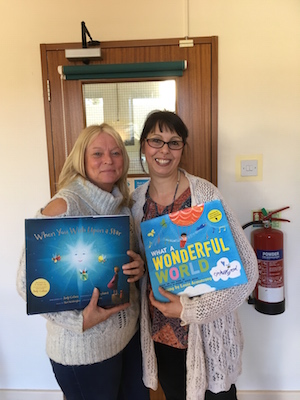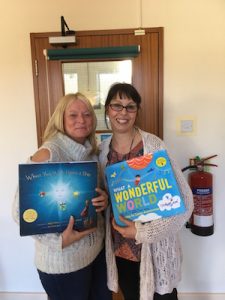 Louise says "The feedback and responses of our adults was so very positive in respect of both the massage, music and spoken story, that we have just created another Story Massage from Over the Rainbow."
Here is a lovely YouTube video of What a Wonderful World.

---
The Story of Ferdinand at a Children's Hospice
This classic story by Munro Leaf with a timeless message was first published in 1936. It is a favourite family story for Angela Garrett, Complementary Therapy Coordinator at a children's hospice in Surrey, who still has the original book. "Then one day it dawned on me that it would make a perfect Story Massage for children at hospice," says Angela, "I have adapted the story by cutting out some of the text as it was too long for a Story Massage, but all the fun and the message is still there."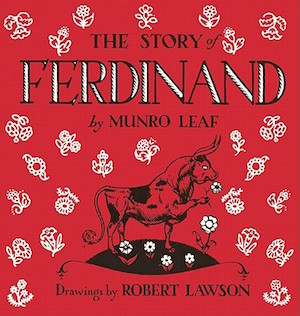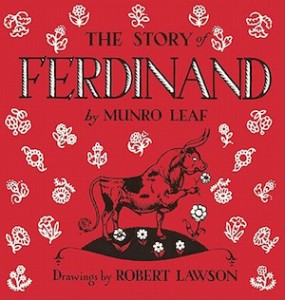 The Story of Ferdinand is about a very special bull. All the other bulls love to run and jump and butt their heads together, but Ferdinand would rather sit and smell the flowers….   Angela has used the book to create an engaging positive touch activity.
---
More about the Story Massage Programme
The Story Massage Programme combines the fun and reassurance of story with the benefits of positive, respectful touch. It is enjoyed by all ages and abilities. Ten simple massage strokes form the basis of the programme. These strokes have a name, such as The Circle or The Sprinkle, and an easy to recognise symbol making it accessible for all.
The online training is ideal for therapists, teachers, SEN staff, support staff, Early Years practitioners, parents, those working with people with additional needs, Baby Massage Instructors, Relax Kids Coaches… everyone with an interest in sharing sensory stories and positive touch activities with children and adults. All the information is here: Story Massage Online Training.