We were delighted to work with Abi Cotton, owner and singing leader at Piccolo Music, during World Nursery Rhyme Week. Abi, who is a winner of our Best Practice Award, shares her own songs with Story Massage strokes within music and singing workshops for babies, toddlers, school children and adults in the NorthEast and throughout the UK.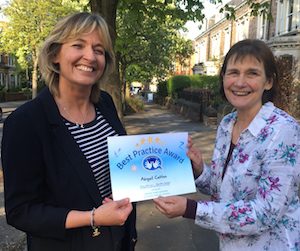 ---
Creativity and Fun with Story Massage
Abi attended a Story Massage training day in Newcastle in 2016. She was so inspired by the creativity and flexibility of the programme that she immediately began writing songs with Story Massage strokes to accompany the words. We were very pleased to present her with her Best Practice Award for her innovative work with Story Massage.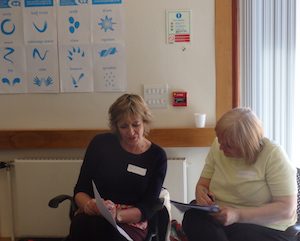 Abi is currently using Story Massage in 8 different classes in 3 schools and also in her Piccolo Music sessions with the public. "The children, parents and staff all love it and keep asking for more." says Abi, "We give a handout of the song with Story Massage strokes so they can continue to enjoy the benefits at home."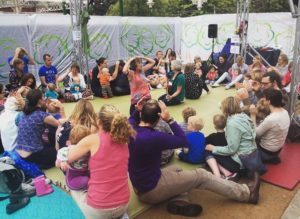 ---
Creative Songs with Story Massage
One of the joys of Story Massage is that it can be adapted to suit the individual needs of a child or adult, whatever their age or ability. And it is the versatile nature of the Story Massage programme that makes it so popular with Abi.  "I always say that there is no right or wrong way to sing a song. In our Piccolo Music sessions, we just give you some ideas and hope that people will join in and adapt the way they sing the song whichever is best for them," she says, "And that's what I love about Story Massage."
"In the Story Massage programme, there ten basic strokes to choose from, and there is no right or wrong way to use them to interpret a story or song. Individuals can create their own way of telling their story using the strokes and they may be different to another's interpretation but it doesn't matter. There is no pressure to get it 'right'," says Abi.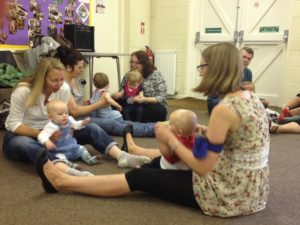 ---
More about Story Massage
Story Massage combines the benefits of positive touch with the creativity of storytelling. Ten massage strokes form the basis of the Story Massage programme. These strokes have a simple name, such as The Circle or The Sprinkle, and an easy to recognise symbol making it fully accessible for all ages and abilities.
Would you like to train in Story Massage?
Would you like to train to use Story Massage in your work? There is a one day FHT accredited training course that is held around the country for individuals and groups. On these days we teach you how to share the ten Story Massage strokes and work with you to adapt familiar stories and create some sensory stories of your own. Ideal for Therapists, Early Years Practitioners and those working in Special Schools. We also offer in-house training options. All the information is here: Story Massage Training