The power of positive, nurturing touch is so important in these strange and uncertain times. And whilst 'social distancing' measures are in place, we are finding ways of staying in touch (literally!) with the Story Massage Programme.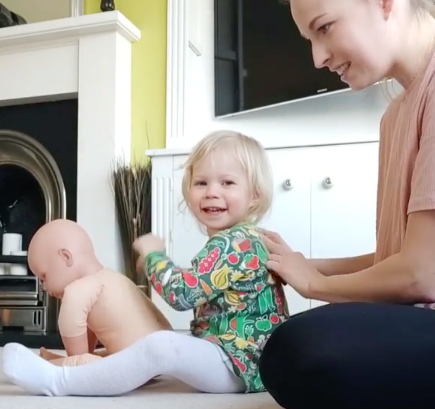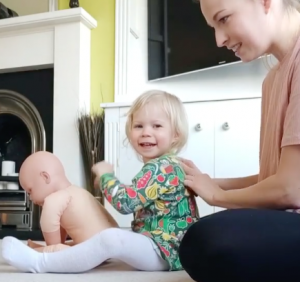 ---
These videos showcase the flexibility and accessibility of the programme – and will inspire you to give it a go. Do watch this one for 75 seconds of joy!
---
This channel is for follow-along videos with massage strokes 'illustrating' the words of a story, song and rhyme. Feedback has been wonderfully positive with children and adults, at home and at school, enjoying the variety of massage stories for all ages and abilities.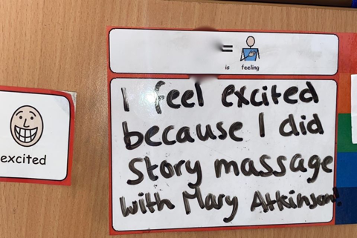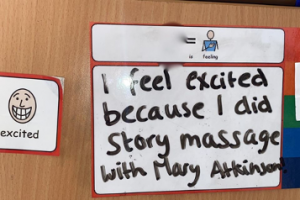 ---
Join Mary Atkinson, co-founder of the Story Massage Programme and her trusty teddy, Emmanuel. These popular sessions feature a different massage story or rhyme each week and have a following of people of all ages and abilities. We offer children the chance to write their own massage stories for the sessions, and we are happy to write one for your school or child.  Tune into the Story Massage Facebook page at 2pm on Tuesdays. (Many of these videos will also be saved on our Vimeo Channel)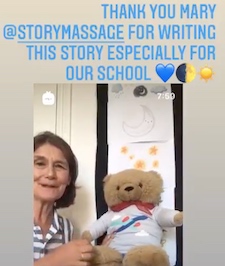 ---
Tune into the Story Massage Programme on Instagram on Tuesdays for a fun and fully inclusive follow along videos.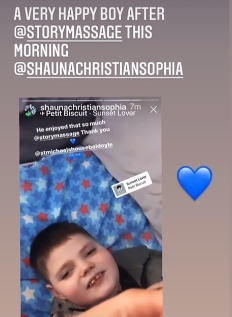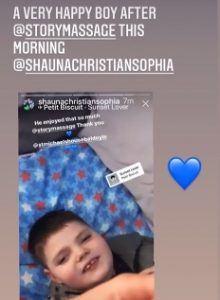 ---
We regularly post new massage stories and events on our twitter feed as a way of staying in touch with you. And we are keen to retweet your activities and ideas. So do follow the Story Massage Programme on Twitter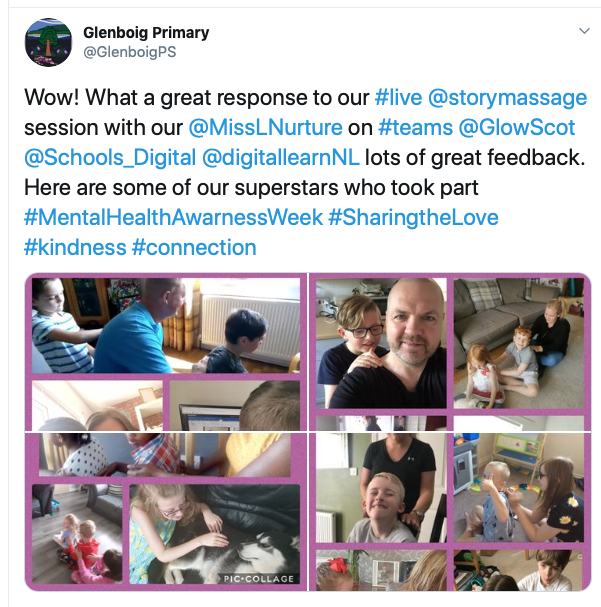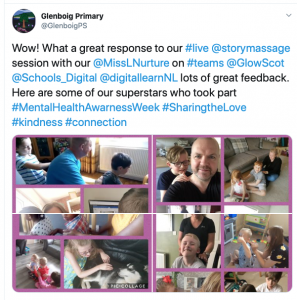 ---
Staying in Touch with Innovative ideas
We are fun and flexible – just like the Story Massage Programme. So we are constantly coming up with new ideas to share the benefits of positive touch. We share new and relevant massage stories on our social media feeds (see above). And suggest ways of adapting the programme to suit your needs – such as self-massage on hands for pupils returning to school. Here's a short video to show you how it works.
---
Online Course – Open to All
The Story Massage Programme combines positive touch with the fun and creativity of story, song and rhyme.  Ten simple massage strokes form the basis of the programme. These ten strokes each have a name, such as The Circle or The Sprinkle, and an easy to recognise symbol making it accessible for all. It is a fully inclusive activity. No clothing is removed and no oil is used.
If you are interested in training in the Story Massage Programme to use at work or at home, then do check out our Online Training Option. We teach you how to share the ten Story Massage strokes and show you how to adapt familiar stories and even create some sensory stories of your own. Ideal for teachers, parents, well-being coaches, therapists, SEN staff, support staff, Early Years practitioners, those working with people with additional needs, everyone with an interest in sharing positive touch activities with adults or children.