Story Massage is a fun and popular activity for a children's holiday club, as Romina Mandozzi discovered.  Romina, who has won a Story Massage Best Practice Award, was invited to run an hour's paid session at the Always Growing Holiday Club in Windsor during the summer half term.  The session proved so successful that she has a regular slot at the Holiday Club. 
"Romi visited us at Always Growing and shared a wonderful story massage and meditation session with us. All of the children, of various ages (3-9+), were engaged and thoroughly enjoyed the relaxation time and sensory play! I was surprised how long they were engrossed for and they practised their newly learnt skills with each other for the rest of the day.  I would recommend other schools to have Romi in for a few sessions as it really helps to calm the children down and help them to manage emotions independently in a relaxed manner." Kirsty Leigh Reynolds, Holiday Club Organiser
---
Planning a Story Massage Session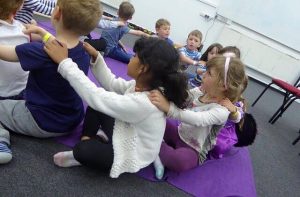 "I was a bit nervous at first," she says, "I didn't know any of the children and was not sure what to expect. But I went well prepared with a choice of massage stories and several props such as my Puff the Dragon puppet and bells. I asked in advance to work with the younger ones so I could choose age appropriate activities. There were 13 children at the session, aged between 4 and 8."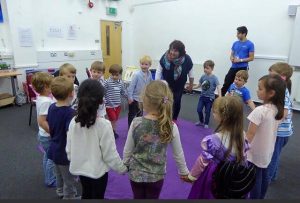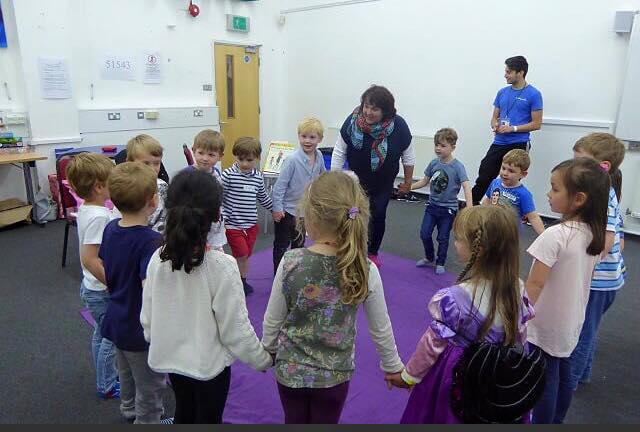 ---
Structuring a Story Massage Session
Romina began the session by playing some relaxing music, then they all joined hands in a circle and sang a 'hello' song together. Everyone introduced themselves before beginning the Story Massage.   Romina chose to start the activity with Time for Story Massage, a simple massage story that uses all ten Story Massage strokes.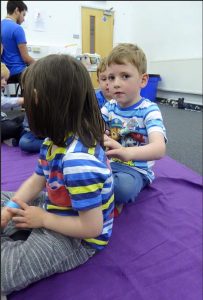 "I told them about Story Massage and demonstrated the massage story on a member of staff first," says Romina, "The children sat on the floor and copied the actions on each other. They asked permission and said 'thank you' afterwards so it was respectful, positive touch. I was amazed at how quickly everyone picked it up. It's such a simple activity, and yet you can see the effects on the children straightaway. They all joined in and wanted more!"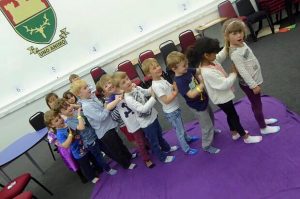 ---
Choosing Story Massages
Romina had prepared several familiar stories and songs to share with the children including Going on a Bear Hunt, The Wheels on the Bus, Incy Wincy Spider, and Twinkle Twinkle Little Star. She encouraged them to change positions so they were sitting for stories and standing in a line for songs. "I needn't have worried," she says, "I trusted my initiative and used my experience of working with children to improvise. It all just flowed. "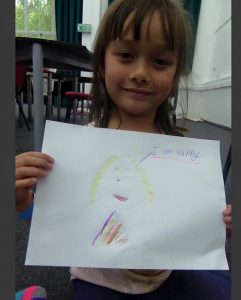 After the Story Massage, Romina invited the children to draw pictures of how they felt after the session. Some children said they felt happy or good, some said it was tickly, but they all had positive comments. "A big treat was to come up individually to tell Puff the Dragon all about it," she says, "They seemed to really enjoy talking to the puppet!"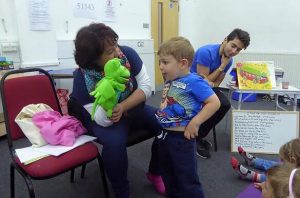 ---
Regular Story Massage Sessions
"It was a good learning experience," says Romina, "I really didn't expect it to go so well and now I'm looking forward to more Story Massage sessions ….  I've just heard from the Director of the holiday club who would like me to run story massage and children's meditation back to back, once a week for the whole summer holidays. I am going to do is ask him if there are any weekly themes at the holiday club so I can link stories and songs to the timetable and themes."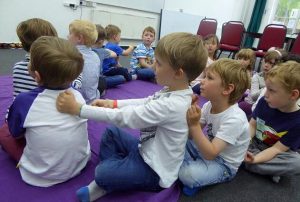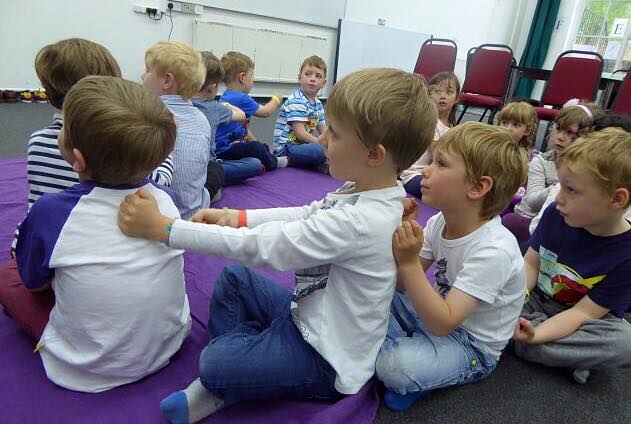 ---
More about Story Massage Resources and Training
The Story Massage Programme combines the fun and reassurance of story with the benefits of positive, respectful touch. It is enjoyed by all ages and abilities. Ten simple massage strokes form the basis of the programme. These strokes have a name, such as The Circle or The Sprinkle, and an easy to recognise symbol making it accessible for all.
The online training is ideal for therapists, teachers, SEN staff, support staff, Early Years practitioners, parents, those working with people with additional needs, Baby Massage Instructors, Relax Kids Coaches… everyone with an interest in sharing sensory stories and positive touch activities with children and adults. All the information is here: Story Massage Online Training.