Do you work with children or young people with special educational needs? Do you know about the Tes SEN Show 2018? Story Massage is excited to be exhibiting at this year's show for the first time. Come and meet us, Mary Atkinson and Sandra Hooper, co-founders of Story Massage, on Stand 280. We will explain our unique programme of ten positive touch strokes and give you the opportunity to enjoy a relaxing Story Massage demonstration too!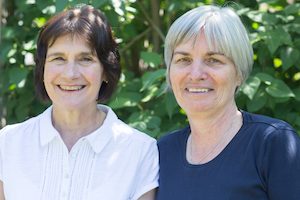 What is the Tes SEN Show?
The Tes SEN Show is the largest, most-established special educational needs show in the UK. And it is free to enter, you simply need to register in advance. It is being held on Friday and Saturday, 5th and 6th October 2018 at The Business Design Centre in London.
The show is a great opportunity for SEN professionals at all levels of education to gain valuable CPD, update current thinking and find out about the latest products, resources and services. There are 42 CPD certified seminars and lots of free-to-attend workshop sessions plus exhibitors, including Story Massage.. There is also a Parent and Carer Forum where you can meet with other professionals and parents of children with SEN. 
Story Massage and SEN
Our popular programme of ten simple positive touch strokes is now widely used in Special Schools around the UK. Story Massage is fully inclusive with benefits including increased engagement, communication and attainment. Above all it is fun and interactive, making it enjoyable not only for children and young people with SEN, but also for teaching staff, parents and siblings.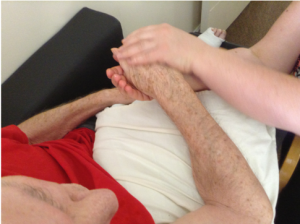 Some feedback for Story Massage
"Story Massage has become such an important part of everyday family life with our severely disabled daughter, Maisy and her sister, Poppy (photo below). Story Massage has also ignited that creative flare and confidence in helping others that I thought I had lost. I just can't imagine our lives now without Story Massage. Thank you!" Sophie Kidd-Munnery, Mother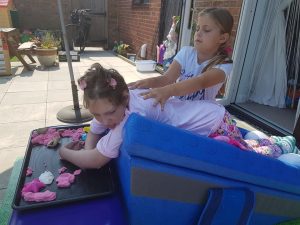 "We've been using Story Massage at Ysgol Y Deri Special School for over three years.  It is very rare to find an activity, which can engage all  learners no matter what their needs, age or disabilities.  We love the flexibility to develop your own stories and make it unique to your setting so we can meet the individual needs of the pupils. We have really noticed an improvement in engagement and communication." Lisa Lawrence, Sensory Learning Leader      
Would you like to know more about Story Massage?
Visit us at Stand 280 at the Tes SEN Show and we will give you a warm welcome. Or contact us on info@storymassage.co.uk to discover more about our resources and training opportunities, including INSET days and an online course.