A Special School in Leominster was one of the first winners of our Centre of Excellence Awards. We share the many uses and benefits of the Story Massage Programme at Westfield Special School.
"The pupils at Westfield have a wide range of complex needs and we have found that there are benefits for all pupils from 4 years to 19 years. Story massage is very effective and very easy to put in place across a school." Nicky Gilbert, Head Teacher
---
Story Massage Sessions Every Day!
Westfield School is a maintained Special School for 50 pupils with severe or complex learning difficulties within the age range 4 – 19 years. Nicky Morris, teacher in Hedgehog Class researched the benefits of the Story Massage Programme as a way of exploring through play. She then completed the training with three other member of staff, Zoe, Denise and Sarah. They could immediately see the benefits and worked together to draw up a plan of implementing within the school.  The school continues to use the Story Massage Programme on a daily basis.
---
Benefits of the Story Massage Programme at a Special School
The main benefits at Westfield Special School have been:
Increased levels of engagement
Understanding and acceptance of appropriate touch
Peer working across phases
Enhancement of the literacy curriculum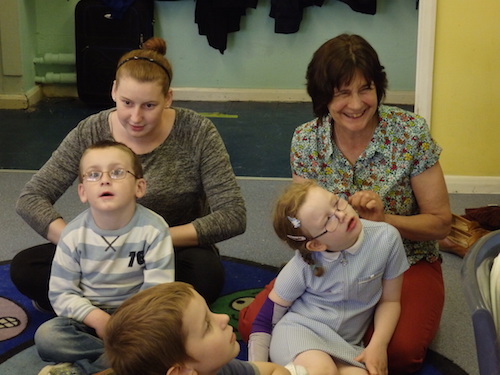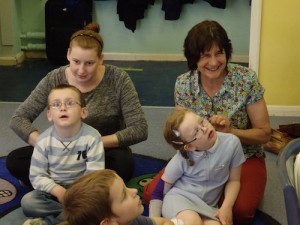 Individuals have also benefitted in very specific ways:
One young boy can now sleep at night if he has a massage story at bedtime. His parents are very grateful.
Another child who is tactile defensive has gradually started to accept touch after being introduced to Story Massage. He is now happy to accept touch in other situations too.
Several sixth formers are learning about appropriate and safe touch, and building respectful relationships, through using Story Massage activities. They recognise the need to ask permission and to listen to feedback on levels of pressure.
One young girl has visual dyspraxia and Story Massage has helped her concentration and engagement with story books.
Another young boy with autism has verbal dyspraxia and has gradually started to read the story at the same time as the massage takes place. This has boosted his confidence and self-esteem.
For several children with autism the combination of words and touch has helped them to remember a sequence of events, actions or words.
Some of the students now massage each other which is a massive step forward in a school like Westfield.

---
The Story Massage Programme at School Assembly
Soon after completing her training, Nicky introduced the Story Massage Programme to the whole school, from reception to sixth form.  She put the images and words on a Powerpoint presentation as a visual focus for the children and also to make it easier for the staff. It was such a success that some of the children were seen massaging each other at break time. 'One of the great things about Story Massage is that you can introduce it immediately,' says Nicky, 'It's so accessible. You don't need any special equipment, extra funding or further training.'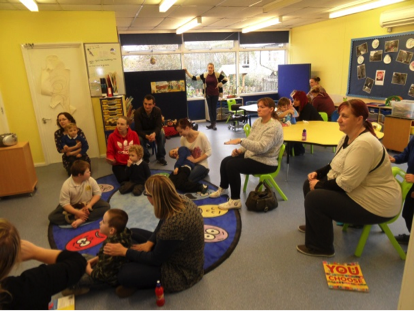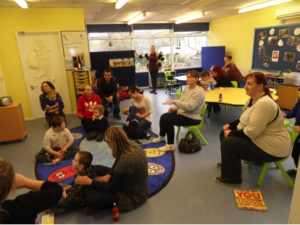 ---
Safe and Positive Touch
Following on from the assembly, the older children began practising the Story Massage Programme in their classes so they could help out with the session in Nicky's class – Hedgehog Class (4 to 8 years). They learnt the importance of sharing positive and respectful touch with each other and the actions and names of the ten basic Story Massage strokes.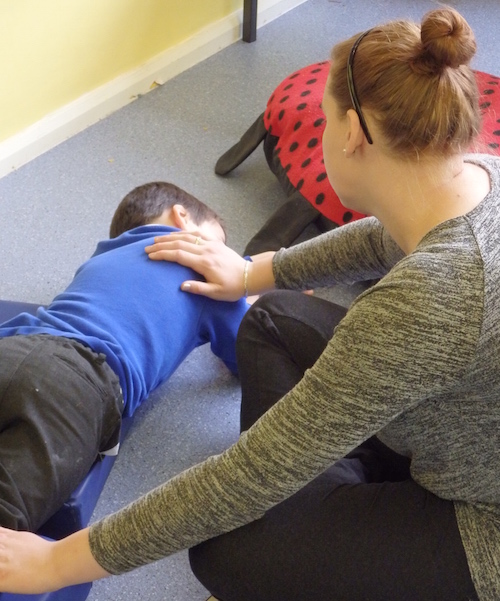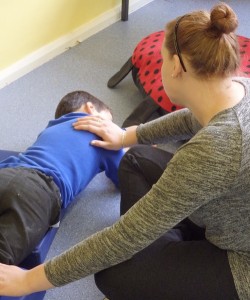 ---
Parent and Child 'Read with Me' Session
Nicky, Zoe, Denise and Sarah came up with the idea of introducing the Story Massage Programme to the parents as part of a 'Read with Me' morning when parents are invited into the school to share stories with the children. Nicky demonstrated the moves and the parents joined in. There was lots of positive feedback from the parents who asked to be kept up to date with the Story Massage activities in the school.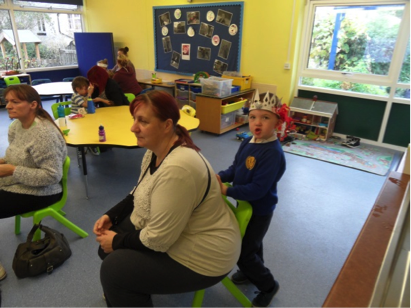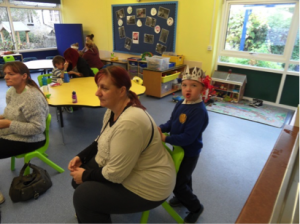 ---
Enjoying the Story Massage Programme
All the pupils now enjoy using the Story Massage Programme as part of regular assemblies and in the classroom. Last term the whole school theme was 'What's in a Book?' and Hedgehog Class focused on a new story each fortnight. Nicky put together a Powerpoint for several different stories including Jack and Beanstalk and The Little Red Hen. Parents were given a copy of the stories and invited to share massage with their children at home.

Nicky and her team have also created several social stories for the pupils to help prepare them for events such a transition to a new class. They have also written this massage story for a child who finds it hard to go to bed at night.  The story is written to be personalised, so exchange Westfield for a child's name.
Westfield Goes to Bed
It's night time (Semi-circle for moon)
It's time to get ready for bed (Circle)
Time to wash (Wave)
Brush your teeth (Wave)
Put on your pyjamas (Downwards Fan)
Climb into bed (Claw)
Close your eyes (Downwards Fan)
Goodnight, Goodnight … (Calm)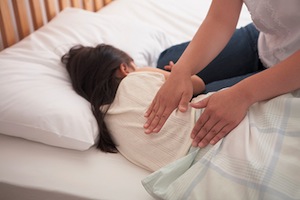 ---
Story Massage Sessions at Westfield Special School
Hedgehog Class ends the day with a Story Massage session at 14.30 as part of their regular routine. The children were are playing outside are always keen to get back to the classroom as soon as they were told it was Story Massage time! Everyone joins in. Some were actively involved in the massage and enjoyed receiving the strokes or giving massage to members of staff. Others preferred to sit and watch the pictures, say the words aloud or make the actions in the air.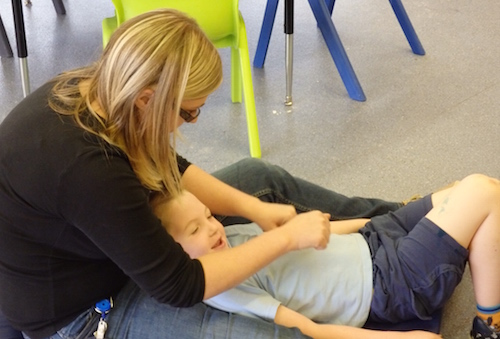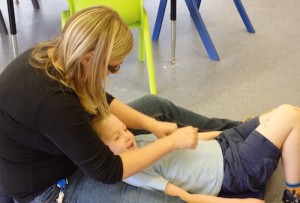 'Everyone is much calmer after a massage story,' says Nicky, 'All the teachers and staff in other classes comment on the way it helps to calm everyone down – children and staff!'
The Story Massage strokes can easily be adapted for use on different areas of the body that are safe and appropriate for the child. In one class, a severely disabled child in a wheelchair enjoys Story Massage strokes on her tummy, arms, chest or face. "The children are invited to tell us where they would like the massage today," says Nicky, 'it depends on their mood. And the most important thing is that they feel safe, happy and engaged in a meaningful way.'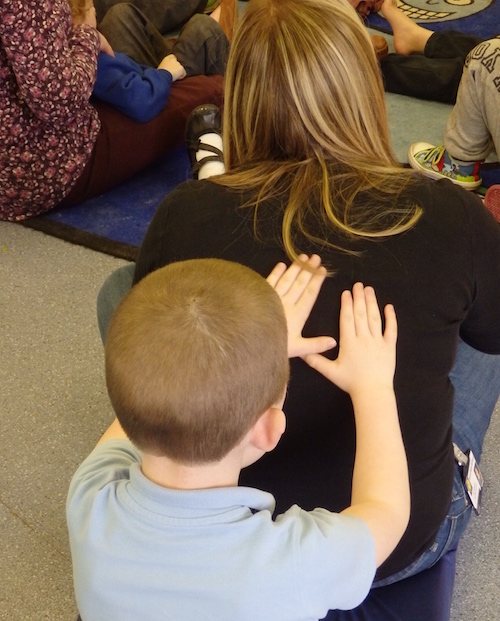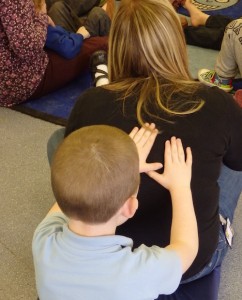 ---
Writing Massage Stories
The pupils at Westfield Special School are now being encouraged to write their own massage stories with is a big step for the school. "They are so familiar with the ten basic Story Massage strokes that they are able to put them into their own stories," says Nicky. "One the young girls has already started putting strokes to words to help her remember them. Recently, we were talking about going to the library and she began doing The Walk stroke in the air!'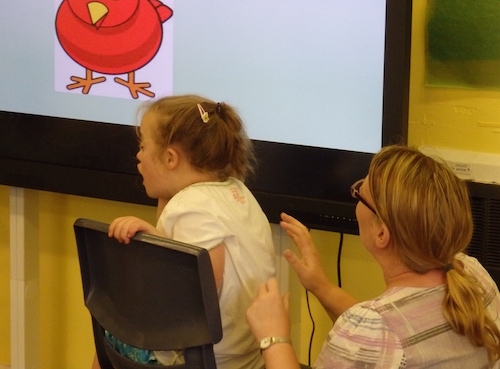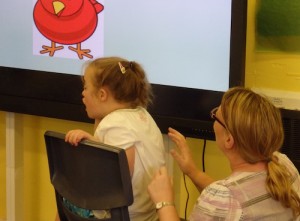 ---
Could Story Massage benefit YOUR Special School?
If you work in a Special School, then do consider our online training course. All the information is here: Story Massage Online Training.