The Story Massage Programme is proving very popular for babies and toddlers. Natasha Hamlet from Mini Me Jamboree recently won our Story Massage Best Practice Award for her work with parents and child groups in Leeds. She finds that adding the sensory element of massage stories makes parents, babies and children feel calm and relaxed.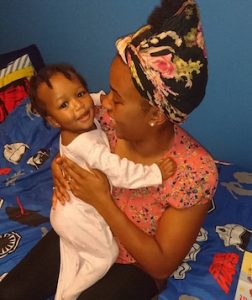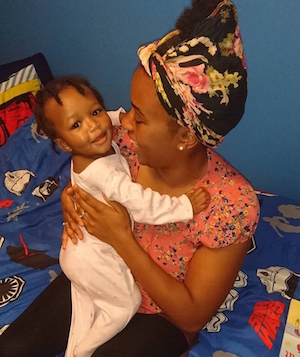 ---
Story Massage for Babies
Natasha has been using Story Massage with her second baby since she was born. "I hold her in a cuddling position on my chest and use one hand to do the Story Massage strokes while singing her traditional songs and lullabies," she says, "You Are My Sunshine is a favourite. It really calms her down and is a lovely bonding experience."
Natasha, who is one of the first to run Story Massage sessions in Leeds, now teaches this technique to parents attending her Story Massage workshops at Sensory Space Leeds. "Mummies and babies absolutely love it, and the holding position works really well for little ones who don't want to sit still for a massage," says Natasha.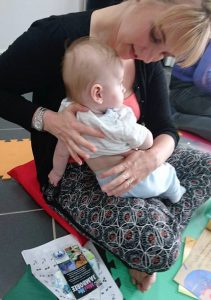 "Mind you, some babies are quite happy to lie still and really enjoy gentle Story Massage strokes all over their body!" she adds.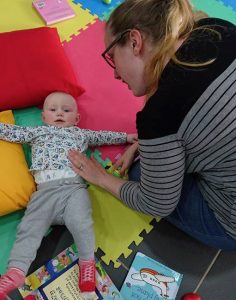 ---
Sensory Story Massage Workshops
Natasha runs monthly themed Story Massage workshops at Sensory Space Leeds for parents and babies and toddlers under 24 months with sensory stories, songs and rhymes. The sessions run for 30 minutes with a maximum of 10 parents. Natasha also runs groups for pre-schoolers and private sessions for parents of children aged 0-5.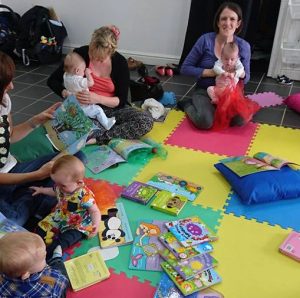 "We keep it fun and friendly, with no pressure on anyone," says Natasha, " I introduce them to the idea of Story Massage for babies and children. We practise some strokes, then work with stories and sensory play equipment on the theme of the day such as animals, colours or seasons. I always give them some books that are suitable for Story Massage so they can practice at home."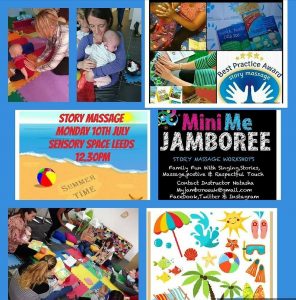 Natasha is planning a Summertime Special Session with themed stories, songs and massage stories related sunshine, seaside, holidays, beaches, water, sea animals, and activities we do during summer time. "On August Bank holiday 2017 we will be celebrating 50 years of the Leeds West Indian Carnival, so I may make this my August theme," says Natasha, "September is all about new beginnings, October is Halloween/autumn, November is bonfire and the festival of lights and December is Christmas/snowy weather. Story Massage works so perfectly."
---
Story Massage at Home
The main reason for sharing Story Massage with other parents is that Natasha has found it so beneficial at home, not only with her baby but also with her 4 year old son.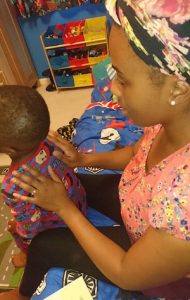 "He asks for Story Massage every single night since I did the training course to help him sleep. He loves it," says Natasha, "Sometimes we work with one of his favourite bedtime story books. Or we make up our own stories to encourage his creativity and imagination.  He loves practising his techniques on me and often makes up his own stories on the spot. It is a special time for us."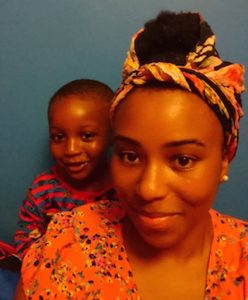 ---
More about the Story Massage Programme
The Story Massage Programme combines the benefits of positive touch with the creativity of storytelling. Ten simple massage strokes form the basis of the Story Massage programme. These strokes have a child friendly name, such as The Circle or The Sprinkle, and an easy to recognise symbol making it accessible for all. It is a fully inclusive activity, no clothing is removed and no oil is used. You can find out more about the programme from our book: Once upon a touch…story massage for children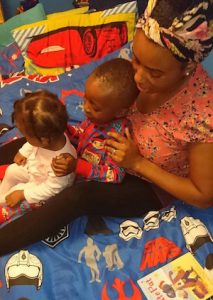 ---
Would you like to train in the Story Massage Programme?
Are you inspired by the way that Natasha is using Story Massage for babies and children?  Would you like to train to use Story Massage in your work or home? We run a popular FHT approved online training course.
The online training is ideal for therapists, teachers, SEN staff, support staff, Early Years practitioners, those working with people with additional needs, Baby Massage Instructors, Relax Kids Coaches… everyone with an interest in sharing sensory stories and positive touch activities with children and adults. All the information is here: Story Massage Online Training.