When her son Reuben was finding it hard to sleep at night, Catriona Plunkett tried Story Massage – and it worked. Story Massage is now an important part of their bedtime routine. Best Practice Award winner, Catriona, has been so impressed by the benefits of Story Massage in her own home that she shares it with parents attending her popular baby massage and reflexology classes at Golden Egg Holistic in Portlaoise, Eire.
---
Story Massage and the Bedtime Routine
"When Reuben, now 8, first started at school he was a bit anxious," explains Catriona, "He started  asking for lots of Story Massage at bedtime. He said it helped him to get to sleep. He especially liked The Smiling Flowers Story Massage and the Story Massage stroke called The Circle. He found it very comforting."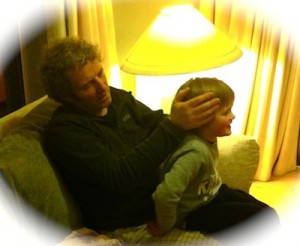 Three years later, Reuben still asks for a Story Massage at bedtime. Reuben and his sister, Polly, told us why they love Story Massage:
"Story Massage makes me feel really cosy and warm and they help me to sleep. Sometimes my Mammy makes up really funny stories and I laugh loads, then fall asleep." Reuben Plunkett, aged 8. 

"I love story massage because it makes me feel peaceful and shiny inside." Polly Plunkett, aged 6. 

---
Reuben Shares Story Massage with Friends
Reuben now loves to make up his own massage stories using some of the ten Story Massage strokes which usually have a funny ending! And because he realises that Story Massage is a fun activity that makes him feel calm inside, he loves to share it with his friends at school. His teacher has also asked him to demonstrate it as a positive and respectful activity for his class.
"We have found that Story Massage can help in so many different ways, not just as part of the bedtime routine," says Catriona, "When Reuben was finding it hard to work out the sequencing of the months of the year, we made up a massage story and it helped him to remember the sequence."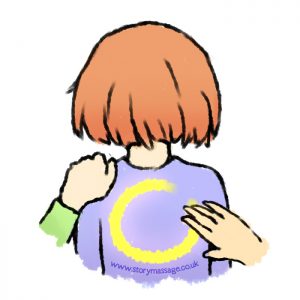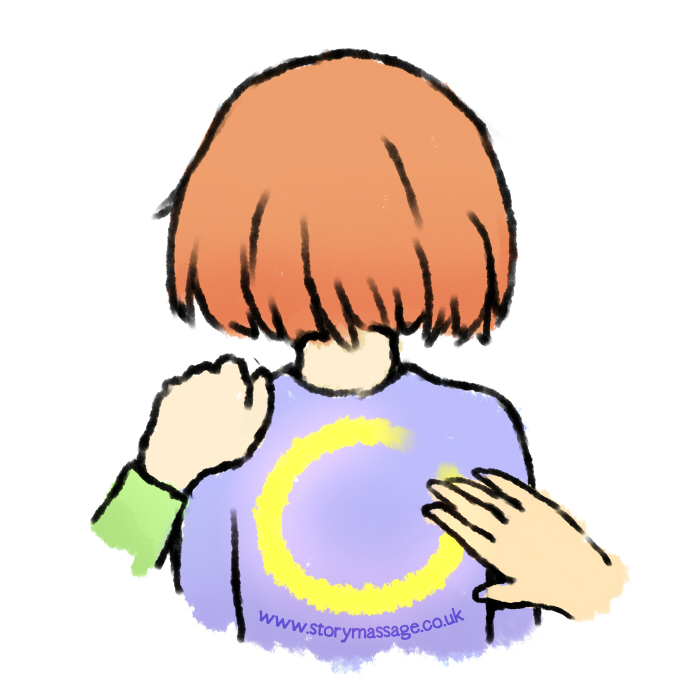 ---
More about Story Massage
Story Massage combines the benefits of positive touch with the creativity of storytelling. Ten simple massage strokes form the basis of the Story Massage programme. These strokes have a child friendly name, such as The Circle or The Sprinkle, and an easy to recognise symbol making it fully accessible for all ages and abilities. You can find out more from our Story Massage book.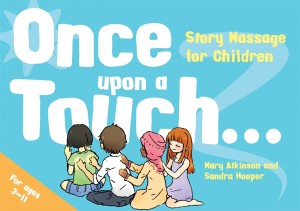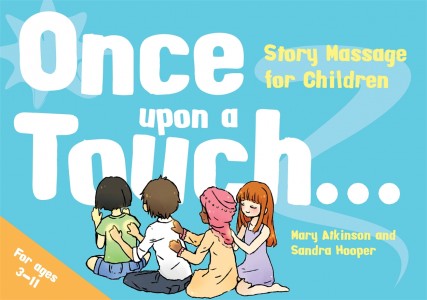 Would you like to train in Story Massage?
Would you like to train to use Story Massage in your work or at home? There is a one day FHT accredited training course that is held around the country for individuals and groups. On these days we teach you how to share the ten Story Massage strokes and work with you to adapt familiar stories and create some sensory stories of your own. Ideal for Therapists, Early Years Practitioners, Teachers, Relax Kids Coaches, SEN staff and everyone wishing to share positive touch activities with children and adults. We also offer in-house training options and a popular online course. All the information is here: Story Massage Training.