A favourite book for adapting into a massage story is We're Going on a Bear Hunt by Michael Rosen. Tracy Greenwood, a specialist teaching assistant responsible for sensory needs, explains how she uses this book as a sensory story for children with special educational needs. Tracy has recently been presented with a Best Practice Award for her inspiring work.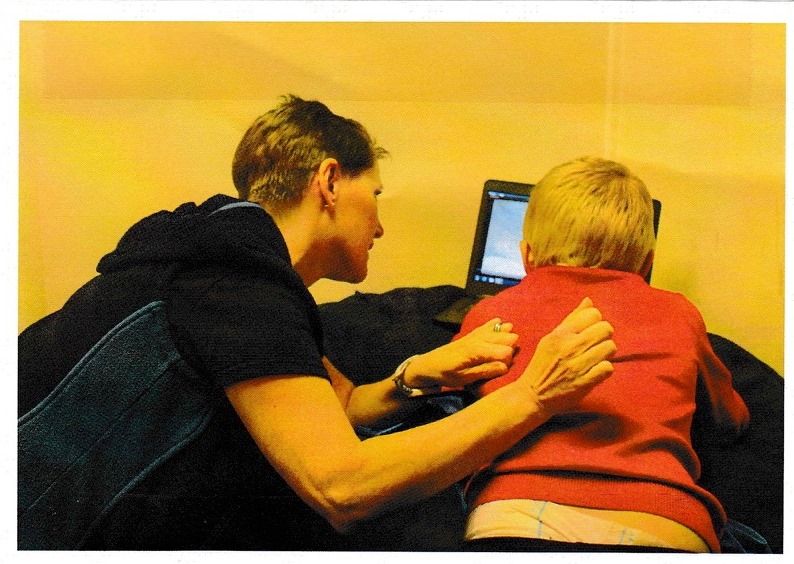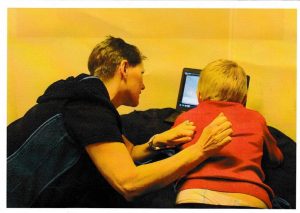 ---
Adapting Massage Strokes for Individual Children
"We're Going on a Bear Hunt is a familiar story which is helpful for our pupils at Wood Bank Special School in Halifax," says Tracy, who is pictured above, "Every child is so different and we love the flexibility of the Story Massage programme of ten strokes. This means that we can personalise the massage session taking into account different preferences for the strokes, varying pressures and positions. We encourage our children to respond and feedback about the session, and it always so rewarding when they express their needs – either verbally or non-verbally."
Tracy says the deep pressure of strokes such as The Drum and The Squeeze are great moves for autistic children seeking proprioception. Some prefer more gentle strokes such as The Circle. "We use the same story but change the strokes so that every child has the most beneficial experience for them," she says, "And we have had some really positive responses and 'wow' moments during Story Massage sessions. It is such a fun and inclusive programme. We record each session – and we are seeing wonderful progress."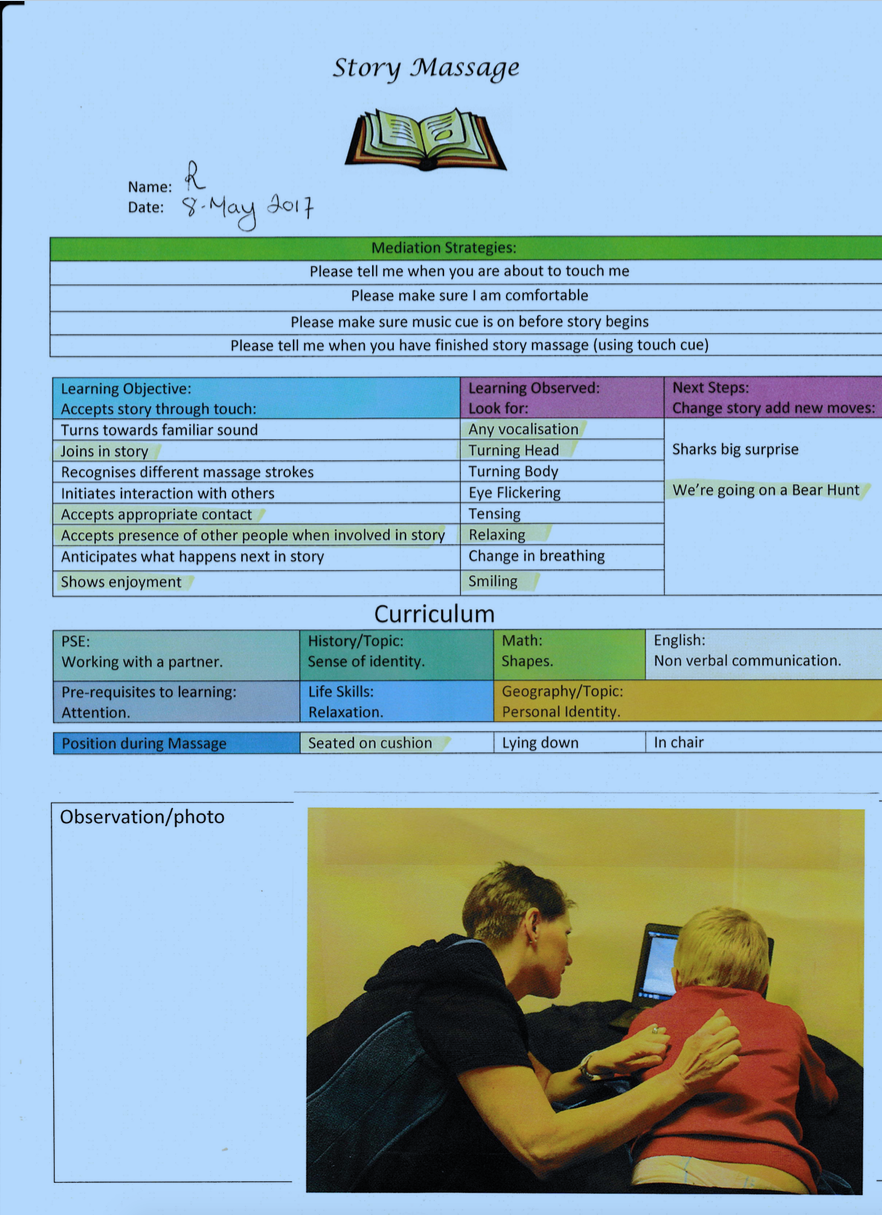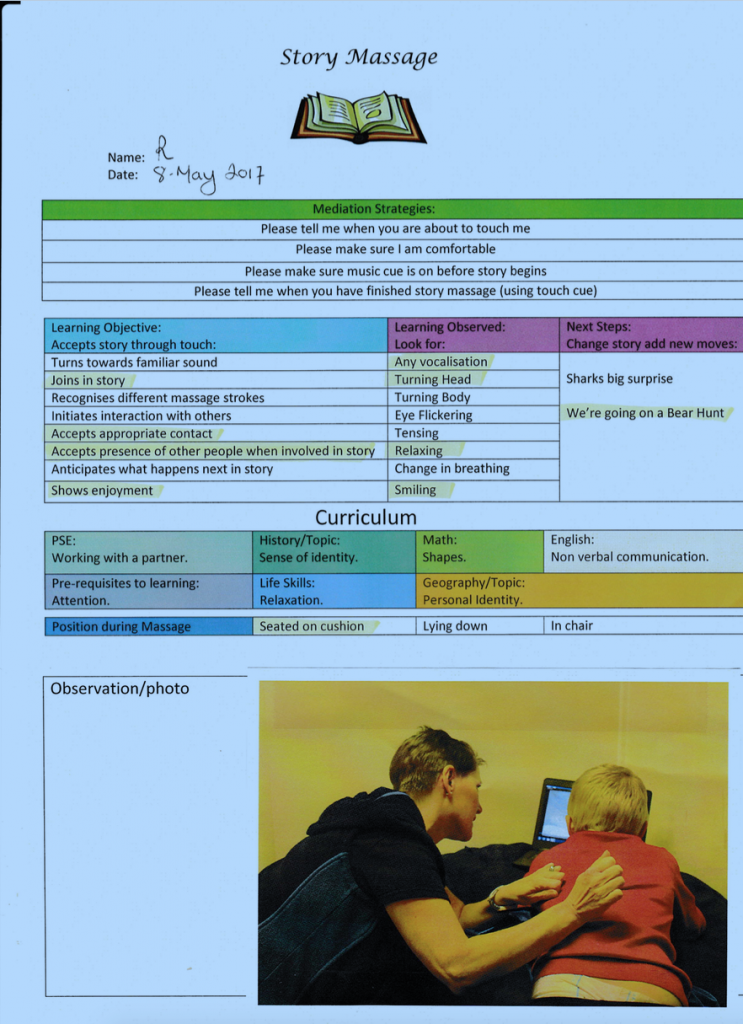 ---
Benefits of Story Massage for Children with Special Educational Needs
And here are some examples of those "wow moments" for Tracy:
One boy with autism was fully engaged in the session for 20 minutes and at one point he turned his head and snuggled into Tracy's neck which showed he was accepting her closeness. Tracy says the massage story encouraged expressive language as he also mimicked sounds in the story.
A visually impaired girl really giggled and interacted with smiles and laughter. Tracy says the smiling and vocalisation continued throughout the story, showing that she was not only aware of the story, but was becoming more involved and enjoyed the strokes on her body.
A girl with PMLD began to move her arms independently during the story and they relaxed and became outstretched, a huge benefit for encouraging blood flow into her muscles. Tracy says her body completely relaxed and her facial expressions were of enjoyment. She is hoping that Story Massage will complement her physiotherapy programme.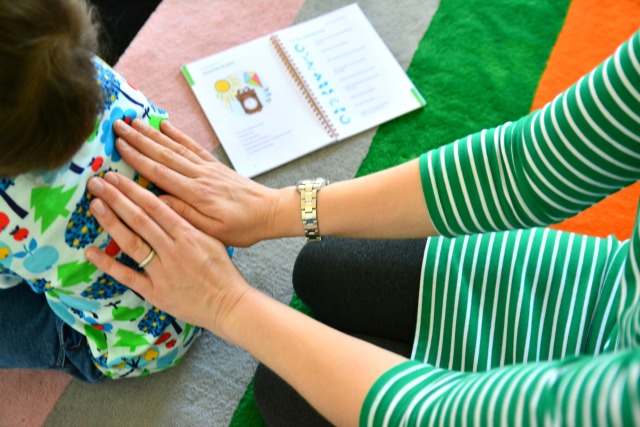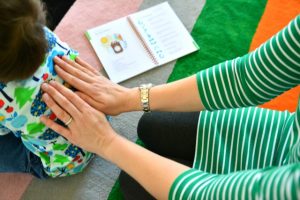 ---
Positive Touch for Children with Additional Needs
Take a look at the heart warming video of a young girl engaging in a Story Massage session. The adult is Cheryl Bailey, a teaching assistant, who attended our Story Massage training day and works with Tracy Greenwood.
---
Gaining Consent for Story Massage Sessions
Consent is an important part of Story Massage for children with special educational needs. And Tracy and Cheryl always work with each individual child to gain consent before a session begins. This may be a movement of the arm or head, or taking a hand. They are also currently working together to develop a touch cue appropriate for all the children in the school. The cue would be used at the beginning of every massage story so they know what to expect.
"At present, we begin with gentle music before the session starts," says Tracy, "then we begin to show pictures of the story on the laptop or screen and play a recording of the words. Some children engage more when they can see illustrations. But every child is different so we always work with their particular needs."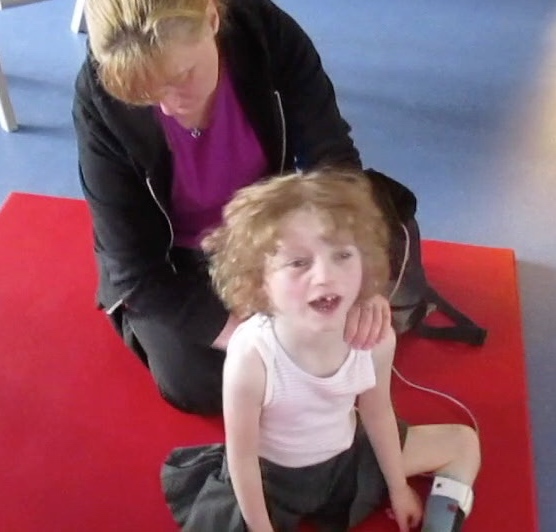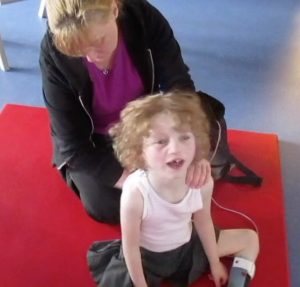 ---
More about the Story Massage Programme
Story Massage combines the benefits of positive, respectful touch with the creativity and engagement of storytelling. Ten simple massage strokes form the basis of the Story Massage programme. These strokes have a child friendly name, such as The Circle or The Sprinkle, and an easy to recognise symbol making it accessible for all. It is a fully inclusive activity, no clothing is removed and no oil is used. Stories can be taken from our Story Massage book, adapted from favourite stories such as We're Going on a Bear Hunt.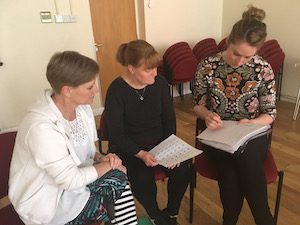 ---
Would you like to train in Story Massage?
Are you inspired by the way that Tracy and Cheryl are adapting the Story Massage Programme for children with special education needs?  Would you like to train to use Story Massage in your work or home? Our online training is ideal for therapists, teachers, SEN staff, support staff, Early Years practitioners, those working with people with additional needs, Baby Massage Instructors, Relax Kids Coaches… everyone with an interest in sharing sensory stories and positive touch activities with children and adults. All the information is here: Story Massage Online Training.