Families enjoyed Story Massage at Jigsaw Children's Hospice in Cumbria recently. Four members of staff from the hospice attended a training day. Having seen the many benefits of Story Massage at other hospices, they wanted to share this fun and nurturing activity with the children in their care. During the training day they created a massage story and then had fun sharing it at a Family Event, only four days later!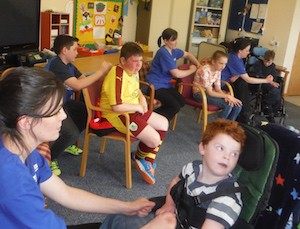 ---
Creating the Story Massage
"The Family day is a chance for parents to share their highs, lows and frustrations that they experience, whilst the siblings, the little people and young adults can enjoy activities such as Story Massage, Reiki, and craft" says Jacqueline Jackson, activity leader at the hospice. "We came on the training day with the aim of learning how to create and share a Story Massage to support our families. We had a lot of fun creating a story about working together as a family to care for each other. There was such a sense of creativity and interaction. We loved it."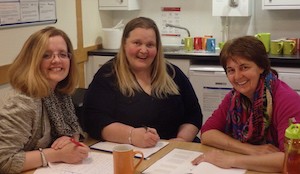 Then they demonstrated it to others on the training day so they would feel fully confident to use Story Massage in their work.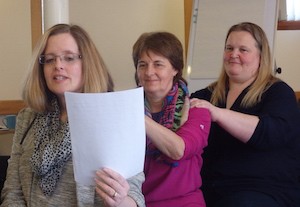 ---
On the Family Day
With the wall charts to demonstrate the ten different Story Massage moves, the young people quickly learned the strokes and accompanying symbols, and really enjoyed giving and receiving Story Massage.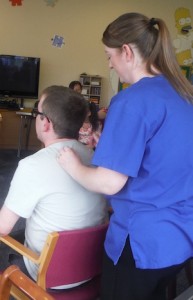 The siblings joined in too.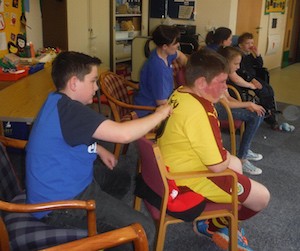 ---
The Massage Story – Frog Leap
Here is the story created especially for the Family Day. You may wish to use it at other occasions too.
Frog Leap
Papa Frog is big and strong (The Drum)
Mama Frog likes to sing 'Over the Rainbow….' (The Downwards Half Circle)
Big Bro likes to ski on the pond waves (The Fan)
Little Sis loves blowing bubbles in the breeze (The Bounce)
And Baba Frog loves her snuggles (The Squeeze)
The Frog Family love leaping on the lily pads (The Bounce)
But…. Baba Frog can't reach the next lily pad. She is too small.. aaaah (The Downwards Half Circle)
So the Frog Family pulls together to get Baba Frog across safely (The Circle)
Papa Frog, who is big and strong, finds the largest leaf on the pond (The Drum)
Baba Frog being to cry, so Mama sings her a lullaby (The Sprinkle)
Jump aboard and hold on tight, as Big Bro makes the waves to help her on her way (The Fan)
Little Sis blows bubbles to make Baba Frog smile (The Upwards Half Circle)
Baba Frog steps on to the lily pad and they all give a cheer (The Fan)
We worked together as a family to get Baba here! (The Circle)
---
Story Massage Training
For more information about Story Massage Training Days and In-House Training Options please visit: Story Massage Training