The Story Massage Programme is not just for children… it can be enjoyed by all ages. Here are some ideas for using Story Massage with adults, Many of those completing our training are working with adults with complex needs, additional learning needs or dementia, or adults in care homes and hospices.
---
Story Massage for Adults with Altzheimer's
The Story Massage Programme was a great success at a local Altzheimer's Support Group on the Isle of Wight where it was a way of sharing happy memories and enjoying gentle and positive touch.  "We did my Seaside Walk massage story (see below), and nursery rhymes from the Story Massage book," says Virginia Evans, a therapist who provides massage sessions for the group, "Everyone loved it.  One carer came up to me and said how lovely it was to see some of the couples massaging each other.  Their roles as carers have sometimes taken over from their relationship as a wife, husband or daughter etc."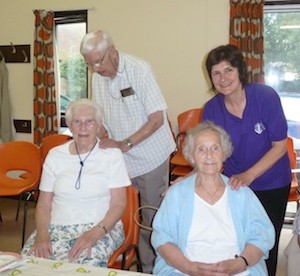 Here is a copy of Virginia's massage story written to evoke happy memories of the shared experience of a sunny day on the beach.
Seaside Walk
We are walking along the beach, crunching on the shingle. (The Walk)
Seagulls are swooping in and out of the waves. (The Fan)
Sea sprays our faces and we taste salt on our lips. (The Sprinkle)
A sudden shower drenches us and we run for cover (The Downwards Fan)
Out comes the sunshine again, drying everything (The Circle)
Let's eat some chips on the beach, sprinkled with salt and vinegar (The Squeeze)
Look at the seagulls slyly eyeing up our chips (The Bounce)
Listen to the happy sound of children's laughter as they play in the waves (The Wave)
The soft feeling of sweet ice cream melting on our tongues ends our day in the warm sunshine. (The Circle)
---
Story Massage for Adults with PMLD
Staff at a day service in South Staffordshire have adapted the Story Massage Programme for the adults with complex needs, PMLD, in their care. Louise Molineux, senior day service officer, has found that Story Massage techniques can easily be shared on hands, legs and arms – anywhere that is appropriate and acceptable – to meet the needs of everyone including wheelchair users. "One of our team felt inspired to create a Sensory Story Massage to accompany What a Wonderful World by Louis Armstrong, both in song form and as the spoken story," says Louise, "The feedback and responses of our adults was so very positive we have just created another Story Massage from Over the Rainbow."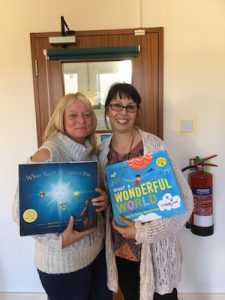 ---
Story Massage for Adults in Hospices
The familiarity of stories combined with the gentle nurturing power of touch can bring comfort and ease restlessness for some adults in hospice care. And these massage stories can be shared at home or around the hospice bed with children and grandchildren. Stories can also be created to help a family cope with bereavement. We've received this moving feedback:
'I have been privileged to work with a lady in her 30s who has primary school age children. She is a palliative patient. The storytelling massage has given her something positive to share with her daughter; she is so excited. They are going to write a story together based on their favourite story and create a picture storybook with massage movements to share with each other. She plans to keep this in her daughter's memory box so that in years to come she can have a very positive memory of how she helped her mummy.' Denise James, complementary therapist.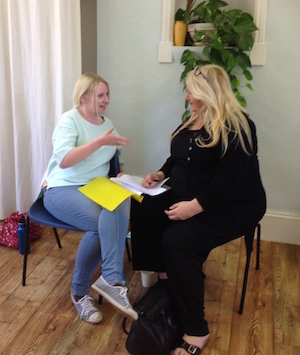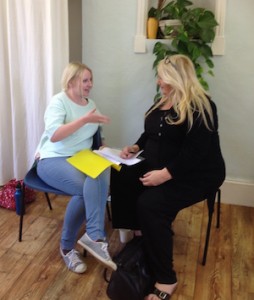 ---
Story Massage for Adults in Care Homes
Story Massage can be a fun activity within a group setting in a care home, or shared as a one-to-one nurturing session for individuals. We were invited to run an in-house training session for staff at cluster of care homes in the Bath area. Staff became very excited by the idea of writing stories with their clients as a way of sharing memories and encouraging communication. Another idea was to involve family members to help write a massage story about the person's life, family, hobbies and work.
Here is an example:
A Day at the Races
Kevin got up this morning (The Fan)
He walked up to my car (The Walk)
The Sun was shining (The Circle)
Off we drive to the races (The Downwards Half Circle)
We meet up with Shaun, our mate (The Squeeze)
And place a bet. We hope it will be the winner (The Sprinkle)
We are all excited. We jump up and down and cheer our horse (The Bounce)
It comes in first (The Drum)
What a fantastic day we had (The Wave)
We go home feeling happy (The Upwards Half Circle)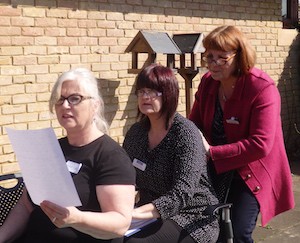 ---
Story Massage for Adults at a Staff Meeting
The best way to introduce the Story Massage Programme is by encouraging others to have a go…. You'll be pleasantly surprised at the feedback from others if you set aside a few minutes at a meeting to share a massage story!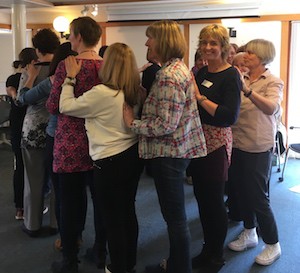 ---
More about the Story Massage Programme
The Story Massage Programme combines the fun and reassurance of story with the benefits of positive, respectful touch. It is enjoyed by all ages and abilities. Ten simple massage strokes form the basis of the programme. These strokes have a name, such as The Circle or The Sprinkle, and an easy to recognise symbol making it accessible for all.
The online training is ideal for therapists, teachers, SEN staff, support staff, Early Years practitioners, parents, those working with people with additional needs, Baby Massage Instructors, Relax Kids Coaches… everyone with an interest in sharing sensory stories and positive touch activities with children and adults. All the information is here: Story Massage Online Training.