Children love bedtime stories. And a Story Massage session at bedtime can be a wonderful way of helping a child enjoy a restful night's sleep. Our ten basic Story Massage strokes are designed to make it fun and easy to adapt familiar stories or create some of your own.
---
Relaxation and Reassurance
We'd like to share a story massage written by a mother whose child was having trouble settling at night, and she found this soothing story helped with relaxation and reassurance at bedtime.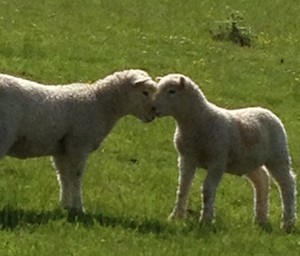 Timmy the Lamb – Bedtime Story
It's bedtime, but Timmy the lamb is still excited. (The Sprinkle)
Leaping around the field and bouncing over stiles.  (The Bounce)
The sun is going down. (The Circle)
The birds have stopped tweeting (The Wave)
Shhhhh (The Calm)
Timmy's eyes start to close (The Downwards Fan)
He watches the other sleepy lambs in the field  (The Circle)
One, two, three, four … (The Walk)
Shhhhh (The Calm)
Five, six, seven, eight … (The Walk)
Shhhhh (The Calm)
Nine, ten, eleven, twelve … (The Walk)
Shhhhh (The Calm)
…….. (repeat as long as it takes!)
---
Find out more about the Story Massage Programme
The Story Massage Programme combines the fun and reassurance of story with the benefits of positive, respectful touch. It is enjoyed by all ages and abilities. Ten simple massage strokes form the basis of the programme. These strokes have a name, such as The Circle or The Sprinkle, and an easy to recognise symbol (as shown in Emma's massage story) making it accessible for all.
It is a fully inclusive activity, no clothing is removed and no oil is used. The online training is ideal for therapists, teachers, SEN staff, support staff, Early Years practitioners, those working with people with additional needs, Baby Massage Instructors, Relax Kids Coaches… everyone with an interest in sharing sensory stories and positive touch activities with children and adults. All the information is here: Story Massage Online Training