For the past five years we have organised a session of Story Massage for Chernobyl Children's Lifeline.  These sessions are now a popular part of a programme of activities for children, all aged around 10 years old, and their host families organised by the Portsmouth and Hayling Island link to the Chernobyl Children's Lifeline. 
The first session proved so successful in helping the children to bond with each other and settle into a new country with new customs and language, that they asked us back again and again…. We have written various stories for the children and families. One of the most successful has been the Welcome to the British Weather massage. It is demonstrated below with props!
Benefits of Story Massage
Feedback from both adults and children about the benefits of Story Massage for Chernobyl Children's Lifeline was really positive. The children said they had really enjoyed it and felt warm and relaxed. They were also looking forward to taking the story massage home to share with their families and friends back in the Ukraine. One host mother mother told us that her visiting children found Story Massage helped them get to sleep at night.
And these fun photos show just how much they enjoy sharing Story Massage – wherever they are!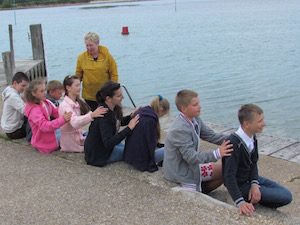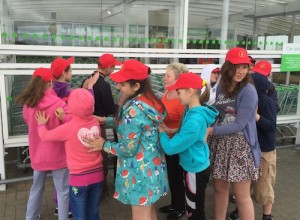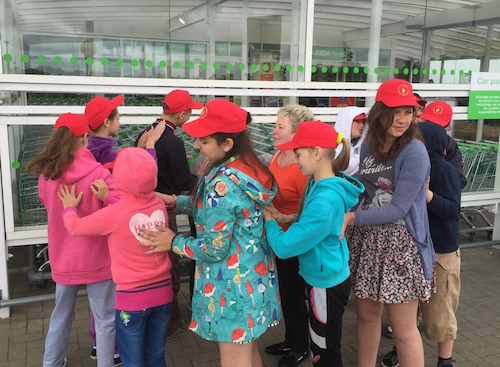 Would you like to use Story Massage with children?
Have you been inspired by the benefits of Story Massage for Chernobyl Children's Lifeline?
If you would like to use the programme at home or work then you will love our flexible online course. All the information is here: Online Training Course.
You will learn how to share the ten Story Massage strokes, adapt familiar stories and even create some sensory stories of your own. Ideal for well-being coaches, therapists, teachers, SEN staff, support staff, Early Years practitioners, those working with people with additional needs, everyone with an interest in sharing positive touch activities with adults or children.