The Story Massage Programme involves the use of ten simple massage strokes that are combined with a narrative to encourage a child to fully engage in an activity. One of the benefits is the opportunity for children to practically engage in experiences that provide a context for developing the skills of emotional regulation.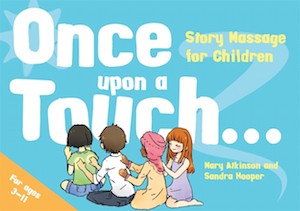 ---
Emotional Literacy
We have had positive feedback from both parents and professionals about how the Story Massage Programme has helped children to communicate and change the way they feel about particular situations. One mother has worked with her adopted daughter to help her explore a range of different emotions using some of our ten Story Massage strokes. Tracing the stroke know as The Circle on her mother's back, for example, meant mean she was feeling happy whilst using The Claw meant she was scared.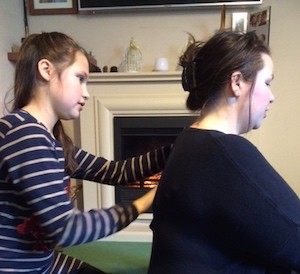 ---
Emotional Regulation Skills
Similarly, a play therapist from Glasgow wrote a massage story, based on a trip to the dentist, to help children recognise, communicate and manage a range of difficult emotions. This massage story has now been adapted and used within a range of contexts including hospices, special schools and the family home. You can find out more here: Exploring Difficult Emotions with Story Massage
Developing emotional regulation skills was also the theme of a massage story written by professionals from Children's Services as a way of introducing the concept to other members of their team.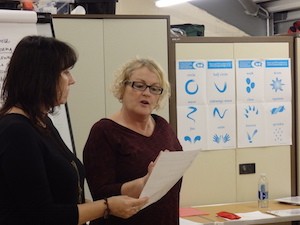 ---
Benefits of Story Massage
We're going to tell you about the Story Massage Programme. (The Sprinkle)
Massage stories can help with emotional regulation (The Sideways Wave)
and attachment. (The Circle)
Emotions can make you feel up… (The Upwards Fan)
… and down. (The Downwards Fan)
Frightened (The Claw)
Angry (The Drum)
Happy (The Upwards Circle)
and Calm. (The Calm)
The Story Massage Programme teaches respect and control. (The Squeeze)
You can use it to develop social stories and life stories. (The Walk)
Or just for fun! (The Bounce)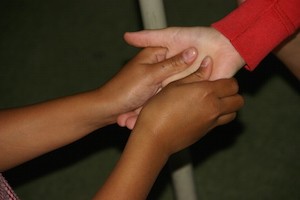 ---
Story Massage Training
This story uses some of the ten Story Massage strokes that form the basis of our Online Story Massage Training open to everyone interested in positive touch for children.  Once these strokes are learnt, they can be used to create new stories or adapt favourite stories such as the nursery rhymes below. Each stroke is accompanied by a symbol that makes them easy to learn and follow. The strokes can be enjoyed on backs, legs, feet, hands, arms – any part of the body that is accessible and appropriate for the individual.