Story Massage is wonderfully flexible and accessible for all. Leanne Brown, mother of four daughters ranging from 12 years through to 6 years, shares the many benefits of Story Massage for families within her own home. Leanne is a winner of our Best Practice Award for her inspirational use of Story Massage with her own children and other families.  One child has sensorineural hearing loss and another has ADHD. And Leanne explains that she is also currently living with two preteens full of hormonal changes, moods and frustration which impacts on family life.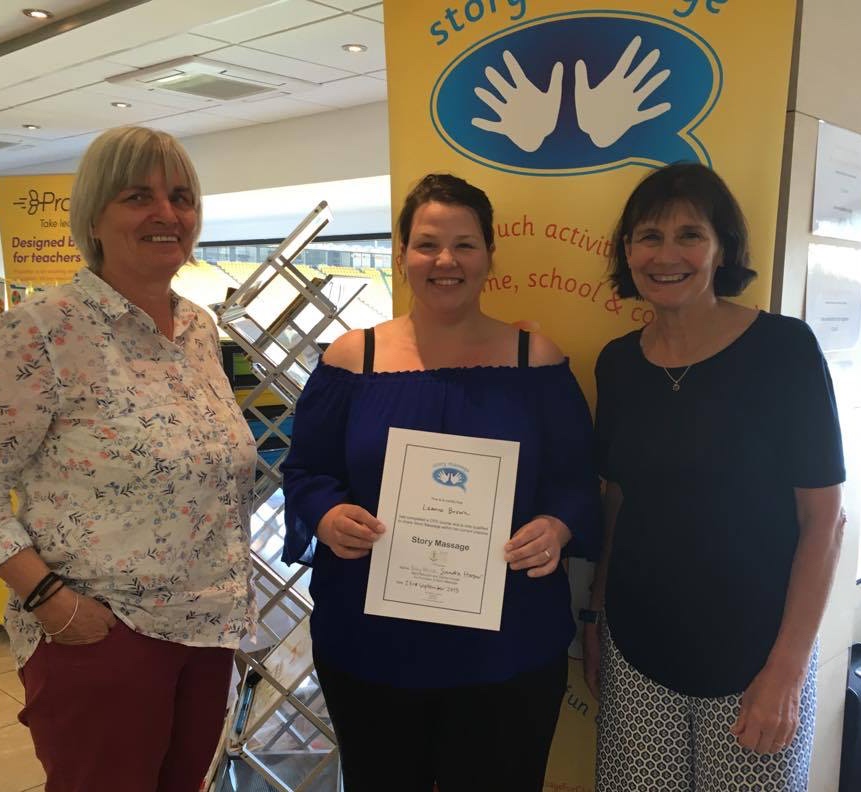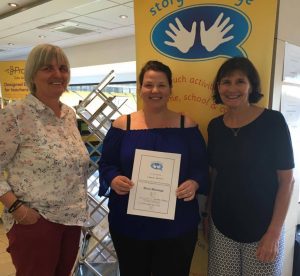 ---
What is Story Massage (in your own words)?
Story Massage 'does exactly what it says on the tin'. It is a wonderful positive touch activity blending 10 simple but effective massage moves with stories, nursery rhymes and songs in a variety of ways. Parents can share with their children at any time of the day and, dare I say it, night! It is also an activity that you can get the whole family, carers, friends, teachers involved in and having fun.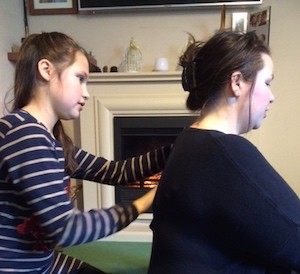 ---
When do you use Story Massage with your family?
Here are 15 different ways we have found Story Massage to be beneficial:
At bedtime
At bathtime
To explain a new situation
At tea time
During quiet time
On long car journeys
To celebrate a special occasion
On holiday
In the supermarket
Before hair brushing
On a rainy day
Waiting for an appointment
To calm down an argument
When waiting in a queue
Camping in the caravan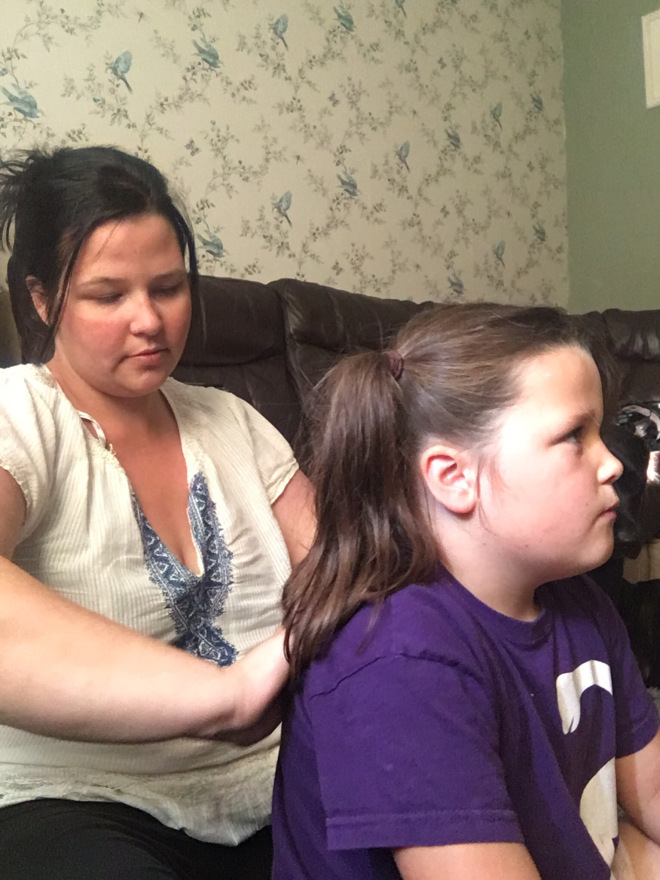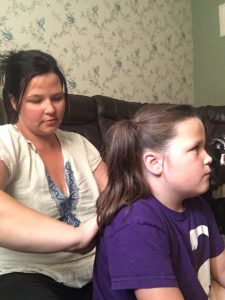 ---
How often do you use Story Massage?
Story Massage is really easy to learn and you can start enjoying it straight away. Since becoming a Story Massage Instructor I have personally used Story Massage nearly everyday at home. My children love to write their own stories and then get Mummy to put massage moves with it. It really brings out their creative side and gives the children a sense of achievement. Stories can be short and sweet or longer and there really is no right and wrong way to do it. They all tell each other stories with massage. It's perfect for a rainy day activity or when those sibling arguments are starting to get on your nerves.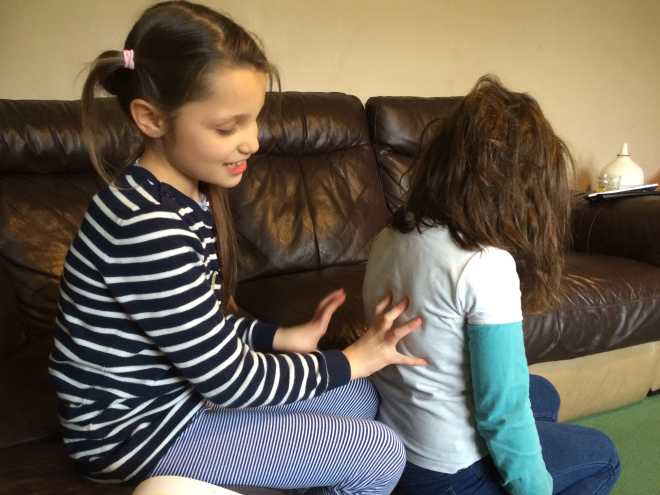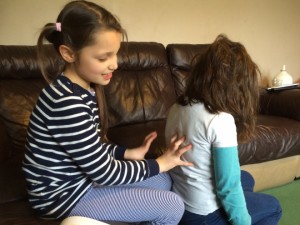 ---
Are there any particular benefits of Story Massage for your family?
Story Massage can be really useful with coping with symptoms of ADD and Anxiety. Personalised stories reinforced with massage can aid concentration, raise self confidence and relax especially when there is difficult behaviour. This has been especially true for us at teatime when my daughter has refused to eat. During training I worked with others to create a story about a magical food unicorn. We still use this story even now to encourage my daughter to eat.
I have found in my own personal experience that Story Massage can also reduce the feelings of anxiety. When my ADD daughter is feeling particularly stressed and upset about something, then Story Massage gives her something positive to concentrate on and distracts her. On a car journey, for example, Story Massage can help her to keep her calm and focused in a small space. Just a 5 minute story massage can be really calming. For example, today is the first day back after a long weekend which my ADD daughter has found confusing but she asked for a Story Massage because she knew it would help her cope with her anxiety.
Story Massage has helped me to teach my children respect towards each other as well as giving them the confidence to use language and engage with each other and the world around them.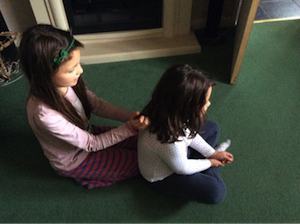 ---
Is there any advice you would give others?
The Story Massage book is invaluable. We take it with us wherever we go, just in case! The illustrations are colourful and appropriate and all of my four children really enjoy them. The layout of the book is child friendly and very easy to understand. The book is now a constant companion on car journeys and trips out as I can use some of the massage stories at a moment's notice to help calm my children or give them a treat. My children loves flicking through the book and choosing a story from the different subjects. You buy it from the website: Story Massage Book.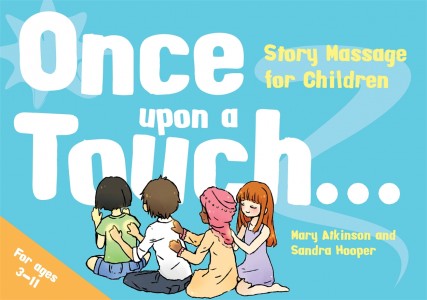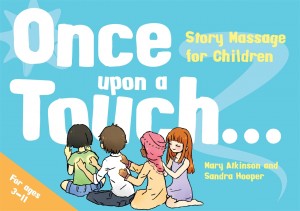 ---
Are you now sharing Story Massage for families?
Yes, I offer sessions to share Story massage for families here in Norfolk.
Fun and informal, relaxing learning approach with plenty of teas and coffees
A session typically lasts 2 hours either with just parents / carers or with the children as well.
You will learn more about Story Massage and how it was developed.
You will get hands-on practice learning the ten different Story Massage moves
You will learn how to write your own personalised massage story for your child
To find out more about Leanne's Story Massage sessions and family life do visit visit: Leanne's Blog
You can also read how Leanne uses Story Massage in a creative way to help her family cope with living with ADHD. My Sister had ADHD and Christmas Countdown for a Child with ADHD