The Story Massage Programme is now part of the sensory curriculum at many Special Needs Schools around the UK. At Ysgol Y Deri Special School, the staff have introduced weekly 45 minute sessions of Story Massage in a sensory room. "This is a one-to-one intensive interaction for the students," explains Lisa Lawrence, Sensory Co-ordinator at the school who is winner of our Best Practice Award for use of the Story Massage Programme is a positive and respectful way. "We add changing coloured lights and music to complement the words of the story and massage movements. Everyone loves the sessions."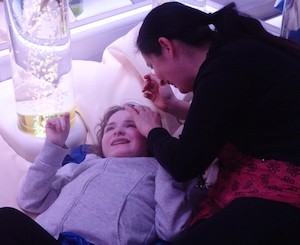 ---
Respectful Touch
Before a sensory massage activity begins, whether it is in the classroom or the sensory room, the students are asked if they would like a Story Massage. At the end of the session, members of staff say 'thank you' and gain feedback about favourite strokes. "This is an important part of the session," explains Lisa, a fully trained Story Massage Instructor, "It means that the child is in control, it's all about them. They are the centre of the universe during the activity."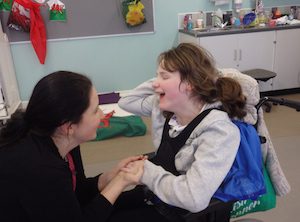 ---
Sensory Stories
Lisa has created a range of age appropriate massage stories and resources to share with the young people at the school. Some stories are adapted from favourite books, some taken from our Story Massage book, and some created as a group activity by her team. A favourite story for Story Massage in a sensory room is adapted from 'My Many Coloured Days' by Dr Seuss, a rhyming story which opens possibilities for discussing different feelings.  Each day is described as a colour, and linked to emotions making it ideal for a sensory activity such as Story Massage.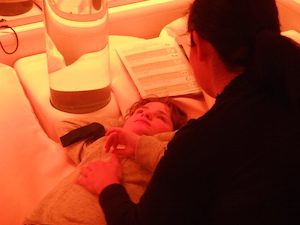 ---
Adapting Massage for Special Needs
We visited Ysgol Y Deri recently and took part in a session of Story Massage in a sensory room. In the video below you can see clips of Chelsea and Rebecca, both of whom have cerebral palsy, enjoying the activity. They lay comfortably and fully clothed on their backs whilst Lisa and Sian sat beside them and shared the Story Massage strokes on appropriate parts of their bodies. "Chelsea loves to have massage from her face right down to her toes, and then back up again," says Sian, a Special Needs Teaching Assistant, "She particularly enjoys the Story Massage moves called The Sprinkle and The Walk. She knows what to expect and anticipates it."
---
Engagement and Communication
During the session, a powerpoint showed the words of the story with clip art pictures. With each slide, Lisa read the words then the lights changed colour, music played in the background and the staff shared Story Massage moves with the students.
"It's wonderful to see everyone so engaged in the activity, it's bonding for the staff too," says Lisa, "The students respond in different ways but they all seem to come alive and communicate their likes and preferences through eye contact, hand gestures or sounds and words. We are often surprised by their responses. Recently, Chelsea asked for more massage on her legs. This shows an original thought process and clearly demonstrates how much she benefits from Story Massage. There's a sense of relaxation, calmness and freedom in the sensory room."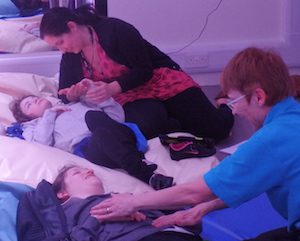 ---
Sharing Story Massage with Parents
Lisa has also run sessions to teach parents to share Story Massage with their children at home. "We've had a lot of very positive feedback," she says, "Story massage is a simple and fun activity for a parent and child to share with no financial outlay and no resources required. It can help calm or stimulate a child depending upon how it is used and really seems to help create a family atmosphere. It's rare to find an activity that engages students of all ages and abilities."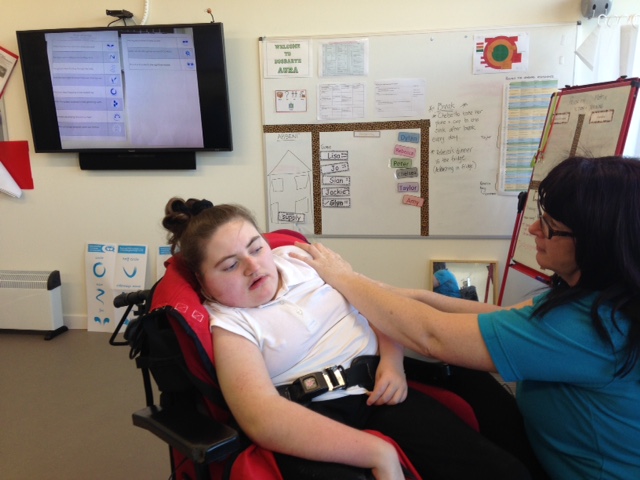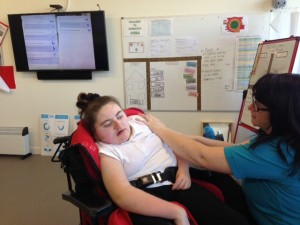 ---
More about Story Massage Resources and Training
Ten massage strokes form the basis of Story Massage. These strokes have a simple name such as The Wave or The Bounce and an easy to recognise symbol making it accessible for all ages and abilities. Our book, which contains instructions for the strokes and over 25 massage stories, is available from the resources page of our website. Story Massage Book
Our online training is ideal for therapists, teachers, SEN staff, support staff, Early Years practitioners, parents, those working with people with additional needs, Baby Massage Instructors, Relax Kids Coaches… everyone with an interest in sharing sensory stories and positive touch activities with children and adults. All the information is here: Story Massage Online Training.