We have been overwhelmed by the positive response to the Story Massage Programme during lockdown. It seems that many people are discovering the benefits for the first time, whilst others are happily rediscovering them! And many more are saying that massage stories have been 'life-saving', 'the total highlight', 'a real blessing', 'heaven sent'. So we have gathered together some photos to show just a few of the ways the programme has brought fun, connection and comfort.
---
Gemma's Baby and Toddler Zoom Sessions
Gemma from Me & My Wellbeing has run two blocks of four week Story Massage, Movement and Song Online sessions via Zoom. These have been attended by those families who were regulars at her Story Massage face-to-face groups. She says they have appreciated being able to connect during lockdown. The toddlers responded really well as they were used to the massage strokes.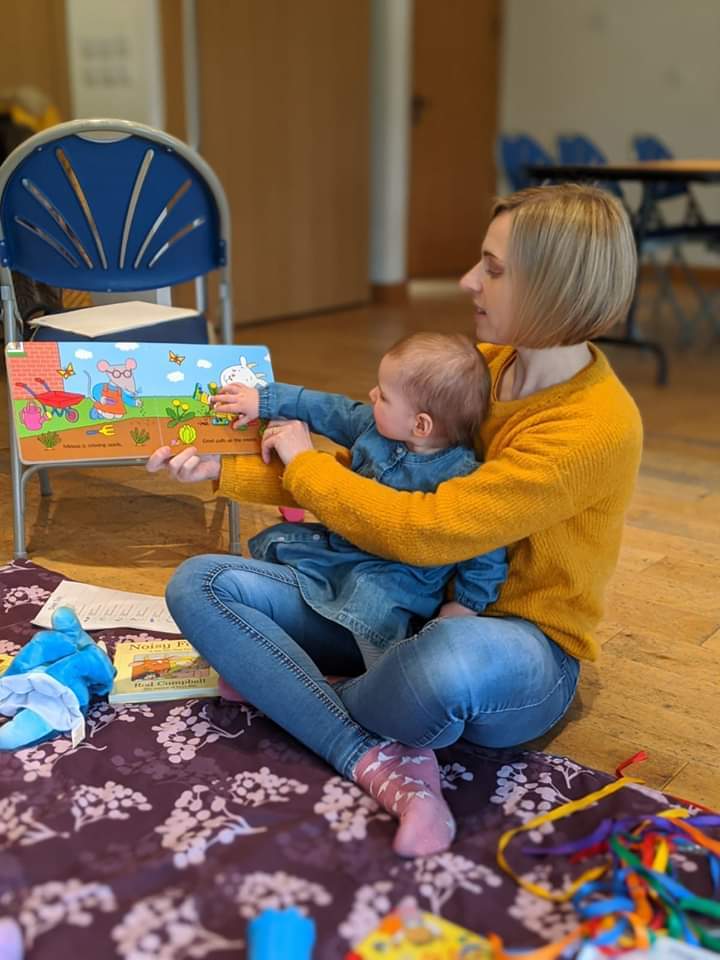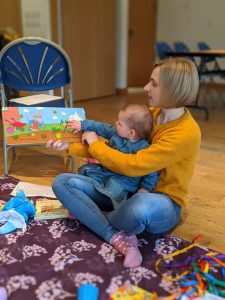 ---
Stephanie's Live Sessions for Families
Stephanie, a nurture teacher at Glenboig Primary School, led online Story Massage sessions for the whole school. She was amazed at how many families joined in and said it was a wonderful way of bringing everyone together when they were so far apart.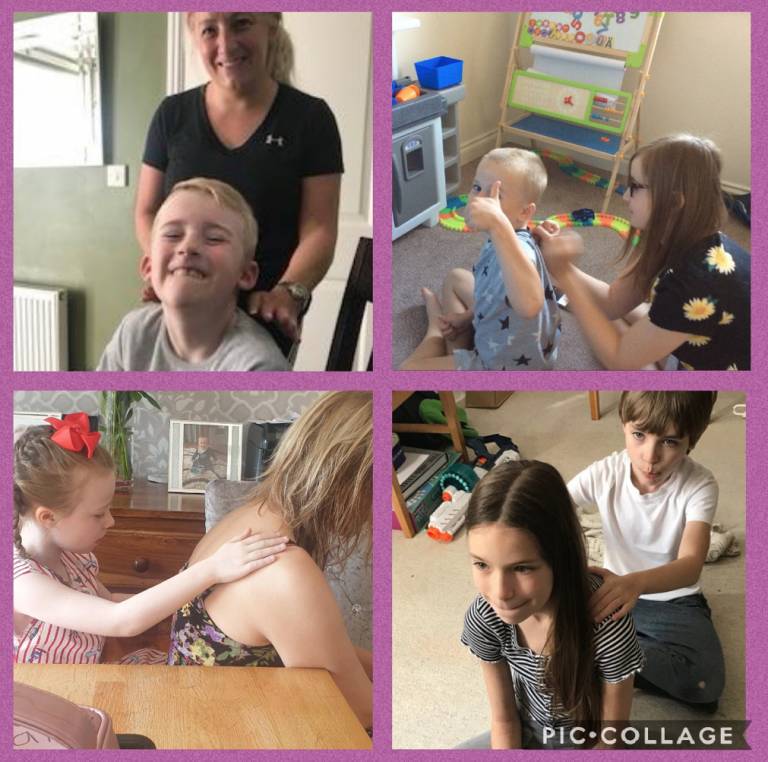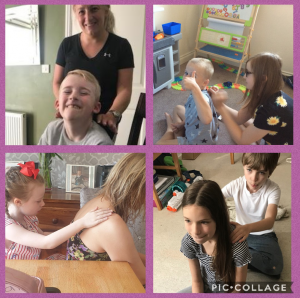 ---
Megan's Seaside Walk
Megan has been enjoying massage stories with her mum, Emma, who says she does the story as a massage story then follows it with sensory props. Here's Megan holding a yellow balloon to give the feeling of the sun in a Seaside Walk massage story.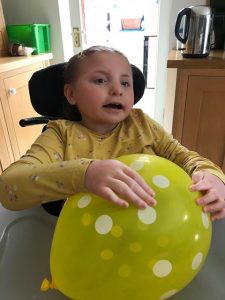 ---
Verna's Weekly School Videos
We've been delighted to hear how many people have stepped right out of their comfort zone to record videos for children at home. Here's Verna, a teaching assistant from Hawthorns School with her trusty teddy all dressed up for an Under the Sea themed massage story. We've heard from families who have really appreciated these videos and home-school partnership through the Story Massage Programme.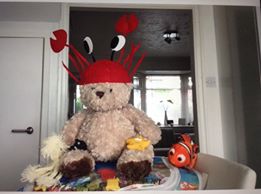 ---
Luella and Dotty
Dotty, the rabbit, looks very chilled under Luella's nurturing touch. And she is not the only pet to relax with massage stories – we have had positive feedback from owners of dogs, cats and even horses!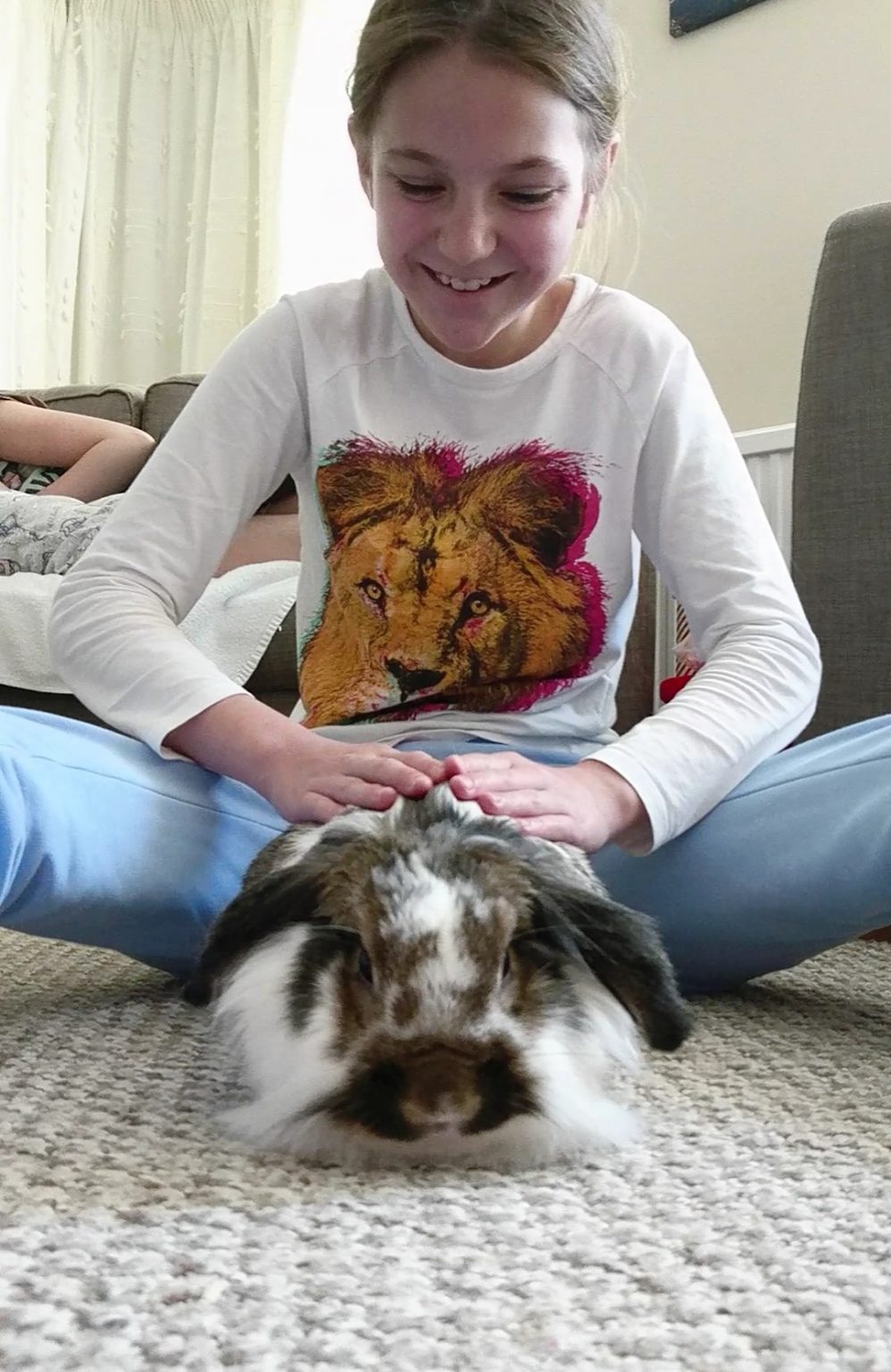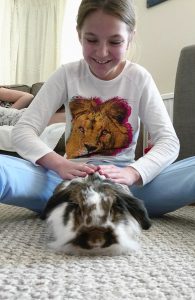 ---
Leigh on Instagram
Leigh from The Little Wellness Company has been demonstrating massage stories with her daughter, Myla on Instagram. Leigh talks about the benefits and then suggests that families follow-along at home. Myla loves to do the strokes on her doll or teddy at the same time!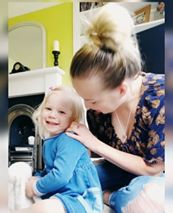 ---
Maisy and Poppy with Minibeasts…
Maisy and Poppy make massage stories into a real sensory experience. They spend time preparing sensory props to accompany the words. Here they are getting ready for a massage story about mini beasts. Such creativity.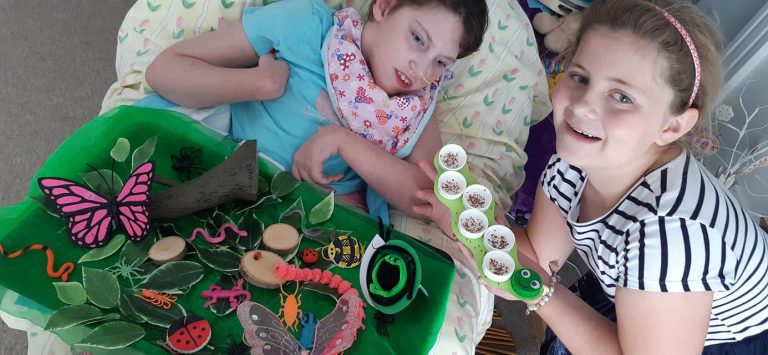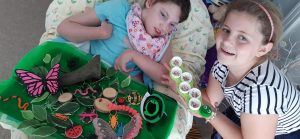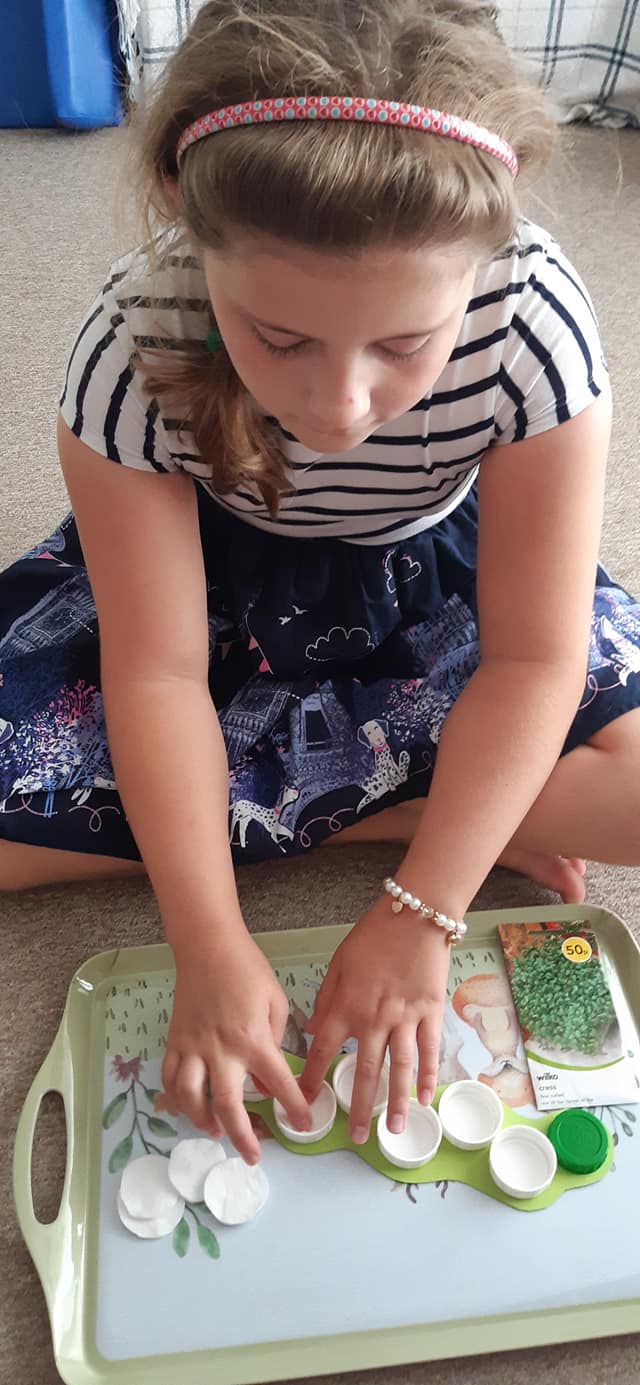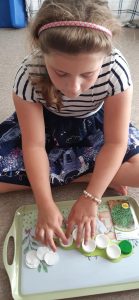 ---
… and Evie in the Jungle!
And here's Evie all ready for a Story Massage adventure in the jungle. Her mum, Alli, says Evie loves massage stories and finds her level of response and engagement is 'phenomenal'.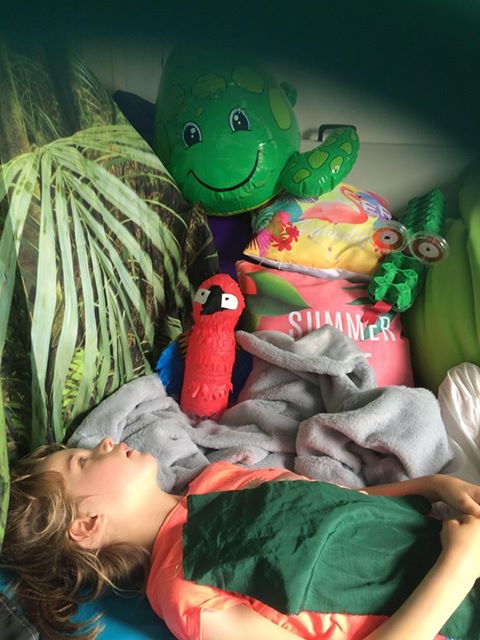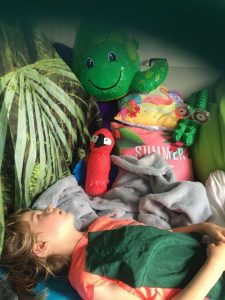 ---
Emmanuel on the Big Screen
Many schools followed along with Mary and Emmanuel's sessions using a big screen in the classroom. Here are Key Stage 2 children at Cherry Garden School getting involved  – with very relaxed looks on their faces.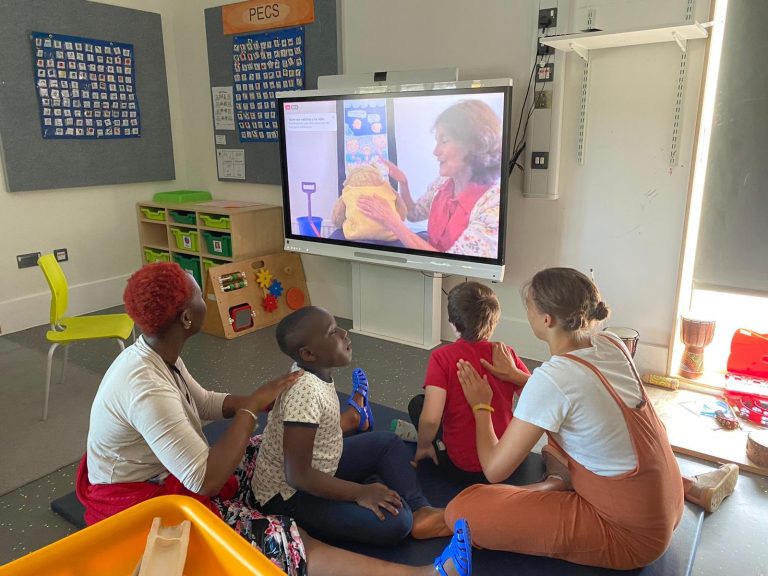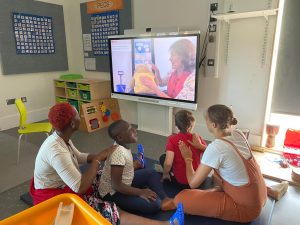 ---
Jo in the Park
Jo from RevitaliseU-Kent Well-Being for Children has been preparing for family sessions once lockdown ends. She has been sharing sessions in the park with two very excited three year old twins. And she is currently looking for a name for the new member of her well-being team!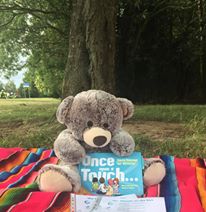 ---
Marie's Bookworms
Marie shared Twinkle, Twinkle, Little Star with children at Bookworms Day Care for the first time during lockdown. They discussed positive touch and the children learnt the importance of asking permission. They thought it was 'wonderful' and made them feel 'relaxed' and 'dizzy'.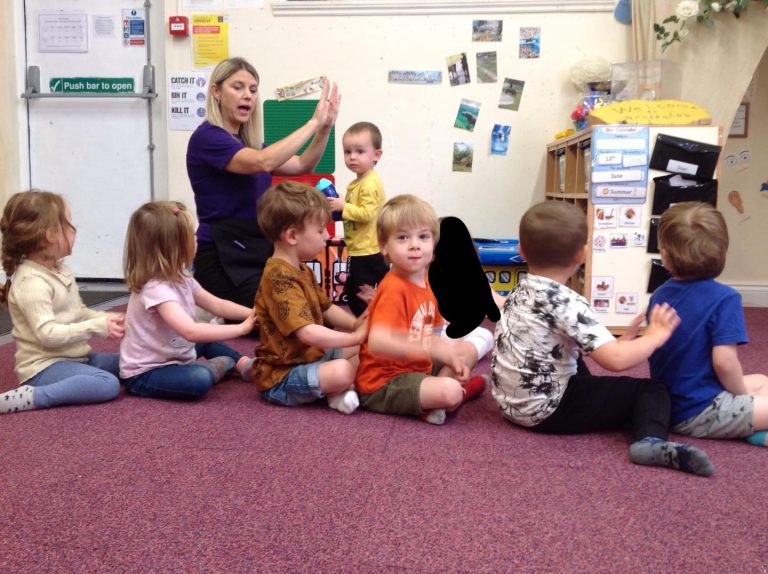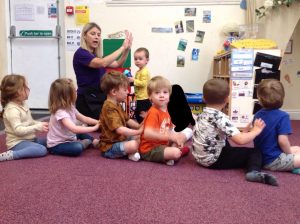 ---
Hugh's Haircut
Like many people with sensory issues, Hugh used to hate having his hair cut. During lockdown, his mother, Emma, found it especially hard to manage the upset and anxiety of haircuts at home. However, specially written massage stories have helped calm and reassure him. Now he even laughs while having his hair cut!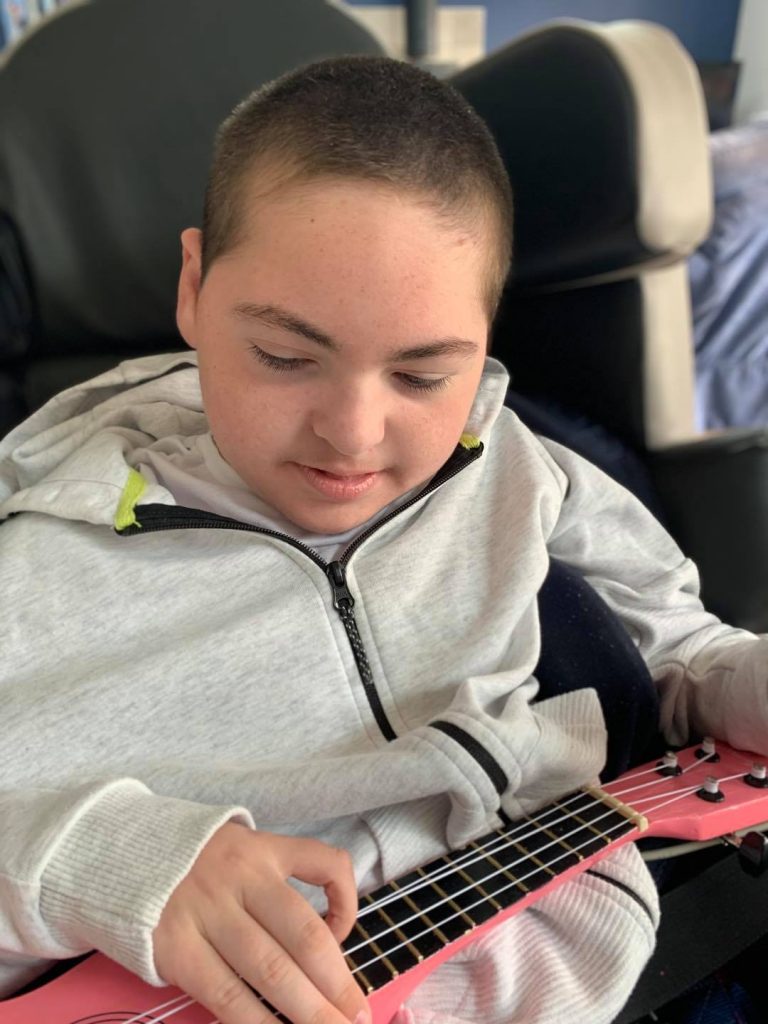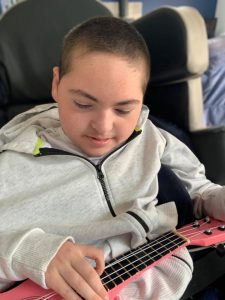 ---
Would you like to train in the Story Massage Programme?
Are you inspired by the benefits of the programme during lockdown?  Would you like to train to share massage stories in your work or home? We run a popular online course to teach you how to share the ten Story Massage strokes and use them to adapt familiar stories or even create some sensory stories of your own. Ideal for Early Years practitioners, teachers, therapists, those working with people with additional needs, Relax Kids coaches… everyone with an interest in sharing positive touch activities with children or adults. All the information is here: Story Massage Online Training.